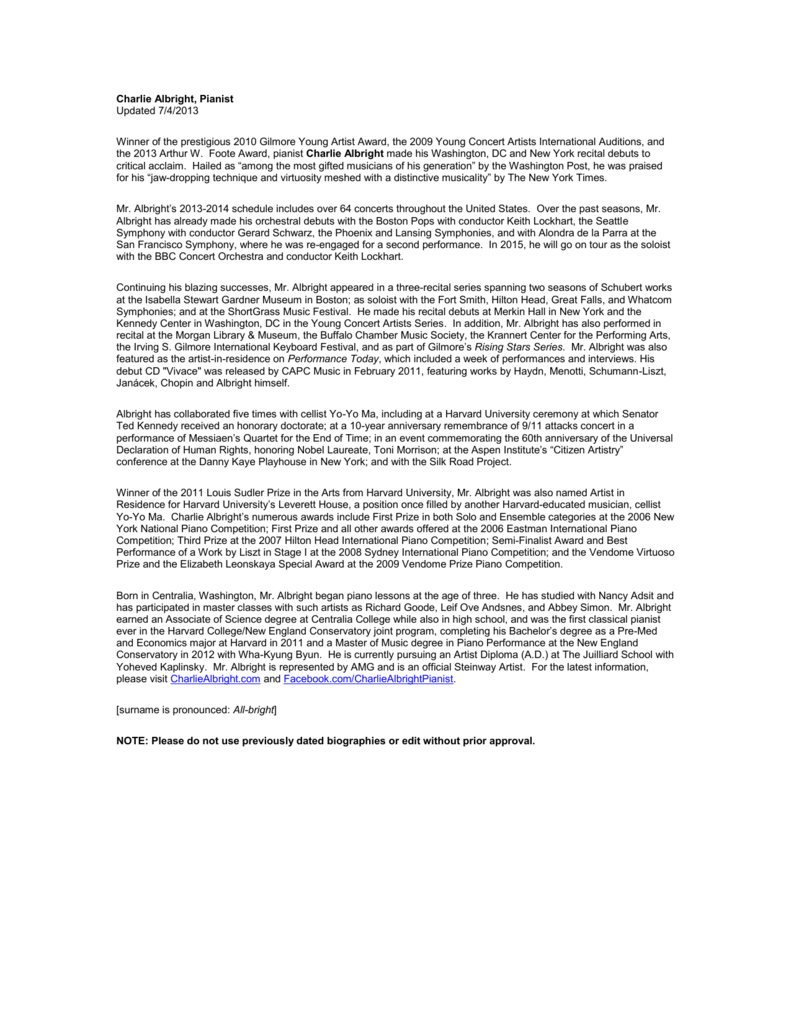 Charlie Albright, Pianist
Updated 7/4/2013
Winner of the prestigious 2010 Gilmore Young Artist Award, the 2009 Young Concert Artists International Auditions, and
the 2013 Arthur W. Foote Award, pianist Charlie Albright made his Washington, DC and New York recital debuts to
critical acclaim. Hailed as "among the most gifted musicians of his generation" by the Washington Post, he was praised
for his "jaw-dropping technique and virtuosity meshed with a distinctive musicality" by The New York Times.
Mr. Albright's 2013-2014 schedule includes over 64 concerts throughout the United States. Over the past seasons, Mr.
Albright has already made his orchestral debuts with the Boston Pops with conductor Keith Lockhart, the Seattle
Symphony with conductor Gerard Schwarz, the Phoenix and Lansing Symphonies, and with Alondra de la Parra at the
San Francisco Symphony, where he was re-engaged for a second performance. In 2015, he will go on tour as the soloist
with the BBC Concert Orchestra and conductor Keith Lockhart.
Continuing his blazing successes, Mr. Albright appeared in a three-recital series spanning two seasons of Schubert works
at the Isabella Stewart Gardner Museum in Boston; as soloist with the Fort Smith, Hilton Head, Great Falls, and Whatcom
Symphonies; and at the ShortGrass Music Festival. He made his recital debuts at Merkin Hall in New York and the
Kennedy Center in Washington, DC in the Young Concert Artists Series. In addition, Mr. Albright has also performed in
recital at the Morgan Library & Museum, the Buffalo Chamber Music Society, the Krannert Center for the Performing Arts,
the Irving S. Gilmore International Keyboard Festival, and as part of Gilmore's Rising Stars Series. Mr. Albright was also
featured as the artist-in-residence on Performance Today, which included a week of performances and interviews. His
debut CD "Vivace" was released by CAPC Music in February 2011, featuring works by Haydn, Menotti, Schumann-Liszt,
Janácek, Chopin and Albright himself.
Albright has collaborated five times with cellist Yo-Yo Ma, including at a Harvard University ceremony at which Senator
Ted Kennedy received an honorary doctorate; at a 10-year anniversary remembrance of 9/11 attacks concert in a
performance of Messiaen's Quartet for the End of Time; in an event commemorating the 60th anniversary of the Universal
Declaration of Human Rights, honoring Nobel Laureate, Toni Morrison; at the Aspen Institute's "Citizen Artistry"
conference at the Danny Kaye Playhouse in New York; and with the Silk Road Project.
Winner of the 2011 Louis Sudler Prize in the Arts from Harvard University, Mr. Albright was also named Artist in
Residence for Harvard University's Leverett House, a position once filled by another Harvard-educated musician, cellist
Yo-Yo Ma. Charlie Albright's numerous awards include First Prize in both Solo and Ensemble categories at the 2006 New
York National Piano Competition; First Prize and all other awards offered at the 2006 Eastman International Piano
Competition; Third Prize at the 2007 Hilton Head International Piano Competition; Semi-Finalist Award and Best
Performance of a Work by Liszt in Stage I at the 2008 Sydney International Piano Competition; and the Vendome Virtuoso
Prize and the Elizabeth Leonskaya Special Award at the 2009 Vendome Prize Piano Competition.
Born in Centralia, Washington, Mr. Albright began piano lessons at the age of three. He has studied with Nancy Adsit and
has participated in master classes with such artists as Richard Goode, Leif Ove Andsnes, and Abbey Simon. Mr. Albright
earned an Associate of Science degree at Centralia College while also in high school, and was the first classical pianist
ever in the Harvard College/New England Conservatory joint program, completing his Bachelor's degree as a Pre-Med
and Economics major at Harvard in 2011 and a Master of Music degree in Piano Performance at the New England
Conservatory in 2012 with Wha-Kyung Byun. He is currently pursuing an Artist Diploma (A.D.) at The Juilliard School with
Yoheved Kaplinsky. Mr. Albright is represented by AMG and is an official Steinway Artist. For the latest information,
please visit CharlieAlbright.com and Facebook.com/CharlieAlbrightPianist.
[surname is pronounced: All-bright]
NOTE: Please do not use previously dated biographies or edit without prior approval.