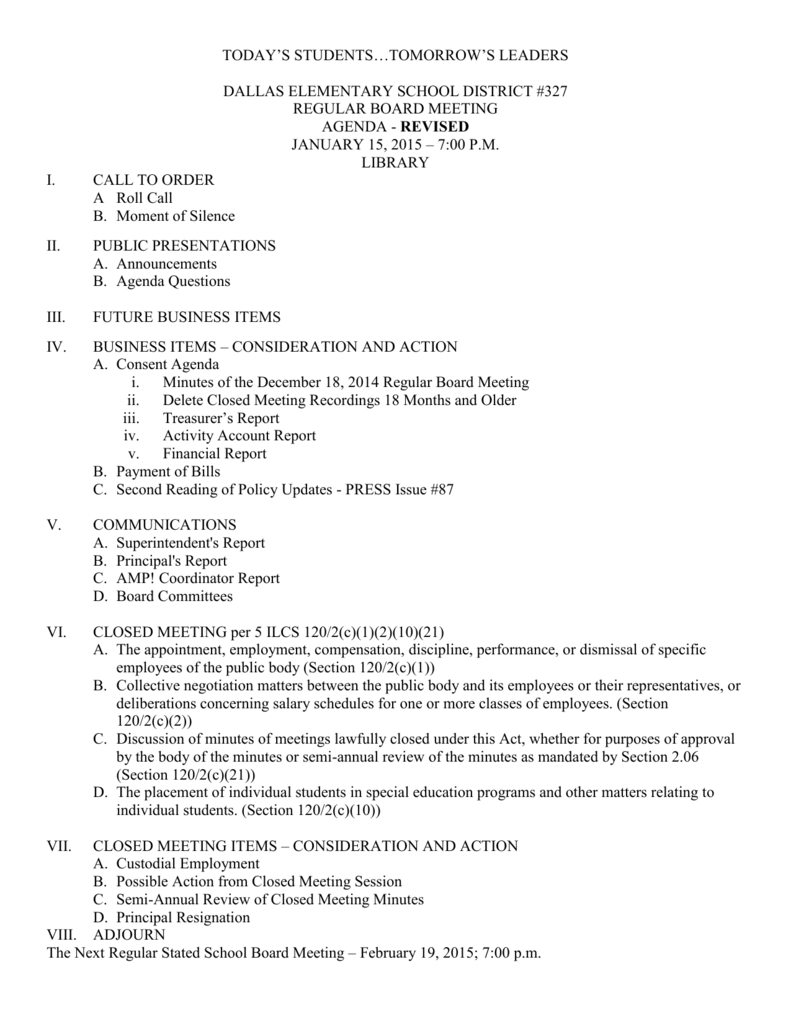 TODAY'S STUDENTS…TOMORROW'S LEADERS
DALLAS ELEMENTARY SCHOOL DISTRICT #327
REGULAR BOARD MEETING
AGENDA - REVISED
JANUARY 15, 2015 – 7:00 P.M.
LIBRARY
I.
CALL TO ORDER
A Roll Call
B. Moment of Silence
II.
PUBLIC PRESENTATIONS
A. Announcements
B. Agenda Questions
III.
FUTURE BUSINESS ITEMS
IV.
BUSINESS ITEMS – CONSIDERATION AND ACTION
A. Consent Agenda
i.
Minutes of the December 18, 2014 Regular Board Meeting
ii. Delete Closed Meeting Recordings 18 Months and Older
iii. Treasurer's Report
iv.
Activity Account Report
v. Financial Report
B. Payment of Bills
C. Second Reading of Policy Updates - PRESS Issue #87
V.
COMMUNICATIONS
A. Superintendent's Report
B. Principal's Report
C. AMP! Coordinator Report
D. Board Committees
VI.
CLOSED MEETING per 5 ILCS 120/2(c)(1)(2)(10)(21)
A. The appointment, employment, compensation, discipline, performance, or dismissal of specific
employees of the public body (Section 120/2(c)(1))
B. Collective negotiation matters between the public body and its employees or their representatives, or
deliberations concerning salary schedules for one or more classes of employees. (Section
120/2(c)(2))
C. Discussion of minutes of meetings lawfully closed under this Act, whether for purposes of approval
by the body of the minutes or semi-annual review of the minutes as mandated by Section 2.06
(Section 120/2(c)(21))
D. The placement of individual students in special education programs and other matters relating to
individual students. (Section 120/2(c)(10))
CLOSED MEETING ITEMS – CONSIDERATION AND ACTION
A. Custodial Employment
B. Possible Action from Closed Meeting Session
C. Semi-Annual Review of Closed Meeting Minutes
D. Principal Resignation
VIII. ADJOURN
The Next Regular Stated School Board Meeting – February 19, 2015; 7:00 p.m.
VII.