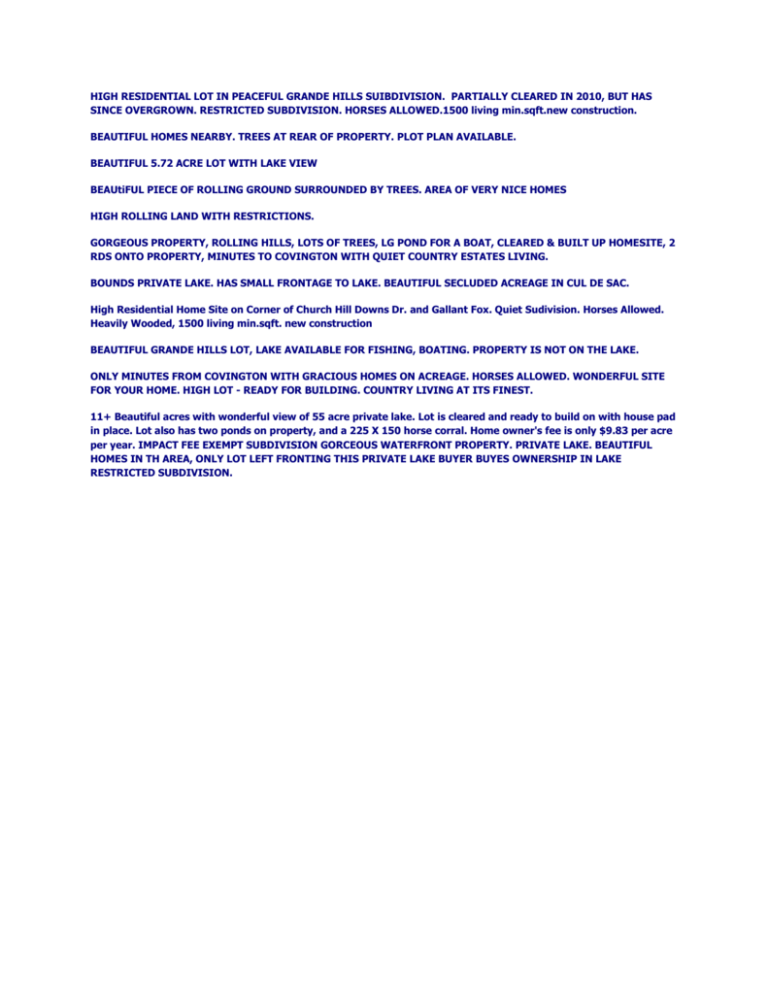 HIGH RESIDENTIAL LOT IN PEACEFUL GRANDE HILLS SUIBDIVISION. PARTIALLY CLEARED IN 2010, BUT HAS
SINCE OVERGROWN. RESTRICTED SUBDIVISION. HORSES ALLOWED.1500 living min.sqft.new construction.
BEAUTIFUL HOMES NEARBY. TREES AT REAR OF PROPERTY. PLOT PLAN AVAILABLE.
BEAUTIFUL 5.72 ACRE LOT WITH LAKE VIEW
BEAUtiFUL PIECE OF ROLLING GROUND SURROUNDED BY TREES. AREA OF VERY NICE HOMES
HIGH ROLLING LAND WITH RESTRICTIONS.
GORGEOUS PROPERTY, ROLLING HILLS, LOTS OF TREES, LG POND FOR A BOAT, CLEARED & BUILT UP HOMESITE, 2
RDS ONTO PROPERTY, MINUTES TO COVINGTON WITH QUIET COUNTRY ESTATES LIVING.
BOUNDS PRIVATE LAKE. HAS SMALL FRONTAGE TO LAKE. BEAUTIFUL SECLUDED ACREAGE IN CUL DE SAC.
High Residential Home Site on Corner of Church Hill Downs Dr. and Gallant Fox. Quiet Sudivision. Horses Allowed.
Heavily Wooded, 1500 living min.sqft. new construction
BEAUTIFUL GRANDE HILLS LOT, LAKE AVAILABLE FOR FISHING, BOATING. PROPERTY IS NOT ON THE LAKE.
ONLY MINUTES FROM COVINGTON WITH GRACIOUS HOMES ON ACREAGE. HORSES ALLOWED. WONDERFUL SITE
FOR YOUR HOME. HIGH LOT - READY FOR BUILDING. COUNTRY LIVING AT ITS FINEST.
11+ Beautiful acres with wonderful view of 55 acre private lake. Lot is cleared and ready to build on with house pad
in place. Lot also has two ponds on property, and a 225 X 150 horse corral. Home owner's fee is only $9.83 per acre
per year. IMPACT FEE EXEMPT SUBDIVISION GORCEOUS WATERFRONT PROPERTY. PRIVATE LAKE. BEAUTIFUL
HOMES IN TH AREA, ONLY LOT LEFT FRONTING THIS PRIVATE LAKE BUYER BUYES OWNERSHIP IN LAKE
RESTRICTED SUBDIVISION.