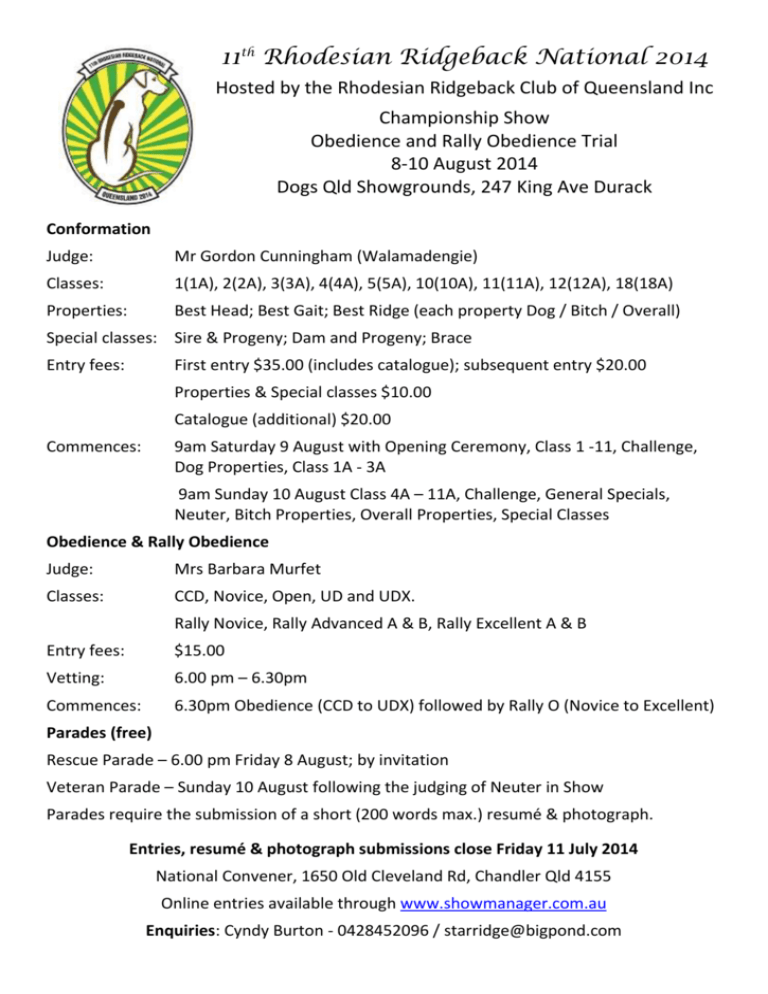 11th Rhodesian Ridgeback National 2014
Hosted by the Rhodesian Ridgeback Club of Queensland Inc
Championship Show
Obedience and Rally Obedience Trial
8-10 August 2014
Dogs Qld Showgrounds, 247 King Ave Durack
Conformation
Judge:
Mr Gordon Cunningham (Walamadengie)
Classes:
1(1A), 2(2A), 3(3A), 4(4A), 5(5A), 10(10A), 11(11A), 12(12A), 18(18A)
Properties:
Best Head; Best Gait; Best Ridge (each property Dog / Bitch / Overall)
Special classes: Sire & Progeny; Dam and Progeny; Brace
Entry fees:
First entry $35.00 (includes catalogue); subsequent entry $20.00
Properties & Special classes $10.00
Catalogue (additional) $20.00
Commences:
9am Saturday 9 August with Opening Ceremony, Class 1 -11, Challenge,
Dog Properties, Class 1A - 3A
9am Sunday 10 August Class 4A – 11A, Challenge, General Specials,
Neuter, Bitch Properties, Overall Properties, Special Classes
Obedience & Rally Obedience
Judge:
Mrs Barbara Murfet
Classes:
CCD, Novice, Open, UD and UDX.
Rally Novice, Rally Advanced A & B, Rally Excellent A & B
Entry fees:
$15.00
Vetting:
6.00 pm – 6.30pm
Commences:
6.30pm Obedience (CCD to UDX) followed by Rally O (Novice to Excellent)
Parades (free)
Rescue Parade – 6.00 pm Friday 8 August; by invitation
Veteran Parade – Sunday 10 August following the judging of Neuter in Show
Parades require the submission of a short (200 words max.) resumé & photograph.
Entries, resumé & photograph submissions close Friday 11 July 2014
National Convener, 1650 Old Cleveland Rd, Chandler Qld 4155
Online entries available through www.showmanager.com.au
Enquiries: Cyndy Burton - 0428452096 / [email protected]
Event Program
Friday 8 August:
5.30 pm – 'Meet N Greet'
6.00 pm – Rescue Parade … Vetting for obedience
6.30 pm – Obedience (all classes)
Saturday 9 August: 9.00 am with 'Opening Ceremony'
At conclusion of judging 'Lure Coursing'
7.00 pm 'National Dinner' – tickets to be prepaid with entries (venue
to be announced - see www.rrcq.org for details)
Sunday 10 August:
9am judging commences with Junior Bitch
Veteran Parade at conclusion of Neuter in Show
Award ceremony at conclusion of Special Classes
'Closing ceremony' / 'Farewell' at conclusion of awards
Trophies / Sashes
Trophy / sash for all classes in conformation and obedience with the exception of overall
Property winners (sash only).
Special awards for Most Successful Breeder, Most Successful Sire & Most Successful Dam to
be awarded as per conditions available at www.rrcq.org
Catalogue advertising
Professionally printed full colour advertisements – a range of size and costing available see
www.rrcq.org for full details.
Catalogue advertising material in MS Word or PDF format by close of entries.
Sponsorship
Sponsorship and donations towards trophies, parades and the running of the National
gratefully received – see www.rrcq.org or contact Cyndy [email protected] for
available opportunities.
NOTE
Stamped, self addressed envelope should only be included if receipt required prior to show.
Numbers to be collected at the 'Meet and Greet' or before 11am Saturday or Sunday.
Property and Special class entries must be on separate entry forms.
Baby Puppies are ineligible for property or special classes.
Brace entries – both dogs must be registered to the same owner(s).
Progeny classes are to consist of a parent, either Sire or Dam,
plus two progeny over six months of age.
The Sire or Dam entered for the progeny classe do not have to be entered in a breed class.
We request that BIS and RUBIS winners withdraw from Property Classes
however, it is left to your discretion – withdrawals will be refunded.