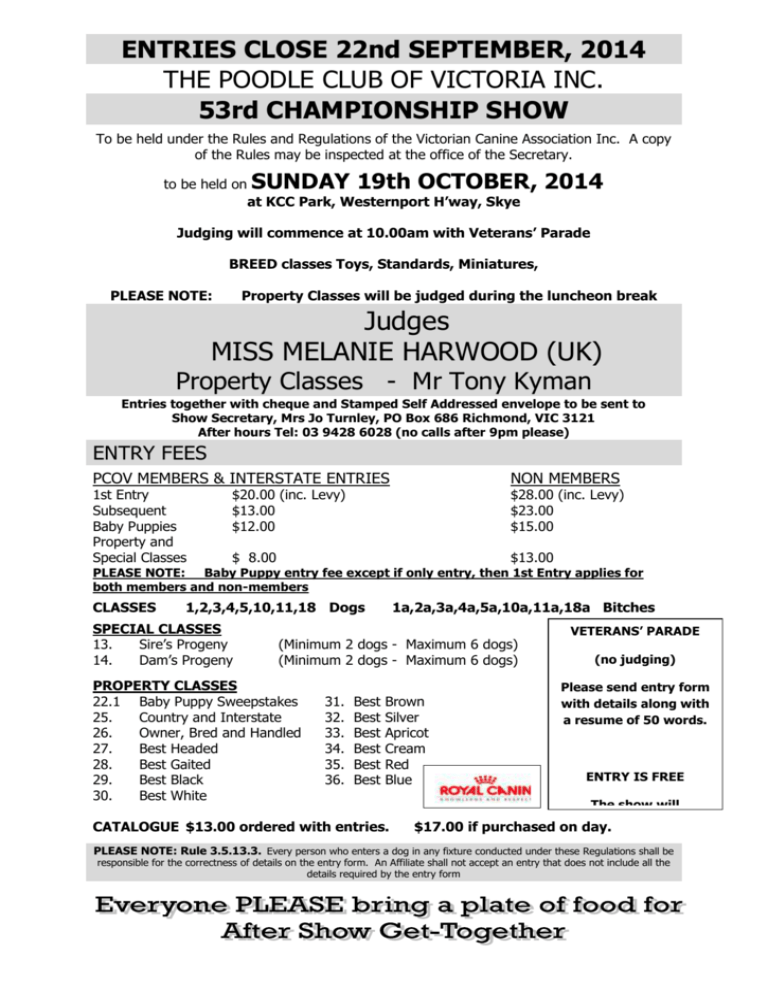 ENTRIES CLOSE 22nd SEPTEMBER, 2014
THE POODLE CLUB OF VICTORIA INC.
53rd CHAMPIONSHIP SHOW
To be held under the Rules and Regulations of the Victorian Canine Association Inc. A copy
of the Rules may be inspected at the office of the Secretary.
to be held on
SUNDAY 19th OCTOBER, 2014
at KCC Park, Westernport H'way, Skye
Judging will commence at 10.00am with Veterans' Parade
BREED classes Toys, Standards, Miniatures,
PLEASE NOTE:
Property Classes will be judged during the luncheon break
Judges
MISS MELANIE HARWOOD (UK)
Property Classes - Mr Tony Kyman
Entries together with cheque and Stamped Self Addressed envelope to be sent to
Show Secretary, Mrs Jo Turnley, PO Box 686 Richmond, VIC 3121
After hours Tel: 03 9428 6028 (no calls after 9pm please)
ENTRY FEES
PCOV MEMBERS & INTERSTATE ENTRIES
1st Entry
Subsequent
Baby Puppies
Property and
Special Classes
NON MEMBERS
$20.00 (inc. Levy)
$13.00
$12.00
$28.00 (inc. Levy)
$23.00
$15.00
$ 8.00
$13.00
PLEASE NOTE: Baby Puppy entry fee except if only entry, then 1st Entry applies for
both members and non-members
CLASSES
1,2,3,4,5,10,11,18 Dogs
SPECIAL CLASSES
13.
Sire's Progeny
14.
Dam's Progeny
1a,2a,3a,4a,5a,10a,11a,18a Bitches
(Minimum 2 dogs - Maximum 6 dogs)
(Minimum 2 dogs - Maximum 6 dogs)
PROPERTY CLASSES
22.1 Baby Puppy Sweepstakes
25.
Country and Interstate
26.
Owner, Bred and Handled
27.
Best Headed
28.
Best Gaited
29.
Best Black
30.
Best White
31.
32.
33.
34.
35.
36.
Best
Best
Best
Best
Best
Best
Brown
Silver
Apricot
Cream
Red
Blue
CATALOGUE $13.00 ordered with entries.
VETERANS' PARADE
(no judging)
Please send entry form
with details along with
a resume of 50 words.
ENTRY IS FREE
The show will
commence with the
$17.00 if purchased on day.
Parade.
PLEASE NOTE: Rule 3.5.13.3. Every person who enters a dog in any fixture conducted under these Regulations shall be
responsible for the correctness of details on the entry form. An Affiliate shall not accept an entry that doesShow
not include
allis
thenot
trim
details required by the entry form
necessary.