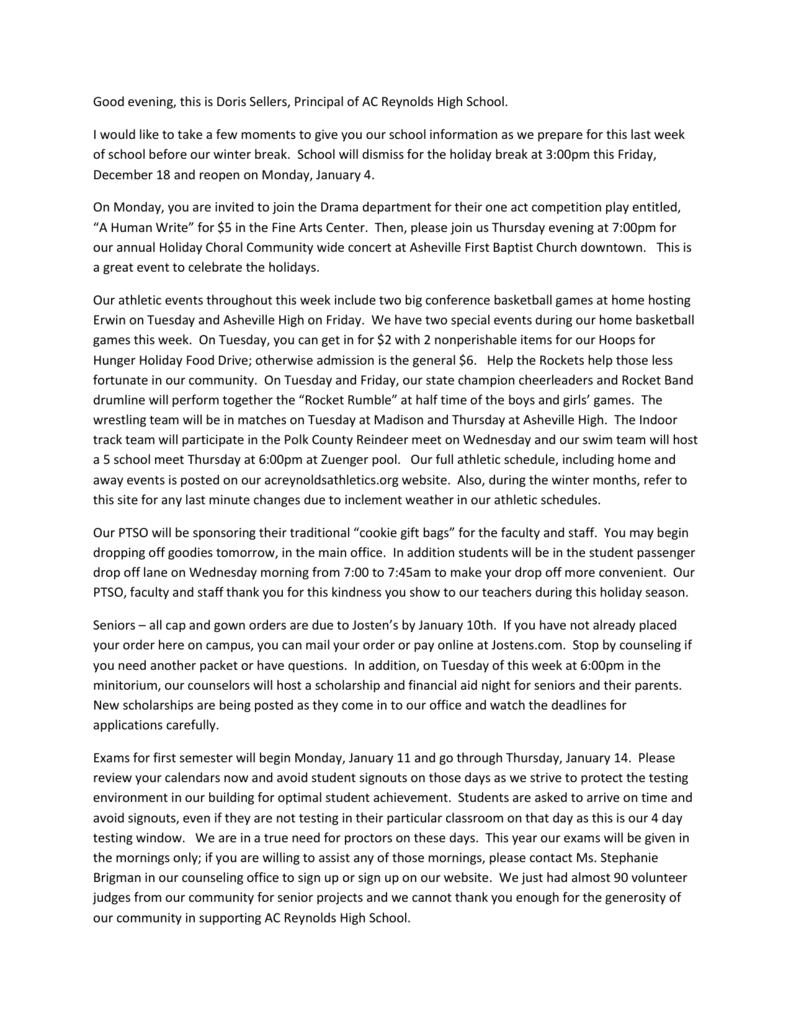 Good evening, this is Doris Sellers, Principal of AC Reynolds High School.
I would like to take a few moments to give you our school information as we prepare for this last week
of school before our winter break. School will dismiss for the holiday break at 3:00pm this Friday,
December 18 and reopen on Monday, January 4.
On Monday, you are invited to join the Drama department for their one act competition play entitled,
"A Human Write" for $5 in the Fine Arts Center. Then, please join us Thursday evening at 7:00pm for
our annual Holiday Choral Community wide concert at Asheville First Baptist Church downtown. This is
a great event to celebrate the holidays.
Our athletic events throughout this week include two big conference basketball games at home hosting
Erwin on Tuesday and Asheville High on Friday. We have two special events during our home basketball
games this week. On Tuesday, you can get in for $2 with 2 nonperishable items for our Hoops for
Hunger Holiday Food Drive; otherwise admission is the general $6. Help the Rockets help those less
fortunate in our community. On Tuesday and Friday, our state champion cheerleaders and Rocket Band
drumline will perform together the "Rocket Rumble" at half time of the boys and girls' games. The
wrestling team will be in matches on Tuesday at Madison and Thursday at Asheville High. The Indoor
track team will participate in the Polk County Reindeer meet on Wednesday and our swim team will host
a 5 school meet Thursday at 6:00pm at Zuenger pool. Our full athletic schedule, including home and
away events is posted on our acreynoldsathletics.org website. Also, during the winter months, refer to
this site for any last minute changes due to inclement weather in our athletic schedules.
Our PTSO will be sponsoring their traditional "cookie gift bags" for the faculty and staff. You may begin
dropping off goodies tomorrow, in the main office. In addition students will be in the student passenger
drop off lane on Wednesday morning from 7:00 to 7:45am to make your drop off more convenient. Our
PTSO, faculty and staff thank you for this kindness you show to our teachers during this holiday season.
Seniors – all cap and gown orders are due to Josten's by January 10th. If you have not already placed
your order here on campus, you can mail your order or pay online at Jostens.com. Stop by counseling if
you need another packet or have questions. In addition, on Tuesday of this week at 6:00pm in the
minitorium, our counselors will host a scholarship and financial aid night for seniors and their parents.
New scholarships are being posted as they come in to our office and watch the deadlines for
applications carefully.
Exams for first semester will begin Monday, January 11 and go through Thursday, January 14. Please
review your calendars now and avoid student signouts on those days as we strive to protect the testing
environment in our building for optimal student achievement. Students are asked to arrive on time and
avoid signouts, even if they are not testing in their particular classroom on that day as this is our 4 day
testing window. We are in a true need for proctors on these days. This year our exams will be given in
the mornings only; if you are willing to assist any of those mornings, please contact Ms. Stephanie
Brigman in our counseling office to sign up or sign up on our website. We just had almost 90 volunteer
judges from our community for senior projects and we cannot thank you enough for the generosity of
our community in supporting AC Reynolds High School.
Also, we will have attendance make up sessions Tuesday and Thursday afternoons from 3:15-5:15pm
through January 7, and one last Saturday opportunity January 9th from 8:00am –noon. ALL make up
time for Fall semester must be completed by Saturday, January 9th or students will have to attend
Summer Attendance School to recover their credits in the courses. Attendance make up information is
posted on our website.
As we enter into this holiday season, I want to personally Thank You for the opportunity to serve your
students and the community of AC Reynolds High School. I wish for you and your family a special and
joyous Holiday Season. Have a nice evening.