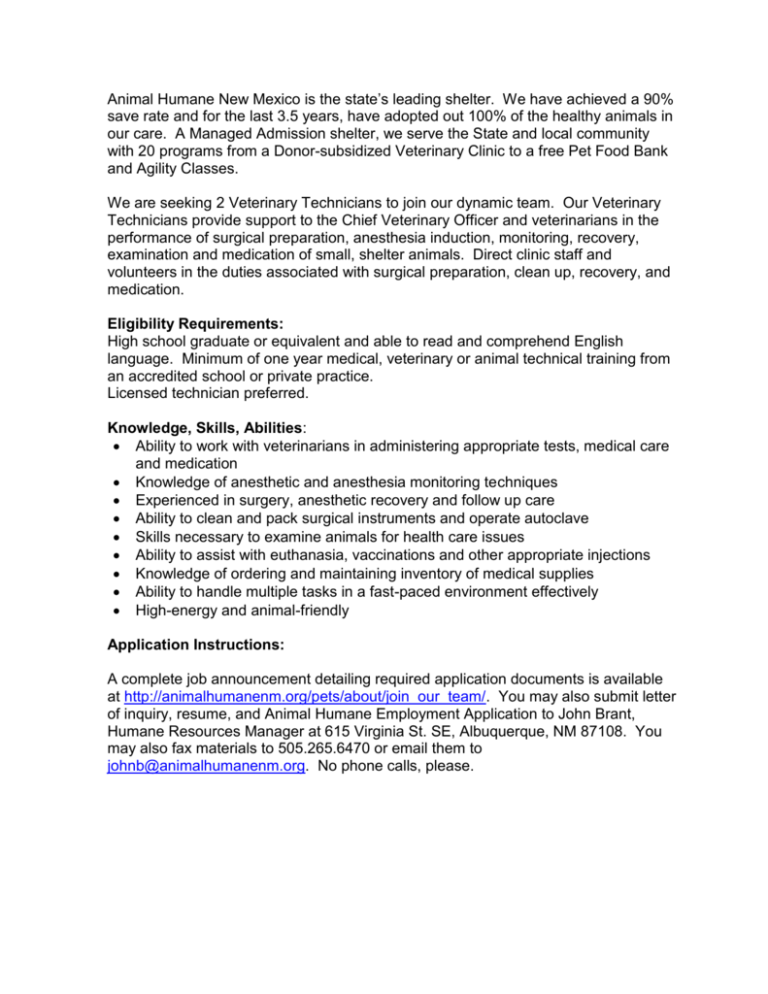 Animal Humane New Mexico is the state's leading shelter. We have achieved a 90%
save rate and for the last 3.5 years, have adopted out 100% of the healthy animals in
our care. A Managed Admission shelter, we serve the State and local community
with 20 programs from a Donor-subsidized Veterinary Clinic to a free Pet Food Bank
and Agility Classes.
We are seeking 2 Veterinary Technicians to join our dynamic team. Our Veterinary
Technicians provide support to the Chief Veterinary Officer and veterinarians in the
performance of surgical preparation, anesthesia induction, monitoring, recovery,
examination and medication of small, shelter animals. Direct clinic staff and
volunteers in the duties associated with surgical preparation, clean up, recovery, and
medication.
Eligibility Requirements:
High school graduate or equivalent and able to read and comprehend English
language. Minimum of one year medical, veterinary or animal technical training from
an accredited school or private practice.
Licensed technician preferred.
Knowledge, Skills, Abilities:
 Ability to work with veterinarians in administering appropriate tests, medical care
and medication
 Knowledge of anesthetic and anesthesia monitoring techniques
 Experienced in surgery, anesthetic recovery and follow up care
 Ability to clean and pack surgical instruments and operate autoclave
 Skills necessary to examine animals for health care issues
 Ability to assist with euthanasia, vaccinations and other appropriate injections
 Knowledge of ordering and maintaining inventory of medical supplies
 Ability to handle multiple tasks in a fast-paced environment effectively
 High-energy and animal-friendly
Application Instructions:
A complete job announcement detailing required application documents is available
at http://animalhumanenm.org/pets/about/join_our_team/. You may also submit letter
of inquiry, resume, and Animal Humane Employment Application to John Brant,
Humane Resources Manager at 615 Virginia St. SE, Albuquerque, NM 87108. You
may also fax materials to 505.265.6470 or email them to
johnb@animalhumanenm.org. No phone calls, please.