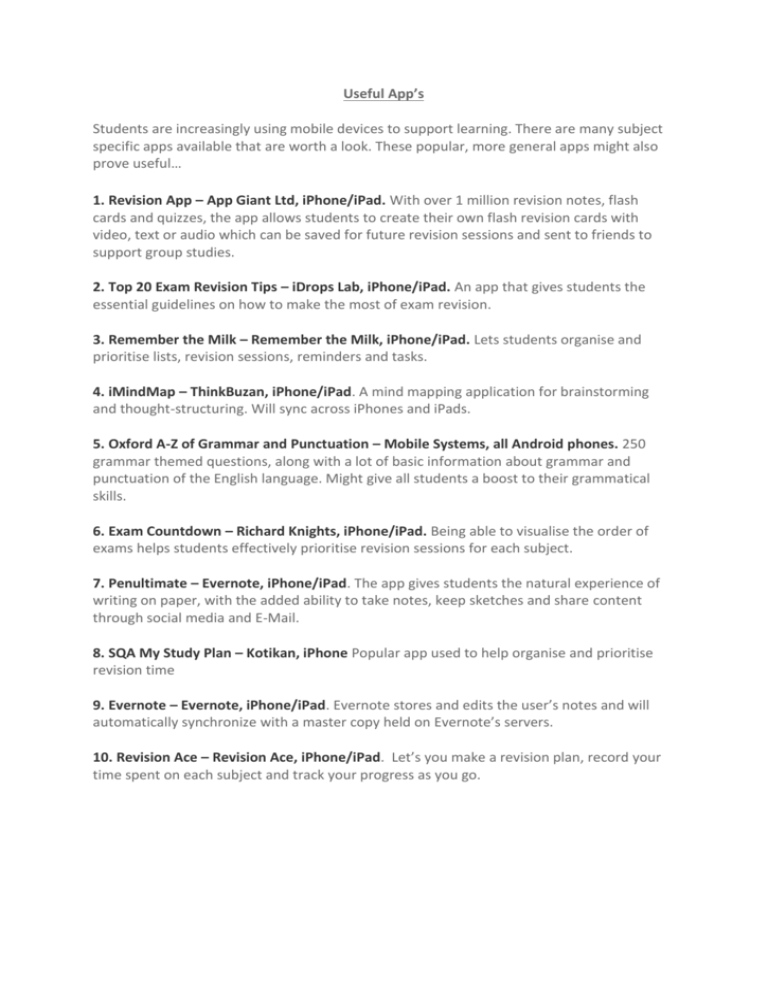 Useful App's
Students are increasingly using mobile devices to support learning. There are many subject
specific apps available that are worth a look. These popular, more general apps might also
prove useful…
1. Revision App – App Giant Ltd, iPhone/iPad. With over 1 million revision notes, flash
cards and quizzes, the app allows students to create their own flash revision cards with
video, text or audio which can be saved for future revision sessions and sent to friends to
support group studies.
2. Top 20 Exam Revision Tips – iDrops Lab, iPhone/iPad. An app that gives students the
essential guidelines on how to make the most of exam revision.
3. Remember the Milk – Remember the Milk, iPhone/iPad. Lets students organise and
prioritise lists, revision sessions, reminders and tasks.
4. iMindMap – ThinkBuzan, iPhone/iPad. A mind mapping application for brainstorming
and thought-structuring. Will sync across iPhones and iPads.
5. Oxford A-Z of Grammar and Punctuation – Mobile Systems, all Android phones. 250
grammar themed questions, along with a lot of basic information about grammar and
punctuation of the English language. Might give all students a boost to their grammatical
skills.
6. Exam Countdown – Richard Knights, iPhone/iPad. Being able to visualise the order of
exams helps students effectively prioritise revision sessions for each subject.
7. Penultimate – Evernote, iPhone/iPad. The app gives students the natural experience of
writing on paper, with the added ability to take notes, keep sketches and share content
through social media and E-Mail.
8. SQA My Study Plan – Kotikan, iPhone Popular app used to help organise and prioritise
revision time
9. Evernote – Evernote, iPhone/iPad. Evernote stores and edits the user's notes and will
automatically synchronize with a master copy held on Evernote's servers.
10. Revision Ace – Revision Ace, iPhone/iPad. Let's you make a revision plan, record your
time spent on each subject and track your progress as you go.