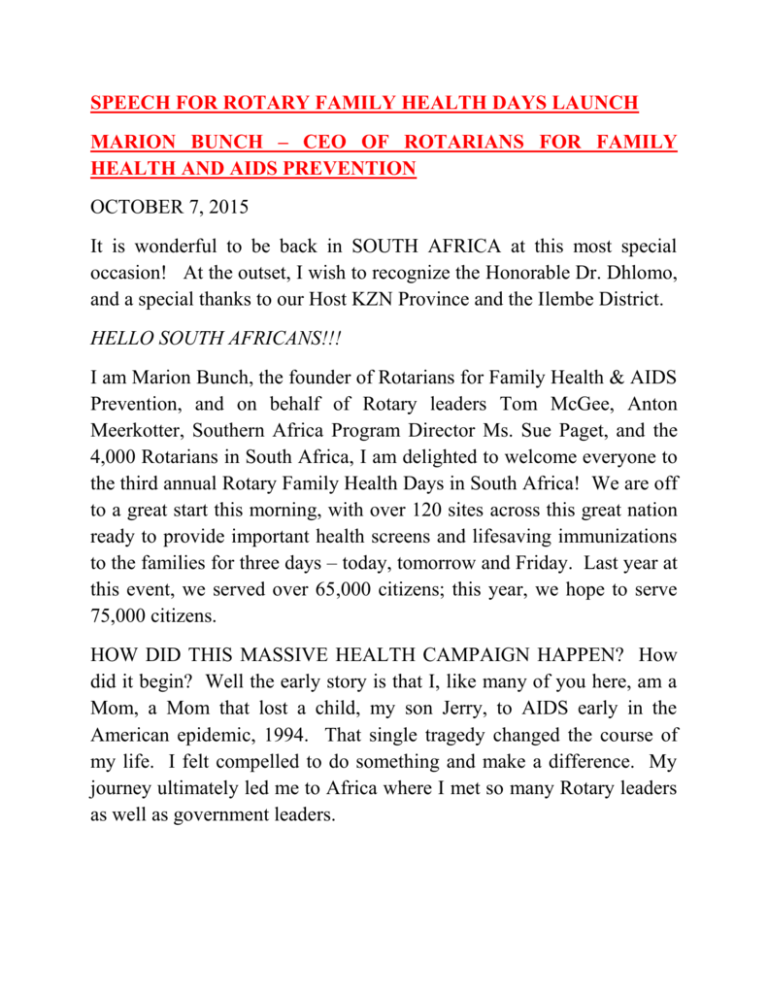 SPEECH FOR ROTARY FAMILY HEALTH DAYS LAUNCH
MARION BUNCH – CEO OF ROTARIANS FOR FAMILY
HEALTH AND AIDS PREVENTION
OCTOBER 7, 2015
It is wonderful to be back in SOUTH AFRICA at this most special
occasion! At the outset, I wish to recognize the Honorable Dr. Dhlomo,
and a special thanks to our Host KZN Province and the Ilembe District.
HELLO SOUTH AFRICANS!!!
I am Marion Bunch, the founder of Rotarians for Family Health & AIDS
Prevention, and on behalf of Rotary leaders Tom McGee, Anton
Meerkotter, Southern Africa Program Director Ms. Sue Paget, and the
4,000 Rotarians in South Africa, I am delighted to welcome everyone to
the third annual Rotary Family Health Days in South Africa! We are off
to a great start this morning, with over 120 sites across this great nation
ready to provide important health screens and lifesaving immunizations
to the families for three days – today, tomorrow and Friday. Last year at
this event, we served over 65,000 citizens; this year, we hope to serve
75,000 citizens.
HOW DID THIS MASSIVE HEALTH CAMPAIGN HAPPEN? How
did it begin? Well the early story is that I, like many of you here, am a
Mom, a Mom that lost a child, my son Jerry, to AIDS early in the
American epidemic, 1994. That single tragedy changed the course of
my life. I felt compelled to do something and make a difference. My
journey ultimately led me to Africa where I met so many Rotary leaders
as well as government leaders.
The Centers for Disease Control introduced me to your Minister of
Health, Dr. Motsoaledi, and together we decided we should partner and
work together on disease preventon.
ALL THINGS WERE MEANT TO HAPPEN, I am sure of it!
It was clear since the outset that Rotarians could only provide one part
of the answer for this massive event – that is, building, managing and
volunteering at the 120 sites across South Africa. Rotary is all about
volunteerism and mobilizing partnerships and communities into action!
We are the oldest and largest civic organization in the world with
membership in over 200 countries, and our Motto is "Service Above
Self." We have always believed in disease prevention, beginning with
our fight to eradicate polio starting in 1985. Rotarians have given
almost 2 $ Billion USD to this polio eradication effort, along with
volunteering at National Immunizations Days and vaccinating millions
of children all over the world. We did this work in partnership with the
World Health Organization, the Centers for Disease Control, and
UNICEF.
For the Rotary Family Health Days program, we are ONCE AGAIN,
doing something similar THROUGH PARTNERSHIPS. Each of our
partners who we will honor today has a critical and defined role and set
of responsibilities which is why this partnership works. We create these
partnerships at the national level, but in fact, If it weren't for the
Provincial and District level government staff working with the local
Rotarians at each site, this program would never happen! In fact, this
program has now become part of the government's national health
calendar. There is so much planning and hard work done to implement a
massive health campaign like this across the nation.
You know, we began this program in the country of Uganda, expanded it
to Nigeria, Ghana and South Africa. The results have been astounding:
in 2014, we are providing free health care services to over 343,000
citizens in those four countries! These same countries will do this
program again this year, and then we plan to expand it to India in
February 2016.
We wish to honor:
 Most importantly, the South African Department of Health, under
the direction of the Honorable Minister Dr Aaron Motsoaledi.
They are providing overall strategic direction as well as pro bono
medical and technical support at all of the sites. They have led the
way in terms of needs assessment, data collection and input on
monitoring and evaluation of all services.
 The United State Mission, and we are honored to have the U.S.
Cosul Ms. Frances Chisholm with us today. We are so grateful
for your partnership with RFHA, AND WITH ROTARIANS!
The Centers for Disease Control (CDC) has been with us since
inception and provide overall strategic technical direction and
implementation of the medical services. They have partnered with
us and the South Africa Department of Health to define a
monitoring and evaluation system so that we can validate
sustainable impact of this program;
 MTN South Africa Foundation who is our Primary Sponsor -represented by Ms. Angie Maloko. MTN is a multinational
telecommunications company with a massive reach across Africa
and the Middle East. Without them, this program would not have
taken place! Their Foundation is MTN's corporate social
investment vehicle, and we sincerely thank you for your
partnership this year.
 SABC (South African Broadcasting Corporation) who are
providing pro bono T.V. and radio media support as well as
broadcasting the documentary produced by Rotary International;
 Rotary International for producing a documentary to publicize this
program,.
 Caxton, represented by Bevis Fairbrother, and they are providing
pro bono print media support through their community
newspapers;
 We acknowledge our other support partners who have helped
create this success! YFM, Prime Media, Media 24 News,
Independent Newspapers, Paprika Studios, and Sesego Cares.
I WISH TO SUMMARIZE BY SAYING THAT WE ARE ALL LEAVING A
LEGACY BECAUSE WE BELIEVE THAT THE ONLY WAY TO
COMBAT DISEASE AND BUILD A HEALTH NATION OF PEOPLE IS
BY WORKING TOGETHER! EACH PARTNER OF OURS IS HIGHLY
VALUED, AND WE SINCERELY THANK YOU FOR WORKING WITH
ROTARIANS TO MAKE A DIFFERENCE IN THE LIVES OF SOUTH
AFRICANS.