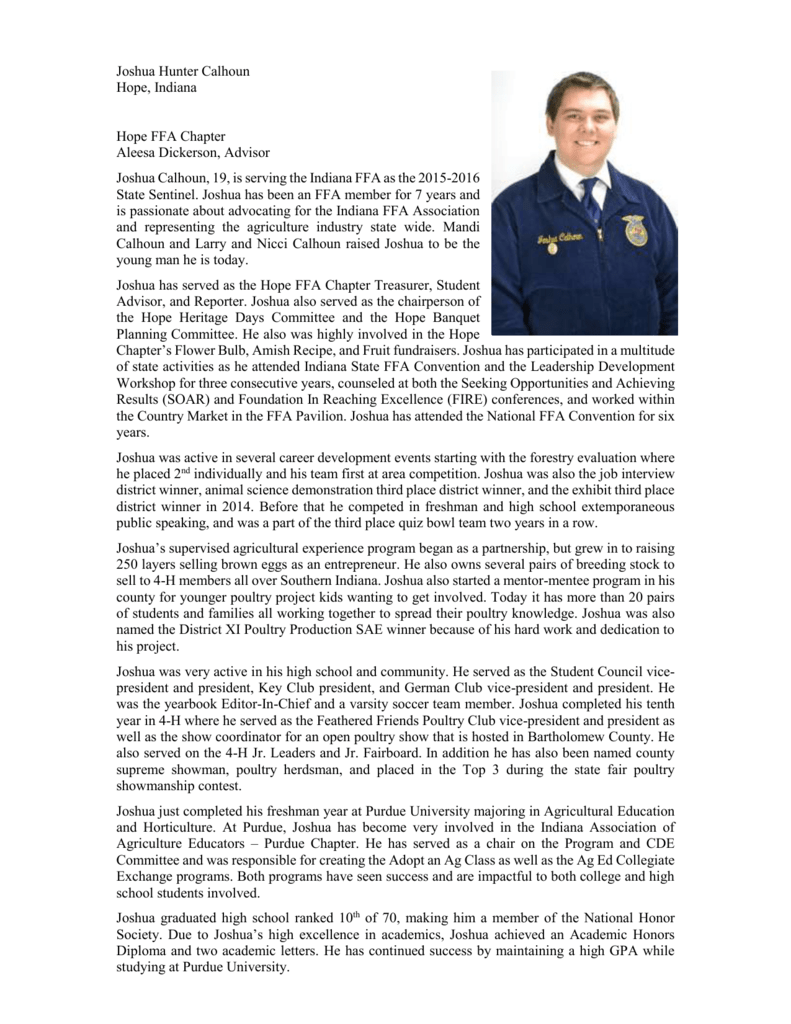 Joshua Hunter Calhoun
Hope, Indiana
Hope FFA Chapter
Aleesa Dickerson, Advisor
Joshua Calhoun, 19, is serving the Indiana FFA as the 2015-2016
State Sentinel. Joshua has been an FFA member for 7 years and
is passionate about advocating for the Indiana FFA Association
and representing the agriculture industry state wide. Mandi
Calhoun and Larry and Nicci Calhoun raised Joshua to be the
young man he is today.
Joshua has served as the Hope FFA Chapter Treasurer, Student
Advisor, and Reporter. Joshua also served as the chairperson of
the Hope Heritage Days Committee and the Hope Banquet
Planning Committee. He also was highly involved in the Hope
Chapter's Flower Bulb, Amish Recipe, and Fruit fundraisers. Joshua has participated in a multitude
of state activities as he attended Indiana State FFA Convention and the Leadership Development
Workshop for three consecutive years, counseled at both the Seeking Opportunities and Achieving
Results (SOAR) and Foundation In Reaching Excellence (FIRE) conferences, and worked within
the Country Market in the FFA Pavilion. Joshua has attended the National FFA Convention for six
years.
Joshua was active in several career development events starting with the forestry evaluation where
he placed 2nd individually and his team first at area competition. Joshua was also the job interview
district winner, animal science demonstration third place district winner, and the exhibit third place
district winner in 2014. Before that he competed in freshman and high school extemporaneous
public speaking, and was a part of the third place quiz bowl team two years in a row.
Joshua's supervised agricultural experience program began as a partnership, but grew in to raising
250 layers selling brown eggs as an entrepreneur. He also owns several pairs of breeding stock to
sell to 4-H members all over Southern Indiana. Joshua also started a mentor-mentee program in his
county for younger poultry project kids wanting to get involved. Today it has more than 20 pairs
of students and families all working together to spread their poultry knowledge. Joshua was also
named the District XI Poultry Production SAE winner because of his hard work and dedication to
his project.
Joshua was very active in his high school and community. He served as the Student Council vicepresident and president, Key Club president, and German Club vice-president and president. He
was the yearbook Editor-In-Chief and a varsity soccer team member. Joshua completed his tenth
year in 4-H where he served as the Feathered Friends Poultry Club vice-president and president as
well as the show coordinator for an open poultry show that is hosted in Bartholomew County. He
also served on the 4-H Jr. Leaders and Jr. Fairboard. In addition he has also been named county
supreme showman, poultry herdsman, and placed in the Top 3 during the state fair poultry
showmanship contest.
Joshua just completed his freshman year at Purdue University majoring in Agricultural Education
and Horticulture. At Purdue, Joshua has become very involved in the Indiana Association of
Agriculture Educators – Purdue Chapter. He has served as a chair on the Program and CDE
Committee and was responsible for creating the Adopt an Ag Class as well as the Ag Ed Collegiate
Exchange programs. Both programs have seen success and are impactful to both college and high
school students involved.
Joshua graduated high school ranked 10th of 70, making him a member of the National Honor
Society. Due to Joshua's high excellence in academics, Joshua achieved an Academic Honors
Diploma and two academic letters. He has continued success by maintaining a high GPA while
studying at Purdue University.