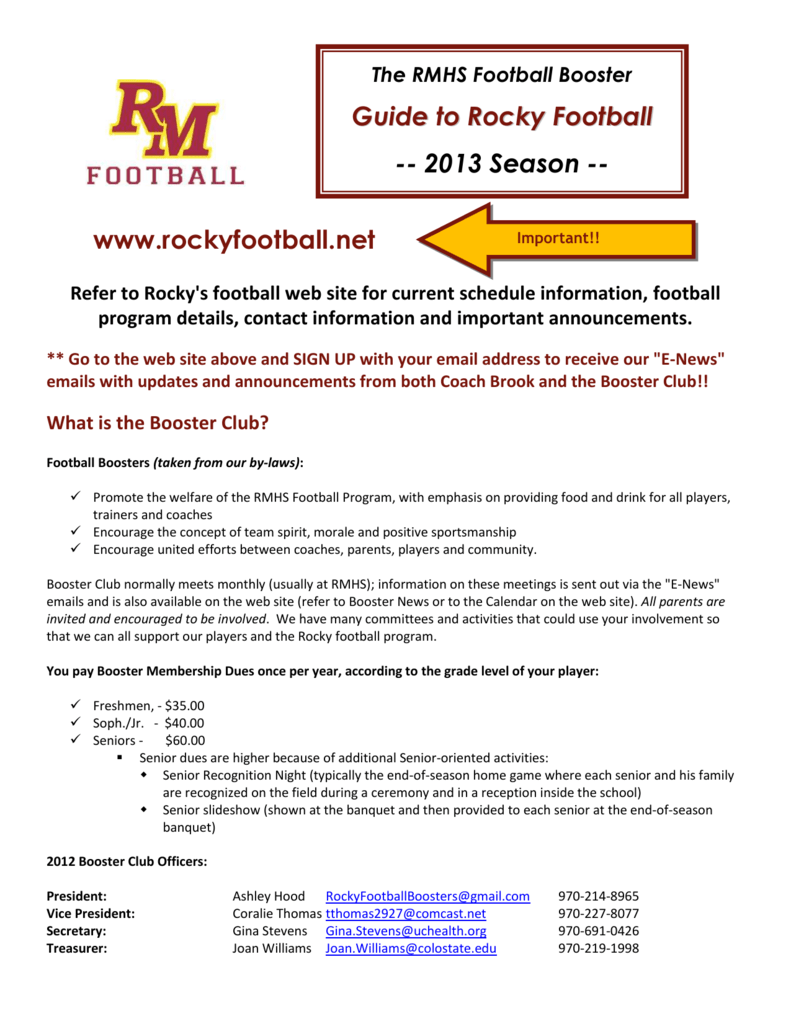 The RMHS Football Booster
Guide to Rocky Football
-- 2013 Season -www.rockyfootball.net
Important!!
Refer to Rocky's football web site for current schedule information, football
program details, contact information and important announcements.
** Go to the web site above and SIGN UP with your email address to receive our "E-News"
emails with updates and announcements from both Coach Brook and the Booster Club!!
What is the Booster Club?
Football Boosters (taken from our by-laws):
 Promote the welfare of the RMHS Football Program, with emphasis on providing food and drink for all players,
trainers and coaches
 Encourage the concept of team spirit, morale and positive sportsmanship
 Encourage united efforts between coaches, parents, players and community.
Booster Club normally meets monthly (usually at RMHS); information on these meetings is sent out via the "E-News"
emails and is also available on the web site (refer to Booster News or to the Calendar on the web site). All parents are
invited and encouraged to be involved. We have many committees and activities that could use your involvement so
that we can all support our players and the Rocky football program.
You pay Booster Membership Dues once per year, according to the grade level of your player:
 Freshmen, - $35.00
 Soph./Jr. - $40.00
 Seniors $60.00
 Senior dues are higher because of additional Senior-oriented activities:
 Senior Recognition Night (typically the end-of-season home game where each senior and his family
are recognized on the field during a ceremony and in a reception inside the school)
 Senior slideshow (shown at the banquet and then provided to each senior at the end-of-season
banquet)
2012 Booster Club Officers:
President:
Vice President:
Secretary:
Treasurer:
Ashley Hood [email protected]
Coralie Thomas [email protected]
Gina Stevens [email protected]
Joan Williams [email protected]
970-214-8965
970-227-8077
970-691-0426
970-219-1998
Where does the Money Go?
Your Football Boosters Membership Dues help us to provide:
 Away-game food and drinks for all players, coaches, and managers. Your player is given a drink for the trip to
the away game field. After the game, he is provided with a sandwich, drink, fruit and more for the bus trip back
to Rocky after each away game. If your player plays on more than one team (JV & Varsity, for instance), he is
given food and drinks for both teams!
 A supplement to the Home-game food that is provided after each Varsity Home game (see below).
 A football helmet yard-sign for each player on each team.
What Else?
We Do All This Through Your Dues and Fundraising:
Booster Club raises additional funds and donations for the football program through:
 Food donations from local restaurants

Boosters coordinate/provide a meal to all players (C-Team, Junior Varsity and Varsity), coaches,
statisticians and trainers after each Varsity home game at French Field.

King Soopers Cards

You may purchase a $ 10.00 King Soopers Card from Boosters ( it will come loaded with $ 10.00
already on the card). Then simply go to Customer Service and "Load" your card . At Checkout
purchase your groceries with the card and a portion comes back to the football program!
 Banner Sponsorships
 3'x5' banners are sold to local businesses or individuals who wish to support the program. A banner
sponsorship provides the sponsor with:
 Banner - to be hung at all French Field games (home games, away games versus teams who also
use French Field, playoff games)
 Name in the Homecoming football program
 Name announced as a football program sponsor throughout each home game
 Note: Initial banner sponsorships cost $350.00 per year. If the banner is used in subsequent
years, sponsorships are only $250.00 per year.
 Fan Gear
 Three times a year Boosters will sell football-specific fan gear via our new online store. The website will
be open for orders in June, August and November. (Allowing you to get your Rocky Football gear in time
for the season and again for holiday gifts!) Please watch for e-news updates regarding Fan Gear!
 NOTE: Fan gear is different than the SPIRIT PACK that your player can order as part of the football
program. Coach Brook will take orders separately for your player's SPIRIT PACK; the SPIRIT PACK ORDER
will be for items that are for your player to wear!!!
 Fundraisers
 Boosters will coordinate fundraisers throughout the summer and during the season. Please watch your
e-news and for flyers coming home with players.
Booster Club also:
 Organizes two end-of-season banquets: a C-Team banquet and a Varsity/JV banquet. We cover the cost of each
player to attend the banquet (family members pay to attend) so that each player can participate!!
 Maintains the Rocky Football web site and sends out electronic newsletters and announcements.
 Arranges for photographers who will take photos during football games and upload those photos to a web site
where parents and others can download.
 Owns the school flags that are run out on the field prior to games.
 Hangs sponsor banners for each French Field game.
 Supports the football program as needed.
** Cash donations are always accepted and appreciated!! RMHS Football Boosters is a non-profit organization and as
such, your donations are tax deductible!!!
Funds remaining after paying for all of the above activities, and after retaining some operational funds to begin the next
football season, are donated to the football program and to the trainers' office. In the past, these donations have gone
toward things such as practice and training equipment, etc. for the football program and supplies and equipment that
the trainers use throughout the season that help treat and keep the players healthy and well. These donations are used
at the discretion of the football and training programs, respectively.
We have the following committees/activities that could use your involvement (please contact one of the officers or,
better yet, come to the Booster Club meetings and get involved!):
Committees/Activities & Ways to Be Involved:












Home Food
Away Food
Away Drinks
Senior Recognition Night
Senior Family Photos
Sponsor Banners
Homecoming Program
Fundraising
Fan Gear
JV Team Representative
C-Team Representative
Helmet Yard Signs
What is PAC (Parent Athletic Club)??? How is that different than PAC???
You'll note that on the Booster Membership Form there's a place for you to sign up for PAC (only $5.00 per athlete per
year!). PAC is a separate and very important program that helps support ALL ROCKY ATHLETICS. PAC provides critical
items to Rocky Athletics: letters, pins, certificates, awards, ice machine, whirlpool, etc. Boosters provide you with the
opportunity to pay this fee with your Booster Membership to help keep you from needing to write multiple checks. We
collect these funds on their behalf and then turn those funds directly over to PAC along with your name and your
player's name. If you prefer to pay this fee separately, there is a PAC membership that can be downloaded from Rocky's
school web site. In addition, you can contact PAC to be involved with that organization as well: Linda Pixley,
970.223.4042.
Season Timeline, Important Dates:
May
21st
21st
20th- 22nd
28th-30th
Parent Information Meeting 6:30 pm- Multi-purpose room RMHS
Pay Football Booster Dues & PAC Dues!
Sophomores, Juniors, Seniors: Spring Practice 3:00-6:00 pm
Freshman Orientation 3-6 pm
June
3rd-13th
Summer Team Camp M-F @ RMHS from 7:30 to 11:30 am
13th
Team Pool Party (Village Green) 7:00-9:00 pm
15th
Scrimmage vs. Legacy and Windsor @ RMHS 4:00 FR/JV and 6:00 Varisty
17th-20th
KidsCamp (Youth)
17th
Summer Weights begins: JUNE 17th -JULY 26th M/W/ F 7:30 - 10:00 am
th
18
Tuesday Night Practice begins: JUNE 18th- July 23rd Tuesdays 5:00 – 6:30 pm
22th
Passing Jamboree – Invite Only All Day
***ORDER FAN GEAR ONLINE***
July
23rd
Tuesday Night Practice ends
26th
Summer Weights ends
29th – Aug. 2nd DEAD WEEK
August
5th-9th
Mini Camp (Weights Included) 4:00 – 7:00 pm
12th - 16th
TWO-A-DAYS Times TBA
16th
Team BBQ (Rocky Courtyard) 6:30 – 10:00 pm
17th
Intersquad Scrimmage 8:00 am Freshman; 9:00 am JV; 10:00 am Varsity
19th
In Season Practice Begins 3:00 – 6:00 pm
24
Longmont Scrimmage @ RMHS - 3:30 pm FR/JV; 7:00 pm Varisty
***ORDER FAN GEAR ONLINE***
30th
SEASON STARTS !! VS. Chaparral @ Mile High Stadium 7:00 pm
September
Senior Family Photos @ Pentico- Times TBA @ Intersquad scrimmage
October
1st – 30th
10th
13th
17th
Regular season football continues through October
Last day to submit senior photos for Banquet DVD
Varsity Homecoming game vs. Brighton
Senior Recognition - following Varsity game VS. Mountain Range 6:00 pm
November
Playoffs begin
Freshman Banquet - TBA
24th
End-of-season Varsity/JV Banquet – TBA
***ORDER FAN GEAR ONLINE FOR THE HOLIDAYS***
ATTENTION SENIOR PARENTS!!!
The Booster Club wants to ensure that your player leaves the football program with lasting memories! We know it's a
busy year for you as a whole and we're hoping that by outlining these items now, we won't be bothering you later!!
Some of the items listed below require your assistance and others require your player's involvement. Please take a look
at the list below so that you're not surprised! Please add these important dates to your calendar!!
Date
August 17th, 2013
8:00 - Noon
September 2013
What do you need to do?
Please come to the Intersquad scrimmage at Rocky to:

Schedule appointment with Pentico Photography
for your free family photo session.

Receive updated information for the upcoming
season (including senior night questionnaire).
FAMILY PHOTO NIGHT AT PENTICO PHOTOGRAPHY
Come to your designated photo session time!
Bring:
Your player's senior night questionnaire (THIS IS
DIFFERENT THAN THE SENIOR QUOTE THAT THE COACH
WILL GET FROM HIM FOR THE HOMECOMING
PROGRAM!!). This Senior Night statement will be read
by the announcer during the Senior night ceremony!!!
October 17th, 2013
Please join us for Senior Recognition
October 10, 2013
Submit five (5) photos of your player (originals will be
returned or you can email the photos) for the senior
slideshow. You can give us the actual photos so we can
scan them and return them to you, or you can scan them
and email them to: Ashley Hood
[email protected] 970-214-8965
Please join us for the End-of-Season Banquet
Location TBA
November 24th,
2013
Explanation
You'll receive a senior-oriented "packet" of information at the
Intersquad Scrimmage in August. We'll have these details and
more for you there!
Pentico Photography is an outstanding sponsor of our football
program. Your player will wear his football jersey and the rest
of family can come in Lobo gear or whatever you choose. Rod
Pentico will take a photo of your family at his studio - free of
charge (you'll be provided with a 5 x 7 print on Senior
Recognition Night).
Pentico Photography
2744 Nottingham Square
Fort Collins, CO 80526
At the game there will be an on-field ceremony where family
members and players are brought out onto the field and a
short statement (written by your player) is read by the
announcer. The coaches and trainers will be on the field to
help recognize each player and his family. Afterward, there is
a cake and punch reception inside the school for senior
players/trainers and their families.
A senior slide show will be provided for each player at the end
of the season. We'll include game photos and will also include
FIVE PHOTOS of each senior THAT WE ASK YOU TO PROVIDE.
You can provide baby pictures, youth football pictures, family
photos, etc.
Dinner is provided for each player but additional family
members will need to sign up and pay in advance. The
banquet will recognize all the JV/Varsity players with
particular emphasis on the senior class. A senior slideshow
will also be presented during the program and each senior
player will be given a copy. There will be an autograph page
with team photo for each player to sign that can be framed or
placed in a scrapbook!
It's our intention that each senior player leaves the Rocky Football Program having had the time of his life with the
ability to look back at this time with fond memories!! Let us know how we can help you ensure that your player is
enjoying the Lobo Football experience!!!