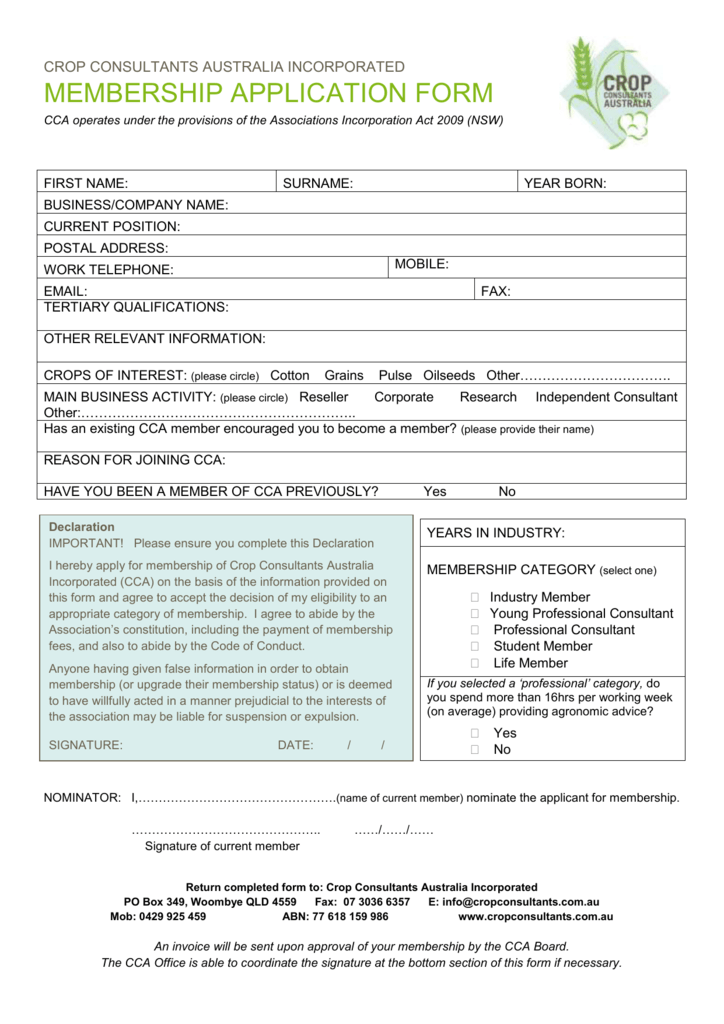 CROP CONSULTANTS AUSTRALIA INCORPORATED
MEMBERSHIP APPLICATION FORM
CCA operates under the provisions of the Associations Incorporation Act 2009 (NSW)
FIRST NAME:
SURNAME:
YEAR BORN:
BUSINESS/COMPANY NAME:
CURRENT POSITION:
POSTAL ADDRESS:
MOBILE:
WORK TELEPHONE:
EMAIL:
TERTIARY QUALIFICATIONS:
FAX:
OTHER RELEVANT INFORMATION:
CROPS OF INTEREST: (please circle) Cotton
Grains
Pulse Oilseeds Other…………………………….
MAIN BUSINESS ACTIVITY: (please circle) Reseller
Corporate
Research Independent Consultant
Other:……………………………………………………..
Has an existing CCA member encouraged you to become a member? (please provide their name)
REASON FOR JOINING CCA:
HAVE YOU BEEN A MEMBER OF CCA PREVIOUSLY?
Yes
No
Declaration
IMPORTANT! Please ensure you complete this Declaration
YEARS IN INDUSTRY:
I hereby apply for membership of Crop Consultants Australia
Incorporated (CCA) on the basis of the information provided on
this form and agree to accept the decision of my eligibility to an
appropriate category of membership. I agree to abide by the
Association's constitution, including the payment of membership
fees, and also to abide by the Code of Conduct.
MEMBERSHIP CATEGORY (select one)
Anyone having given false information in order to obtain
membership (or upgrade their membership status) or is deemed
to have willfully acted in a manner prejudicial to the interests of
the association may be liable for suspension or expulsion.
SIGNATURE:
DATE:
/
 Industry Member
 Young Professional Consultant
 Professional Consultant
 Student Member
 Life Member
If you selected a 'professional' category, do
you spend more than 16hrs per working week
(on average) providing agronomic advice?
/


Yes
No
NOMINATOR: I,………………………………………….(name of current member) nominate the applicant for membership.
………………………………………..
Signature of current member
……/……/……
Return completed form to: Crop Consultants Australia Incorporated
PO Box 349, Woombye QLD 4559
Fax: 07 3036 6357
E: [email protected]
Mob: 0429 925 459
ABN: 77 618 159 986
www.cropconsultants.com.au
An invoice will be sent upon approval of your membership by the CCA Board.
The CCA Office is able to coordinate the signature at the bottom section of this form if necessary.