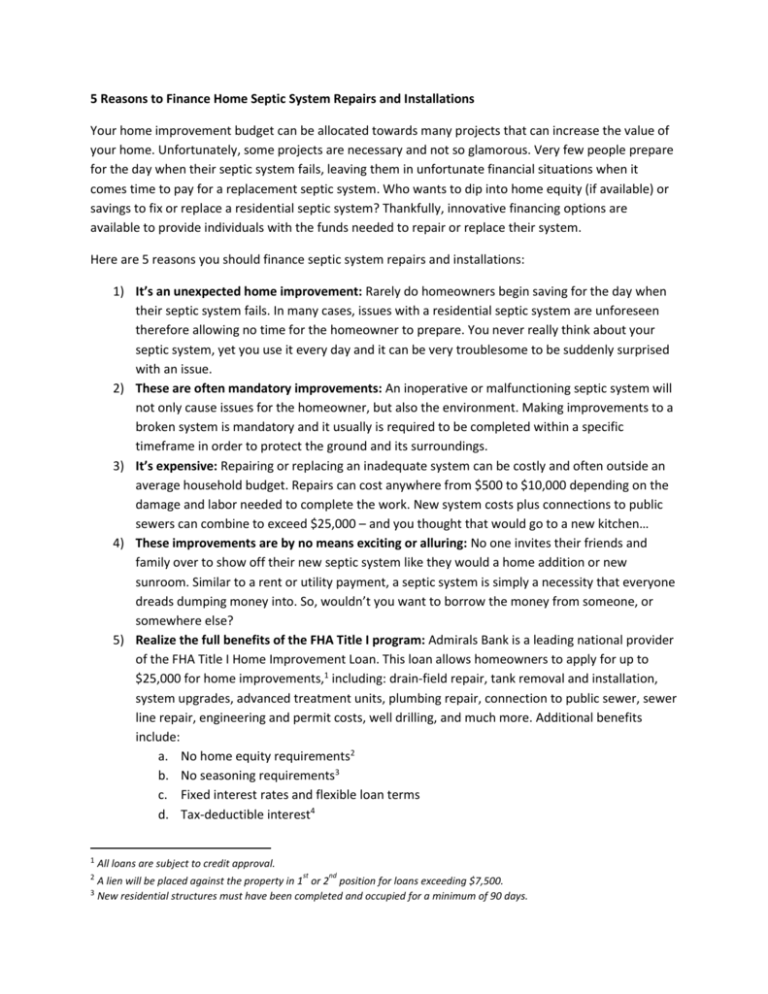 5 Reasons to Finance Home Septic System Repairs and Installations
Your home improvement budget can be allocated towards many projects that can increase the value of
your home. Unfortunately, some projects are necessary and not so glamorous. Very few people prepare
for the day when their septic system fails, leaving them in unfortunate financial situations when it
comes time to pay for a replacement septic system. Who wants to dip into home equity (if available) or
savings to fix or replace a residential septic system? Thankfully, innovative financing options are
available to provide individuals with the funds needed to repair or replace their system.
Here are 5 reasons you should finance septic system repairs and installations:
1) It's an unexpected home improvement: Rarely do homeowners begin saving for the day when
their septic system fails. In many cases, issues with a residential septic system are unforeseen
therefore allowing no time for the homeowner to prepare. You never really think about your
septic system, yet you use it every day and it can be very troublesome to be suddenly surprised
with an issue.
2) These are often mandatory improvements: An inoperative or malfunctioning septic system will
not only cause issues for the homeowner, but also the environment. Making improvements to a
broken system is mandatory and it usually is required to be completed within a specific
timeframe in order to protect the ground and its surroundings.
3) It's expensive: Repairing or replacing an inadequate system can be costly and often outside an
average household budget. Repairs can cost anywhere from $500 to $10,000 depending on the
damage and labor needed to complete the work. New system costs plus connections to public
sewers can combine to exceed $25,000 – and you thought that would go to a new kitchen…
4) These improvements are by no means exciting or alluring: No one invites their friends and
family over to show off their new septic system like they would a home addition or new
sunroom. Similar to a rent or utility payment, a septic system is simply a necessity that everyone
dreads dumping money into. So, wouldn't you want to borrow the money from someone, or
somewhere else?
5) Realize the full benefits of the FHA Title I program: Admirals Bank is a leading national provider
of the FHA Title I Home Improvement Loan. This loan allows homeowners to apply for up to
$25,000 for home improvements,1 including: drain-field repair, tank removal and installation,
system upgrades, advanced treatment units, plumbing repair, connection to public sewer, sewer
line repair, engineering and permit costs, well drilling, and much more. Additional benefits
include:
a. No home equity requirements2
b. No seasoning requirements3
c. Fixed interest rates and flexible loan terms
d. Tax-deductible interest4
1
All loans are subject to credit approval.
2
A lien will be placed against the property in 1 or 2 position for loans exceeding $7,500.
New residential structures must have been completed and occupied for a minimum of 90 days.
3
st
nd
e.
f.
g.
h.
i.
j.
No out-of-pocket costs
Pre-qualification within minutes
Funding as quickly as 12 days
No pre-payment penalties
100% up-front funding
Full approval in 72 hours
Borrowers with FICO scores above 700 are also eligible to apply for an additional $15,000 through the
Bank's exclusive Plus I loan program,5 bringing the total loan amount to $40,000.
Are you in need of financing for your residential septic system? Contact us today for more information:
Direct - 401-248-7352
Toll Free - 888-778-8472 or
[email protected]
4
This is not meant to be relied upon as tax or legal advice, please consult your tax advisor or attorney for information regarding
tax deductibility
5
The Plus Loan program is a Bank program that is not affiliated with or sponsored by FHA.