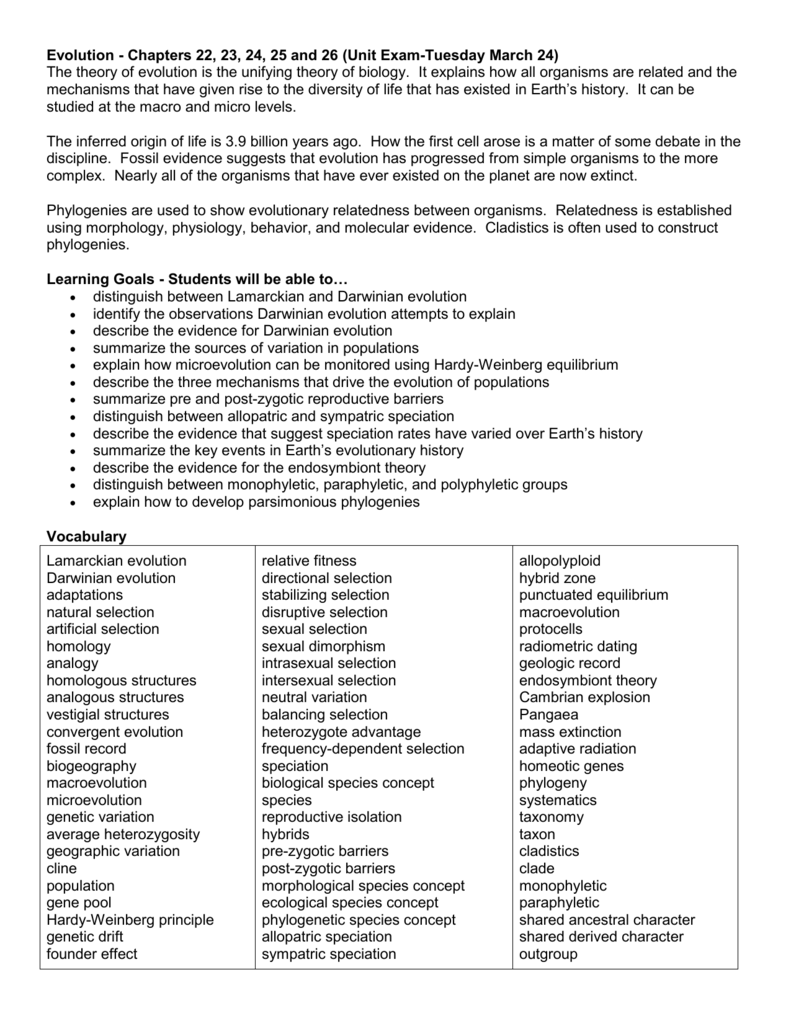 Evolution - Chapters 22, 23, 24, 25 and 26 (Unit Exam-Tuesday March 24)
The theory of evolution is the unifying theory of biology. It explains how all organisms are related and the
mechanisms that have given rise to the diversity of life that has existed in Earth's history. It can be
studied at the macro and micro levels.
The inferred origin of life is 3.9 billion years ago. How the first cell arose is a matter of some debate in the
discipline. Fossil evidence suggests that evolution has progressed from simple organisms to the more
complex. Nearly all of the organisms that have ever existed on the planet are now extinct.
Phylogenies are used to show evolutionary relatedness between organisms. Relatedness is established
using morphology, physiology, behavior, and molecular evidence. Cladistics is often used to construct
phylogenies.
Learning Goals - Students will be able to…
 distinguish between Lamarckian and Darwinian evolution
 identify the observations Darwinian evolution attempts to explain
 describe the evidence for Darwinian evolution
 summarize the sources of variation in populations
 explain how microevolution can be monitored using Hardy-Weinberg equilibrium
 describe the three mechanisms that drive the evolution of populations
 summarize pre and post-zygotic reproductive barriers
 distinguish between allopatric and sympatric speciation
 describe the evidence that suggest speciation rates have varied over Earth's history
 summarize the key events in Earth's evolutionary history
 describe the evidence for the endosymbiont theory
 distinguish between monophyletic, paraphyletic, and polyphyletic groups
 explain how to develop parsimonious phylogenies
Vocabulary
Lamarckian evolution
Darwinian evolution
adaptations
natural selection
artificial selection
homology
analogy
homologous structures
analogous structures
vestigial structures
convergent evolution
fossil record
biogeography
macroevolution
microevolution
genetic variation
average heterozygosity
geographic variation
cline
population
gene pool
Hardy-Weinberg principle
genetic drift
founder effect
relative fitness
directional selection
stabilizing selection
disruptive selection
sexual selection
sexual dimorphism
intrasexual selection
intersexual selection
neutral variation
balancing selection
heterozygote advantage
frequency-dependent selection
speciation
biological species concept
species
reproductive isolation
hybrids
pre-zygotic barriers
post-zygotic barriers
morphological species concept
ecological species concept
phylogenetic species concept
allopatric speciation
sympatric speciation
allopolyploid
hybrid zone
punctuated equilibrium
macroevolution
protocells
radiometric dating
geologic record
endosymbiont theory
Cambrian explosion
Pangaea
mass extinction
adaptive radiation
homeotic genes
phylogeny
systematics
taxonomy
taxon
cladistics
clade
monophyletic
paraphyletic
shared ancestral character
shared derived character
outgroup
bottleneck effect
gene flow
polyploidy
autopolyploid
ingroup
parsimony
orthologous genes
paralogous genes
molecular clock
Analysis Questions
1.
How are Miller-Urey type experiments used as evidence for the origin of life?
2.
Why are proto-cells key to the development of life on Earth?
3.
The first appearance of free oxygen in the atmosphere likely triggered a massive wave of
extinctions among the prokaryotes of the time. Why?
4.
What evidence supports the hypothesis that mitochondria preceded plastids in the evolution of
eukaryotic cells?
5.
What factors promote adaptive radiations?
6.
How does Larmarkian evolution differ from Darwinian evolution?
7.
Explain how Darwinian evolution is supported by homology, analogy, the fossil record, and
biogeography.
8.
The upper forelimbs of humans and bats have fairly similar skeletal structures, whereas the
corresponding bones in whales have very different shapes and proportions. However, genetic
data suggest that all three kinds of organisms
diverged from a common ancestor at about the
same time. What is the most likely explanation for these observations?
9.
State the Hardy-Weinberg principle and identify the conditions that must be met to
equilibrium.
10.
In a population, 16 people have the genotype AA, 92 have the genotype Aa, and 12 have the
genotype aa. Determine p and q for this population.
11.
Describe the three mechanisms that drive the evolution of populations.
12.
If evolution has gone on for so long, why haven't perfect organisms evolved?
13.
What is the biological species concept?
14.
What factors can impede reproductive compatibility?
15.
What is the biological basis for assigning all human populations to a single species?
16.
How is allopatric speciation different from sympatric speciation?
satisfy
17.
According to the phylogenetic tree pictured below, whales, deer, and cows represent a
_____________ (monophyletic, paraphyletic, or polyphyletic) group. Explain your choice.
18.
To distinguish a particular clade of mammals within the larger clade that corresponds to Mammalia,
would hair be a useful character? Why or why not?
19.
If you were using cladistics to build a phylogenetic tree of cats, which of the following would be the
best outgroup? Explain your choice.
a.
b.
c.
d.
e.
lion
domestic cat
wolf
leopard
tiger
20.
The most parsimonious tree of evolutionary relationships can be inaccurate. Why is this possible?
21.
What is a molecular clock? What assumption underlies the use of a molecular clock?