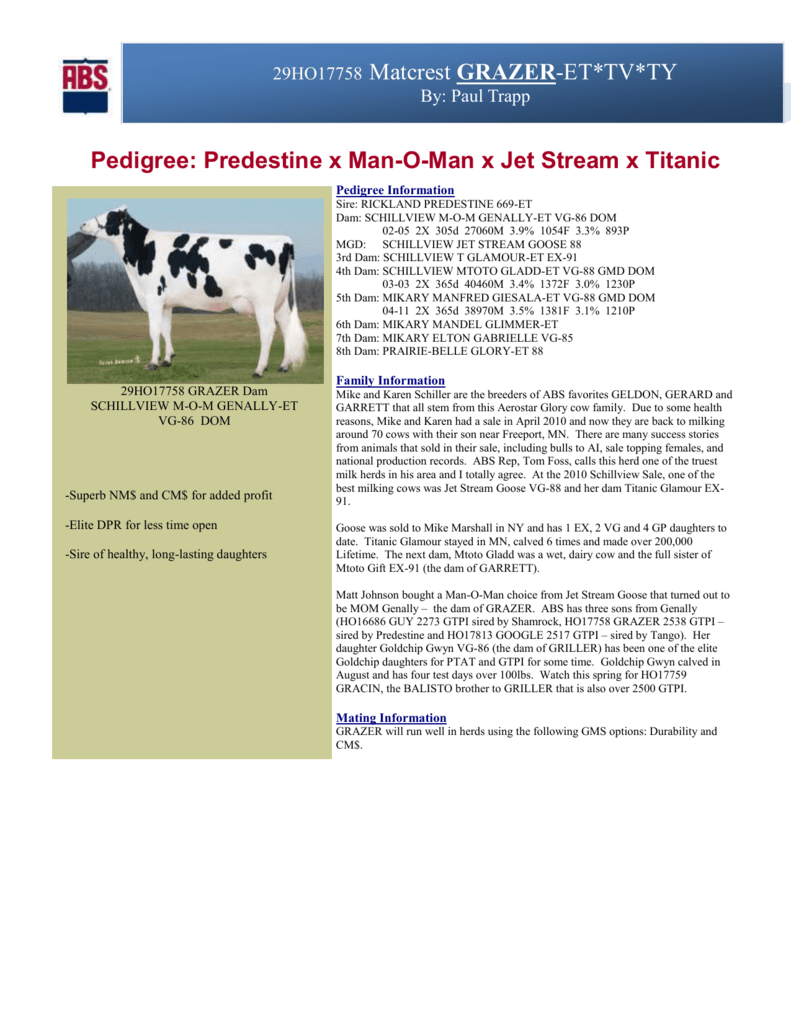 29HO17758
Matcrest GRAZER-ET*TV*TY
By: Paul Trapp
Pedigree: Predestine x Man-O-Man x Jet Stream x Titanic
Pedigree Information
Sire: RICKLAND PREDESTINE 669-ET
Dam: SCHILLVIEW M-O-M GENALLY-ET VG-86 DOM
02-05 2X 305d 27060M 3.9% 1054F 3.3% 893P
MGD: SCHILLVIEW JET STREAM GOOSE 88
3rd Dam: SCHILLVIEW T GLAMOUR-ET EX-91
4th Dam: SCHILLVIEW MTOTO GLADD-ET VG-88 GMD DOM
03-03 2X 365d 40460M 3.4% 1372F 3.0% 1230P
5th Dam: MIKARY MANFRED GIESALA-ET VG-88 GMD DOM
04-11 2X 365d 38970M 3.5% 1381F 3.1% 1210P
6th Dam: MIKARY MANDEL GLIMMER-ET
7th Dam: MIKARY ELTON GABRIELLE VG-85
8th Dam: PRAIRIE-BELLE GLORY-ET 88
29HO17758 GRAZER Dam
SCHILLVIEW M-O-M GENALLY-ET
VG-86 DOM
-Superb NM$ and CM$ for added profit
-Elite DPR for less time open
-Sire of healthy, long-lasting daughters
Family Information
Mike and Karen Schiller are the breeders of ABS favorites GELDON, GERARD and
GARRETT that all stem from this Aerostar Glory cow family. Due to some health
reasons, Mike and Karen had a sale in April 2010 and now they are back to milking
around 70 cows with their son near Freeport, MN. There are many success stories
from animals that sold in their sale, including bulls to AI, sale topping females, and
national production records. ABS Rep, Tom Foss, calls this herd one of the truest
milk herds in his area and I totally agree. At the 2010 Schillview Sale, one of the
best milking cows was Jet Stream Goose VG-88 and her dam Titanic Glamour EX91.
Goose was sold to Mike Marshall in NY and has 1 EX, 2 VG and 4 GP daughters to
date. Titanic Glamour stayed in MN, calved 6 times and made over 200,000
Lifetime. The next dam, Mtoto Gladd was a wet, dairy cow and the full sister of
Mtoto Gift EX-91 (the dam of GARRETT).
Matt Johnson bought a Man-O-Man choice from Jet Stream Goose that turned out to
be MOM Genally – the dam of GRAZER. ABS has three sons from Genally
(HO16686 GUY 2273 GTPI sired by Shamrock, HO17758 GRAZER 2538 GTPI –
sired by Predestine and HO17813 GOOGLE 2517 GTPI – sired by Tango). Her
daughter Goldchip Gwyn VG-86 (the dam of GRILLER) has been one of the elite
Goldchip daughters for PTAT and GTPI for some time. Goldchip Gwyn calved in
August and has four test days over 100lbs. Watch this spring for HO17759
GRACIN, the BALISTO brother to GRILLER that is also over 2500 GTPI.
Mating Information
GRAZER will run well in herds using the following GMS options: Durability and
CM$.