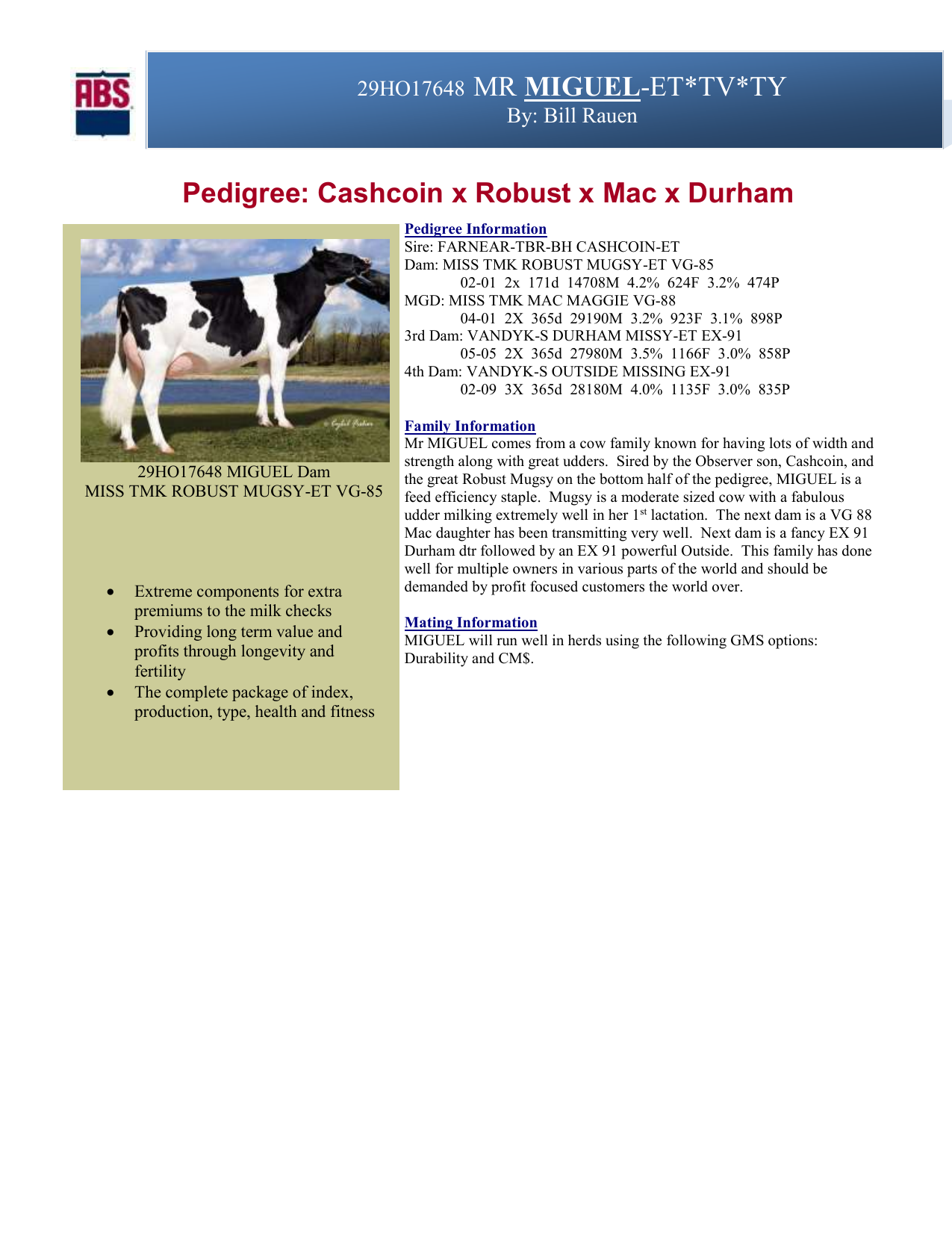 29HO17648
MR MIGUEL-ET*TV*TY
By: Bill Rauen
Pedigree: Cashcoin x Robust x Mac x Durham
Pedigree Information
Sire: FARNEAR-TBR-BH CASHCOIN-ET
Dam: MISS TMK ROBUST MUGSY-ET VG-85
02-01 2x 171d 14708M 4.2% 624F 3.2% 474P
MGD: MISS TMK MAC MAGGIE VG-88
04-01 2X 365d 29190M 3.2% 923F 3.1% 898P
3rd Dam: VANDYK-S DURHAM MISSY-ET EX-91
05-05 2X 365d 27980M 3.5% 1166F 3.0% 858P
4th Dam: VANDYK-S OUTSIDE MISSING EX-91
02-09 3X 365d 28180M 4.0% 1135F 3.0% 835P
29HO17648 MIGUEL Dam
MISS TMK ROBUST MUGSY-ET VG-85



Extreme components for extra
premiums to the milk checks
Providing long term value and
profits through longevity and
fertility
The complete package of index,
production, type, health and fitness
Family Information
Mr MIGUEL comes from a cow family known for having lots of width and
strength along with great udders. Sired by the Observer son, Cashcoin, and
the great Robust Mugsy on the bottom half of the pedigree, MIGUEL is a
feed efficiency staple. Mugsy is a moderate sized cow with a fabulous
udder milking extremely well in her 1st lactation. The next dam is a VG 88
Mac daughter has been transmitting very well. Next dam is a fancy EX 91
Durham dtr followed by an EX 91 powerful Outside. This family has done
well for multiple owners in various parts of the world and should be
demanded by profit focused customers the world over.
Mating Information
MIGUEL will run well in herds using the following GMS options:
Durability and CM$.