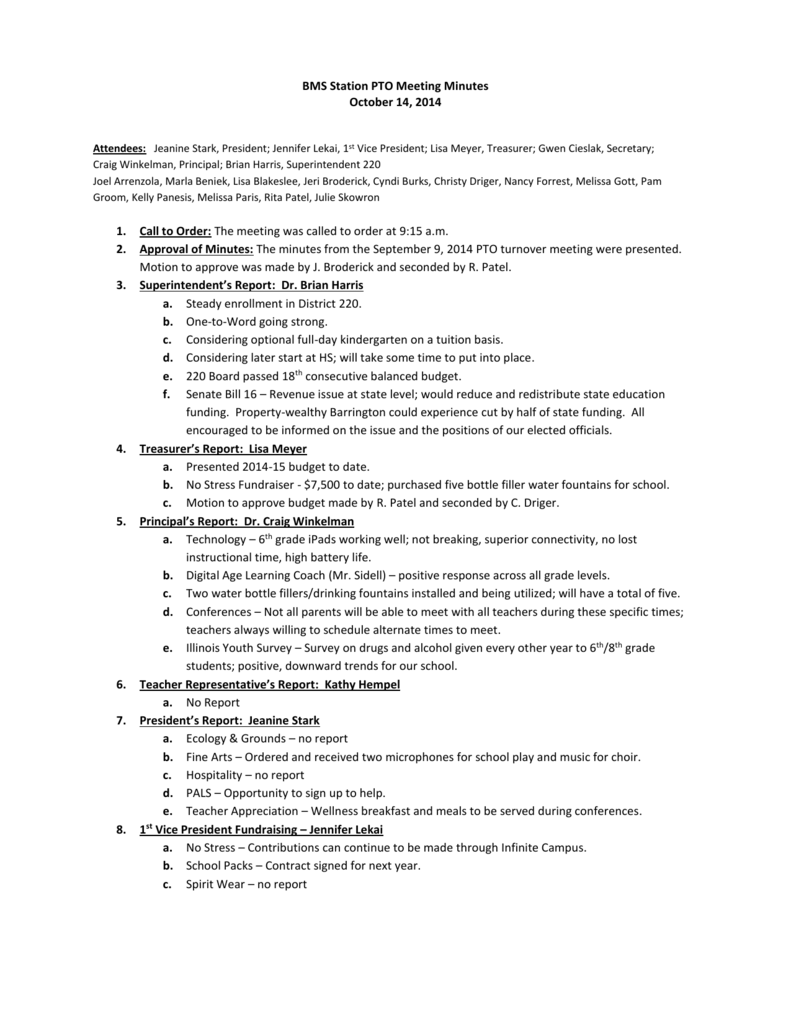 BMS Station PTO Meeting Minutes
October 14, 2014
Attendees: Jeanine Stark, President; Jennifer Lekai, 1st Vice President; Lisa Meyer, Treasurer; Gwen Cieslak, Secretary;
Craig Winkelman, Principal; Brian Harris, Superintendent 220
Joel Arrenzola, Marla Beniek, Lisa Blakeslee, Jeri Broderick, Cyndi Burks, Christy Driger, Nancy Forrest, Melissa Gott, Pam
Groom, Kelly Panesis, Melissa Paris, Rita Patel, Julie Skowron
1.
2.
3.
4.
5.
6.
7.
8.
Call to Order: The meeting was called to order at 9:15 a.m.
Approval of Minutes: The minutes from the September 9, 2014 PTO turnover meeting were presented.
Motion to approve was made by J. Broderick and seconded by R. Patel.
Superintendent's Report: Dr. Brian Harris
a. Steady enrollment in District 220.
b. One-to-Word going strong.
c. Considering optional full-day kindergarten on a tuition basis.
d. Considering later start at HS; will take some time to put into place.
e. 220 Board passed 18th consecutive balanced budget.
f. Senate Bill 16 – Revenue issue at state level; would reduce and redistribute state education
funding. Property-wealthy Barrington could experience cut by half of state funding. All
encouraged to be informed on the issue and the positions of our elected officials.
Treasurer's Report: Lisa Meyer
a. Presented 2014-15 budget to date.
b. No Stress Fundraiser - $7,500 to date; purchased five bottle filler water fountains for school.
c. Motion to approve budget made by R. Patel and seconded by C. Driger.
Principal's Report: Dr. Craig Winkelman
a. Technology – 6th grade iPads working well; not breaking, superior connectivity, no lost
instructional time, high battery life.
b. Digital Age Learning Coach (Mr. Sidell) – positive response across all grade levels.
c. Two water bottle fillers/drinking fountains installed and being utilized; will have a total of five.
d. Conferences – Not all parents will be able to meet with all teachers during these specific times;
teachers always willing to schedule alternate times to meet.
e. Illinois Youth Survey – Survey on drugs and alcohol given every other year to 6th/8th grade
students; positive, downward trends for our school.
Teacher Representative's Report: Kathy Hempel
a. No Report
President's Report: Jeanine Stark
a. Ecology & Grounds – no report
b. Fine Arts – Ordered and received two microphones for school play and music for choir.
c. Hospitality – no report
d. PALS – Opportunity to sign up to help.
e. Teacher Appreciation – Wellness breakfast and meals to be served during conferences.
st
1 Vice President Fundraising – Jennifer Lekai
a. No Stress – Contributions can continue to be made through Infinite Campus.
b. School Packs – Contract signed for next year.
c. Spirit Wear – no report
9.
10.
11.
12.
13.
2nd Vice President of Programs – J. Stark for Cindy Lenart
a. 8th Grade Dance – 5/8; 8th grade t-shirt design has been selected.
b. 8th Grade DVD – R. Patel & M. Proebsting to assist.
c. Ski Club – Mandatory registration dates 11/12 and 11/20; parents must attend one registration
event and sign up for volunteer spots.
d. Snowflake – 11/21; need volunteers, 120 tickets still available as of today.
e. All School Social – First of two events 10/23
f. 6th Grade Social – 4/24
g. 7th/8th Grade Social – 11/13 at Prairie; glow-in-the-dark dance party.
Secretary – Gwen Cieslak
a. Website/Newsletter – "Straight from Station" newsletter as one main source for information. All
committee announcements directed to Heidi Isaias – [email protected]
b. Directory – Online & print versions available soon.
Unfinished Business: None
New Business: None
Adjournment: At 10:20 a.m. a motion to adjourn the meeting was made by J. Broderick and seconded by
K. Panesis. Meeting adjourned.