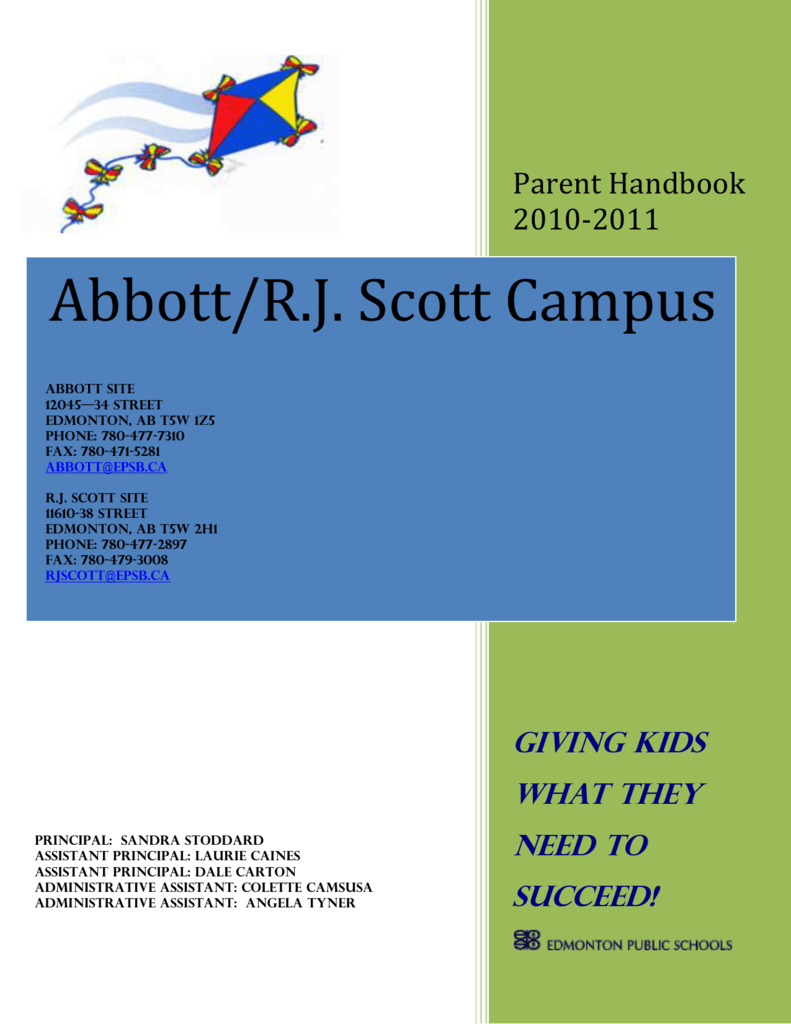 Parent Handbook
2010-2011
Abbott/R.J. Scott Campus
Abbott Site
12045—34 Street
Edmonton, AB T5W 1Z5
Phone: 780-477-7310
Fax: 780-471-5281
[email protected]
R.J. Scott Site
11610-38 Street
Edmonton, AB T5W 2H1
Phone: 780-477-2897
Fax: 780-479-3008
[email protected]
Giving kids
what they
Principal: Sandra Stoddard
Assistant Principal: Laurie Caines
Assistant Principal: Dale Carton
Administrative Assistant: Colette Camsusa
Administrative Assistant: Angela Tyner
need to
succeed!
Abbott/R.J. Scott Campus
abbottrjscott.epsb.ca
Abbott Site
12045 - 34 Street
Edmonton, AB T5W 1Z5
Phone: 780-477-7310
Fax: 780-471-5281
[email protected]
R. J. Scott Site
11610 - 38 Street
Edmonton, AB T5W 2H1
Phone: 780-477-2897
Fax: 780-479-3008
[email protected]
HOURS OF OPERATION
ABBOTT SCHOOL
R.J. SCOTT SCHOOL
8:32
First bell for a.m. classes to
assemble
Classes begin
Morning recess
Lunch
8:32
First bell for p.m. classes to
assemble
Classes begin
Afternoon recess
Classes dismissed
12:30
Early Dismissal on
Thursday's at 2:10 p.m.
NOTE:
8:37
10:15 - 10:30
11:40
12:30
12:35
2:05- 2:20
3:10
NOTE:
8:37
10:15 - 10:35
11:50
12:35
2:05- 2:25
3:10
First bell for a.m. classes to
assemble
Classes begin
Morning recess
Lunch
First bell for p.m. classes to
assemble
Classes begin
Afternoon recess
Classes dismissed
Early Dismissal on
Thursday's at 2:10 p.m.
Welcome to the Abbott/R.J. Scott Campus
Dear Parents/Guardians:
Our doors have opened after the vacation break and we now look forward to the
excitement, challenges and changes that come with a new school year. As you are
aware, I am new to Abbott/R. J. Scott Campus this year and I feel very privileged to be
a part of your children's educational experience. I believe that through working
together, we will be successful in providing a learning environment where your
children are encouraged to take risks and to expand their knowledge, skills and
attitudes.
I believe that Abbott/R. J. Scott Campus is on the right track when it comes to
delivering the type of education that will enable our students to be successful. When I
was appointed as the new principal, I walked through the doors of each of the schools
and sensed a spirit of enthusiasm. I soon realized that the staff is dedicated to ensuring
that their programs of instruction respond to different learning needs, interests, ability
levels and learning styles. The staff's high expectations for learning and behavior
provide a safe and open environment where children are encouraged to progress as
rapidly and fully as they are able.
The success of Abbott/R. J. Scott Campus requires a working partnership between
staff, students, parents and the community. Our staff believes when parents, students,
teachers and agencies view one another as partners in education, a caring community
is formed around helping students succeed in school and in later life.
I hope that this school handbook provides you with the necessary information that you
need about our schools, our programs, our policies and events. For ease of reference,
the headings are in alphabetical order. While this is our first communication between
home and school - it is not our last. A monthly newsletter and calendar will be sent
home during the first week of each month and will highlight our successes, our
instructional focus and upcoming special events and dates.
On behalf of Abbott/R. J. Scott Campus staff I extend to each and every one of you a
welcome to the new school year. Your children are our future. Together we will
make a difference!
Sincerely,
Mrs. Sandra Stoddard,
Principal
ATTENDANCE
CALENDAR OF EVENTS
Regular attendance is a vital element in the
students' daily routine. It has been shown that
students who are in regular attendance at a school
have the best chance of realizing their full academic
potential. They simply do better in school. The
school will make a special effort to encourage the
students to be in their classrooms by assembly time,
which is 8:32 a.m. and 12:30 p.m., each school day.
Please do your part in getting your child off to a
good start each morning and noon hour.
First day of instruction
Meet the Staff BBQ
ABSENTEE CHECK PROGRAM
Abbott/R.J. Scott Campus provides an absentee
check program to ensure the safety of your children.
Parents are asked to notify the schools by phoning
780-477-7310 for Abbott students and 780-477-2897 for
R.J. Scott students, if your child will not be attending or
will be late to school. An answering system at both
schools will be available to leave a message for your
convenience.
It is the responsibility of the home to contact the
school office if the student will not be in the
classroom at assembly time. It is with your child's
safety in mind that our volunteer parents will
attempt to contact the parents/guardians if
notification of the absence is not received. The
purpose of the absentee check program is to
efficiently determine whether a child is supposed to
be at school or not. As such, it provides us an early
warning in instances where students have left home
but have not arrived at school. As you can imagine
this takes up a considerable amount of time and
causes us to worry. For these reasons, it very
important that you make every effort to inform us of
absences prior to school starting!
ADDRESS OR TELEPHONE CHANGES
It is extremely important for the welfare of your child
that your phone numbers and addresses are kept up to
date. PLEASE INFORM THE SCHOOL OFFICE
WHENEVER CHANGES OCCUR!
Read In Week
Goal Setting Night
Picture Day
Thanksgiving Day
Professional Development Day
Remembrance Day
Teacher Day in Lieu -No classes
Picture Retake Day
Goal Setting Night and
1st Progress Report
Christmas Break
Professional Development Day
Family Day
Teachers Convention
2nd Report Card and
Celebration of Learning
Spring Break
Good Friday
Easter Monday
Victoria Day
Last Day of instruction
Sept 1, 2010
Sept 21, 2010
Sept 23, 2010
Oct 4-8, 2010
Oct 7, 2010
Oct 15, 2010
Oct 11, 2010
Oct 12, 2010
Nov 11, 2010
Nov 12, 2010
Nov 19, 2010
Nov 25, 2010
Dec 18 - Jan 2
Jan 24, 2011
Feb 21, 2011
Mar 3 & 4
Mar 24, 2011
Mar 26-Apr 3
Apr 22, 2011
Apr 25, 2011
May 23, 2011
June 29, 2011
CAMPUS PROGRAMS
Full Day Kindergarten: Both Abbott and
R.J. Scott schools have full day Kindergarten
programs.
Reading Recovery Program: Both Abbott and
R.J. Scott schools have half time Reading
Recovery. Reading Recovery is a highly effective
short-term intervention of one-to-one tutoring for
low-achieving first graders.
Strategies Program: Abbott School is a district
site for students with learning disabilities. Students
must meet academic criteria to participate in this
program. The goal for this program is to help
students improve academic achievement and
develop skills for coping so they may return to a
regular classroom setting. We welcome students
and their families to Abbott School.
BUS PASSES
ETS and Yellow School Bus passes are available at
the Abbott School office. It is important that all
families pay the fee requested as this service comes
at a cost to the campus.
Second Language Programs: French as a Second
Language (FSL) Both Abbott and R.J. Scott
Schools have a French as a Second Language
program for the grade 4, 5, and 6 students in the
mainstream program.
Cree Language: Abbott School offers a pull out
program for Cree Language programming for
Kindergarten to Grade 2.
Partners for Kids: Partners for Kids offers an In
School Mentoring program in partnership with Big
Brothers/Big Sisters. In this program, parents and
teachers refer students with academic, social or
emotional difficulties, and youth and adult
volunteers are matched with a child to help develop
and improve literacy and social skills, as well as self
esteem. The volunteers become "in school" Big
Sisters and Big Brothers for the children they work
with. It is a very successful program that is very
rewarding for all involved! Abbott/R.J. Scott
Campus is always looking for more mentors for the
PFK Program, so call 780-477-7310 or
780-477-2897 for more information on volunteering
with us.
Mother Earth & Me Aboriginal Head Start:
Mother Earth and Me Aboriginal Head Start leases
a classroom at Abbott School. They provide special
programs for children 3 1/2 to 5 years of age.
Transportation is available to children who qualify
and the program is free to low income families.
Please call 780-472-1596 for more information.
ABC Head Start: ABC Head Start leases a
classroom at Abbott School. ABC Head Start is a
comprehensive preschool and family support
program for families with low income. Their goal
is to prepare children for a successful educational
experience in partnership with their family and
community. Transportation is available to children
who qualify and the program is free to low income
families. Please call 780-461-5353 for more
information.
COLD WEATHER
It is expected that children will be dressed warmly
enough to be outside for 15 minutes of fresh air and
exercise when the temperature is above –24 degrees
Celsius. When it is colder than –24 degrees Celsius
the regular recess period is cancelled and the
children are given a short break instead.
CELL PHONES/ IPODS/ ELECTRONIC
DEVICES
Cell phones for safety purposes are permitted
however should be used only in emergencies and
must remain in students' backpacks. Due to the
Freedom of Information and Privacy Act – cell
phones may NOT be used for taking photos! IPODs
and other electronic devices are permitted in school
however should ONLY be used during recess. If
they are used at any other times during the day, or if
they cause a disturbance at recess, a student may be
requested to leave such items at home. The school
is not responsible for any broken, lost or stolen
items.
DISCIPLINE
At Abbott/R. J. Scott Campus, we will provide
experiences, which will encourage our students to:
 Make positive choices
 Accept consequences
 Deal with problems
 Care about themselves, others and our school
 Contribute positively to school in their own way
 Create an atmosphere which is safe, warm and
friendly
 Be courteous to others
 Develop and use their common sense in
situations in order to become citizens of their
communities
We firmly believe that all students have a right to
learn. Students must learn to understand that they
are responsible for their behavior. They must
recognize that any behavior that takes away from
others' learning is not acceptable. Any behavior
that takes away from the freedom to learn is not
responsible behavior. Abbott/ R. J. Scott Campus
students are expected to follow rules, which are
established for the benefit of all students as well as
the community.
Our school approach to discipline will:
 Help the student identify his/her problems
 Help the student solve the problem he/she has
created
 Leave the student's dignity in tact
We support and reward appropriate behavior
through many different ways, some of which are
verbal praises, smiles, special privileges,
happygrams, special helpers, awards, phone calls
home etc.
Expectations for Abbott/R. J. Scott Campus
1.
Students will show respect for authority and
follow rules.
2.
Students will show concern and respect for
themselves and others.
3.
Students will show respect toward personal
and school property.
4.
Students will take responsibility for their
part in the learning process.
Failure to meet the expectations for behavior and
conduct shall result in some or all of the following
responses:












problem solving, monitoring or reviewing
behavior expectations with student;
reprimand;
parental involvement;
referral to attendance board;
temporary removal of privileges;
detention of student;
temporary exclusion of student from class;
in-school suspension;
out-of-school suspension;
behaviour contract with student;
restitution for property damage to an
individual or the school;
assessment of student to develop
appropriate programming.
FIELD TRIPS
Our classes will participate in a variety of fieldtrips
during the year. Trips will be curriculum based and
enhance classroom learning. Parents will receive a
field trip form requiring signed permission for their
child to participate. Students who do not return a
signed permission slip will remain at the school.
HEAD LICE
If your child contracts a case of head lice, they will
be sent home immediately to be treated. It is the
parents' responsibility to ensure that treatment is
provided. Contact your public health center if you
have any questions. Once treatment has been
administered, the student can return to school.
HOMEWORK
Parents/guardians can assist their children in
establishing strong work/study skills by providing a
quiet space and a regular time to complete
"homework". Students should be encouraged to
spend at least 30 minutes each evening reading or
doing schoolwork. This opportunity for enrichment
and review encourages children from an early age to
develop a sense of life long learning.
ILLNESS
Normally children who are too ill to go outside
for recess are too ill to be at school. This is
particularly true in the case of colds. Children
coming to school with colds are unable to function
well, provide a source of infection for other children
and would probably recuperate faster at home.
When a student becomes ill, he/she should tell the
classroom teacher who will send or take the student
to the general office. If the student appears to be
seriously ill, an attempt to notify the parent will be
made and appropriate steps will be taken. First aide
will be give to a student injured on the premises. If
the injury requires medical attention, an attempt will
be made to notify the parent immediately. It is
imperative that the school has on file an Alberta
Health Care number and an emergency telephone
number of a neighbor or a relative in the event that
a parent/guardian is away from home when a child
is ill or injured.
FOOTWEAR
In order to maintain the high standard of cleanliness
within the school, we expect students to adhere to
the "two shoe policy". Each student is expected to
have one pair of inside shoes and one pair of outside
shoes. All students are required to remove outdoor
shoes at the entrance. Please label all footwear.
LUNCH / DAILY SNACK PROGRAM
The Campus is very fortunate to be a part of the
Edmonton School Lunch Program. All students
registered at Abbott/R.J. Scott Campus are welcome
to participate but must complete the registration
forms before they can be served. In order to
maintain enrolment in this program,
parents/guardians must fill out and return the
monthly lunch program envelope. Please note that
children who stay for the School Lunch Program
must stay on school grounds for the entire lunch
break.
The Campus is also fortunate to receive a grant
from the Edmonton City Centre Church Corporation
to provide a daily nutritious snack to the students.
Snacks are served to students at approximately
9:00 a.m. daily.
MEDICATIONS
PARENT AND COMMUNITY RELATIONS
Abbott/R.J. Scott Campus cannot accomplish its
goals in isolation. Accordingly, the school
endeavors to cooperate with parents and community
agencies and groups having similar concerns.
Parent involvement and support can help to make
your child's schooling a positive experience. Our
success at Abbott/R.J. Scott Campus is directly
related to your support of the school's programs.
Parents are encouraged to volunteer their time at the
school and to become involved in the life of the
school. If you can, and are interested, please
contact your child's teacher or the school office.
The more you support the school, the better
experiences your child will have at Abbott/R.J.
Scott Campus.
PERSONAL PROPERTY OF STUDENTS
Parents are encouraged to dispense any necessary
medication at home if at all possible. If medication
must be taken during school hours, please make
arrangements with the office staff. School Board
Policy requires that a form be signed by the doctor
and at least one parent indicating the nature and
dispensing of required drugs for those students
taking medication at school. Forms are available in
the school office. Please advise the school of any
changes in dosage of regular medication.
Medication will not be administered until these
forms are completed.
Abbott/R.J. Scott Campus is not responsible for the
personal property of students. We request that all
school supplies, lunch kits, footwear and other
clothing be marked with the child's name prior to
sending them to school.
PROGRESS REPORTS
Progress reports are issued three times during the
school year. The first report is issued in November,
the second in March and the final report on the last
day of school in June.
PARENT ADVISORY COUNCIL
Parent input is essential in the operation of
Abbott/R.J. Scott Campus. The Parent Advisory
committee meetings provide an opportunity for all
parents to:
 share information, ideas and concerns;
 advise the school administration in formulating
school policies;
 support the school's programs through volunteer
and special projects.
The Abbott/R.J. Scott Campus Council welcomes
all parents/guardians and community members
interested in quality education for students to
become actively involved. Meetings are held on the
first school day Monday of each month at 6:30 p.m.
Our first Parent Advisory Meeting will be held on
Wednesday, October 20th from 4:30 – 5:30 p.m.
Teachers will be contacting parents by telephone or
notes between reports to ensure good
communication regarding student growth. Parents
are strongly encouraged to contact their child's
teacher whenever the need may arise.
PROPERTY DAMAGE
In circumstances where a student is deemed to be
responsible, either whole or in part, for damage or
defacement of the building equipment, furnishings
or the personal property of others, the student or
parents will be asked to pay for repairs or
replacement of damaged property.
SUPERVISION
REPORTING VANDALISM
We are requesting support from all residents in
reporting any acts of a suspicious nature. If you see
individuals:
 on the roof of the school
 throwing objects at windows or doors
 shooting weapons
 destroying shrubbery or playground equipment
 lighting fires
 committing any other suspicious acts
Staff playground supervision is provided for the
fifteen-minute period preceding the morning and
afternoon assembly times as well as at recess. For
safety reasons we ask that students arrive no earlier
than 8:20 in the morning.
SUPPLIES
This is the number of Edmonton Public Schools
Security. Give them the name of the school, the
location and a brief description of what is
happening.
Students are expected to come prepared for their
daily schoolwork. This includes having work
completed and having the necessary supplies. This
year we were fortunate to have the Sherwood Park
Costco donate provide to both Abbott and R. J.
Scott Schools backpacks and school supplies.
Students from Grades 1-6 must purchase additional
supplies that may be required from the lists
provided by the schools. Parents are requested to
periodically check to make sure their children have
all the necessary supplies throughout the year.
SAFETY PATROLS
VISITORS
CALL 780-429-8295
School A.M.A. Patrols are used at both schools and
we ask that all adults please co-operate with safety
patrollers while crossing the streets. It is important
that parents set a good example when it comes to
safely crossing busy roads by crossing in the
crosswalks and reminding their children about
traffic safety precautions and ask them to follow the
School Patrol rules.
STUDENT SAFETY
Parents who bring their children to school are asked
to drop them off and pick them up on the street by
the main entrance or playground. Please do not use
the parking lots as they become very congested
and create safety issues for students.
For the safety of students and staff, the following
policy is in place.
 The front door only will remain open from 8:00
a.m. to 4:00 p.m. therefore if a student is late or
someone wishes to enter the school this can only
be done through the front door.
 All students assemble at their regular doors
before entering the school at regular times.
Supervisors will let students into the school at
these doors.
Visitors, whether they are parents, guests, or people
on official school business are always welcome, but
are asked to please report to the office before
proceeding to activities at other locations in the
school.