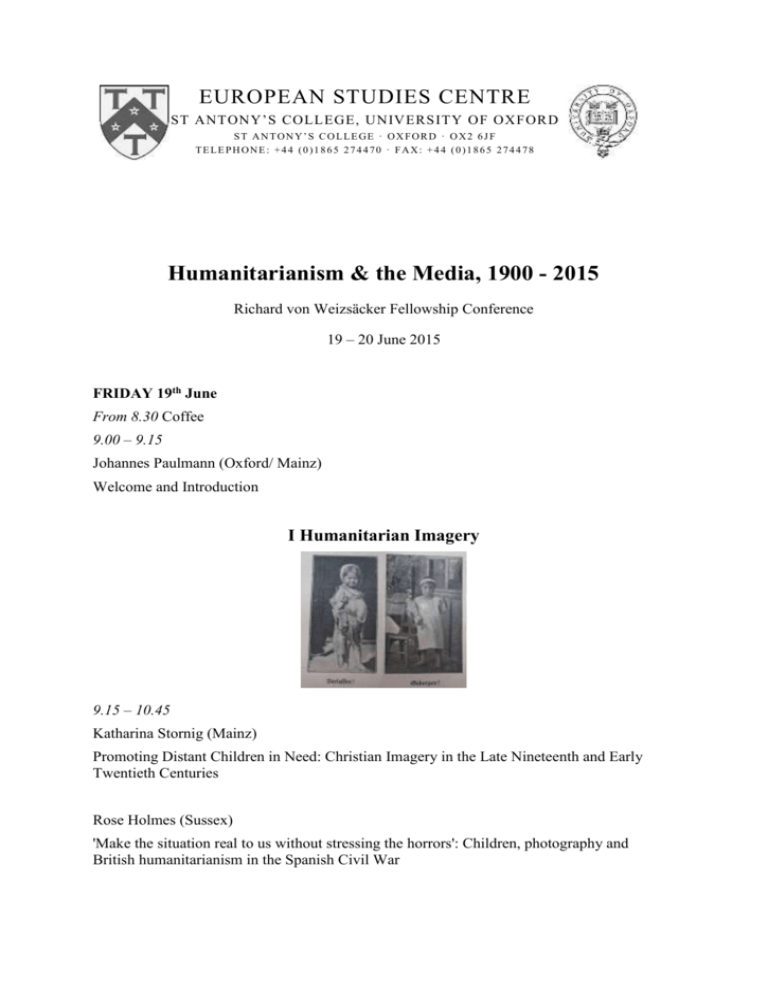 EUROPEAN STUDIES CENTRE
ST ANTONY'S COLLEGE, UNIV ERSITY OF OXFORD
ST ANTONY'S COLLEGE · OXFORD · OX2 6JF
TELEPHONE: +44 (0)1865 274470 · FAX: +44 (0)1865 274478
Humanitarianism & the Media, 1900 - 2015
Richard von Weizsäcker Fellowship Conference
19 – 20 June 2015
FRIDAY 19th June
From 8.30 Coffee
9.00 – 9.15
Johannes Paulmann (Oxford/ Mainz)
Welcome and Introduction
I Humanitarian Imagery
9.15 – 10.45
Katharina Stornig (Mainz)
Promoting Distant Children in Need: Christian Imagery in the Late Nineteenth and Early
Twentieth Centuries
Rose Holmes (Sussex)
'Make the situation real to us without stressing the horrors': Children, photography and
British humanitarianism in the Spanish Civil War
10.45 – 11.15 Coffee break
11.15 – 12.45
Daniel Palmieri (ICRC, Geneva)
Humanitarianism on the Screen: The ICRC Films from the 1920's to the 1960's
Ulrike Weckel (Gießen)
'People who once had been human beings like you and me': Why Allied Atrocity Films of
Liberated Nazi Concentration Camps in 1945/46 Universalized the Victims
12.45 – 14.00 Lunch
14.00 – 15.30
Tobias Weidner (Göttingen)
The Human Gaze: Photography after 1945
Paul Betts (Oxford)
Visualising International Humanitarian Missions: UNRWA and UNESCO
15.30 – 15.45 Coffee break
15.45 – 18.00
Hilary Roberts (Imperial War Museum)
A photographer's view: Don McCullin's images of Victims of War in the 1970s
Ilana Feldman (George Washington University)
Humanitarian (and Revolutionary) Media: The Palestinian Red Crescent Society and Samed
in Lebanon, 1970-1982
Jan Eckel (Freiburg)
How to Illustrate Human Rights (Violations): Campaigns of the 1960s and 1970s
19.00 Reception and Dinner
SATURDAY, 20th June
From 8.30 Coffee
II Medialisation of the Humanitarian
9.00 – 11.15
Patrick Merziger (Leipzig)
Medialisation of the Disaster Relief since the Second World War
Heike Wieters (Berlin)
Media relations of CARE: Global Food Campaigns 1945-1980
Valérie Gorin (Geneva)
Advocacy strategies of the Western humanitarian NGOs, from the 1960s to the 1990s
11.15 – 11.45 Coffee break
11.45 – 14.00
Suzanne Franks (City University London) TBC
The view from the BBC – Public Broadcasting on Humanitarian Disaster and Relief since the
1980s
Maria Kyriakidou (East Anglia)
Watching the Pain of Others: Audience Reactions to Media Reports of Distant Disasters
Jean Seaton (University of Westminster)
Armed Forces, the Media and Aid: A Contemporary Conundrum?
14.00 Lunch and Farewell
Images:
1.
2.
25 Jahre im Orient, 1896 – 1921. Ein Gang durch die Arbeit des Deutschen Hülfsbundes für christliches
Liebeswerk im Orient, Frankfurt a. M. 1921.
Wiederaufbau in Haiti, Poster from the "Mut zu Taten" campaign, Misereor 2014.