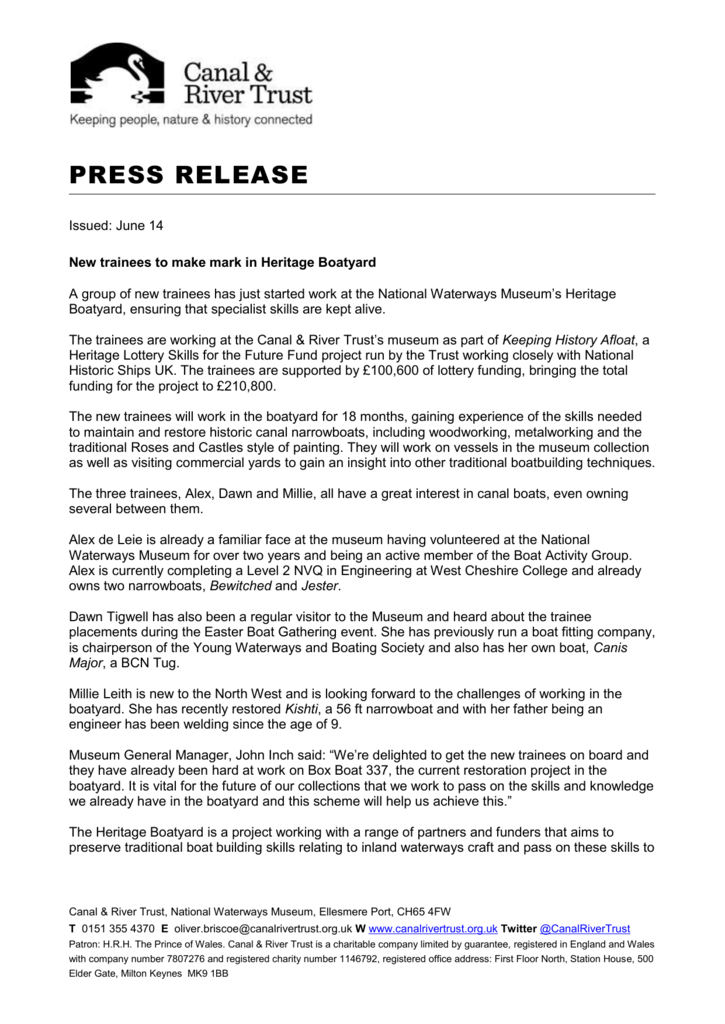 PRESS RELEASE
Issued: June 14
New trainees to make mark in Heritage Boatyard
A group of new trainees has just started work at the National Waterways Museum's Heritage
Boatyard, ensuring that specialist skills are kept alive.
The trainees are working at the Canal & River Trust's museum as part of Keeping History Afloat, a
Heritage Lottery Skills for the Future Fund project run by the Trust working closely with National
Historic Ships UK. The trainees are supported by £100,600 of lottery funding, bringing the total
funding for the project to £210,800.
The new trainees will work in the boatyard for 18 months, gaining experience of the skills needed
to maintain and restore historic canal narrowboats, including woodworking, metalworking and the
traditional Roses and Castles style of painting. They will work on vessels in the museum collection
as well as visiting commercial yards to gain an insight into other traditional boatbuilding techniques.
The three trainees, Alex, Dawn and Millie, all have a great interest in canal boats, even owning
several between them.
Alex de Leie is already a familiar face at the museum having volunteered at the National
Waterways Museum for over two years and being an active member of the Boat Activity Group.
Alex is currently completing a Level 2 NVQ in Engineering at West Cheshire College and already
owns two narrowboats, Bewitched and Jester.
Dawn Tigwell has also been a regular visitor to the Museum and heard about the trainee
placements during the Easter Boat Gathering event. She has previously run a boat fitting company,
is chairperson of the Young Waterways and Boating Society and also has her own boat, Canis
Major, a BCN Tug.
Millie Leith is new to the North West and is looking forward to the challenges of working in the
boatyard. She has recently restored Kishti, a 56 ft narrowboat and with her father being an
engineer has been welding since the age of 9.
Museum General Manager, John Inch said: "We're delighted to get the new trainees on board and
they have already been hard at work on Box Boat 337, the current restoration project in the
boatyard. It is vital for the future of our collections that we work to pass on the skills and knowledge
we already have in the boatyard and this scheme will help us achieve this."
The Heritage Boatyard is a project working with a range of partners and funders that aims to
preserve traditional boat building skills relating to inland waterways craft and pass on these skills to
Canal & River Trust, National Waterways Museum, Ellesmere Port, CH65 4FW
T 0151 355 4370 E [email protected] W www.canalrivertrust.org.uk Twitter @CanalRiverTrust
Patron: H.R.H. The Prince of Wales. Canal & River Trust is a charitable company limited by guarantee, registered in England and Wales
with company number 7807276 and registered charity number 1146792, registered office address: First Floor North, Station House, 500
Elder Gate, Milton Keynes MK9 1BB
Page 2 of 3
a new generation. The Heritage Boatyard is working to restore and maintain the museum's
collection of historic craft and in time develop into a commercial restoration boatyard.
The National Waterways Museum, at Ellesmere Port, is home to the national collection of historic
working boats, some of which visitors can get on-board to explore and find out how working boat
people used to live. The Museum also has a trip boat, hands-on exhibits, films, touch-screen
displays, stables, a blacksmith, docks, pump houses, workers cottages and gardens, an archive, a
soft play area, Museum shop and cafe.
ENDS.
Pictures of the trainees are available.
For further media requests please contact:
Oliver Briscoe, Marketing Manager, National Waterways Museum, Canal & River Trust
0151 373 4395
[email protected]
Notes to editors:
The Canal & River Trust is the guardian of 2,000 miles of historic waterways across England and
Wales. We are among the largest charities in the UK, maintaining the nation's third largest
collection of Listed structures, as well as museums, archives, navigations and hundreds of
important wildlife sites.
We believe that our canals and rivers are a national treasure and a local haven for people and
wildlife. It is our job to care for this wonderful legacy – holding it in trust for the nation in perpetuity
and giving people a greater role in the running of their local waterways
The museums and attractions group of the Canal & River Trust is made up of the Anderton Boat
Lift in Cheshire, Gloucester Waterways Museum, the National Waterways Museum at Ellesmere
Port, Standedge Tunnel and Visitor Centre, Marsden and The Canal Museum at Stoke Bruerne,
Northamptonshire, plus the extensive collections and the national archives, currently housed at
Ellesmere Port
www.canalrivertrust.org.uk
About National Historic Ships UK
National Historic Ships UK is a government funded, independent organisation which gives
objective advice to UK governments and local authorities, funding bodies, and the historic ships
sector on all matters relating to historic vessels in the UK. It maintains: the National Register of
Historic Vessels which lists over a thousand significant craft; the National Archive of Historic
Vessels for those craft now destroyed; the UK Replica List, and the Overseas Watch List which
tracks vessels of outstanding significance outside the UK.
www.nationalhistoricships.org.uk
About the Heritage Lottery Fund
Using money raised through the National Lottery, the Heritage Lottery Fund (HLF) aims to make a
lasting difference for heritage, people and communities across the UK and help build a resilient
Page 3 of 3
heritage economy. From museums, parks and historic places to archaeology, natural environment
and cultural traditions, we invest in every part of our diverse heritage. HLF has supported almost
35,000 projects with £5.4bn across the UK. www.hlf.org.uk. For more information please contact
Katie Owen, HLF Press Office, on 020 7591 6036/07973 613820.