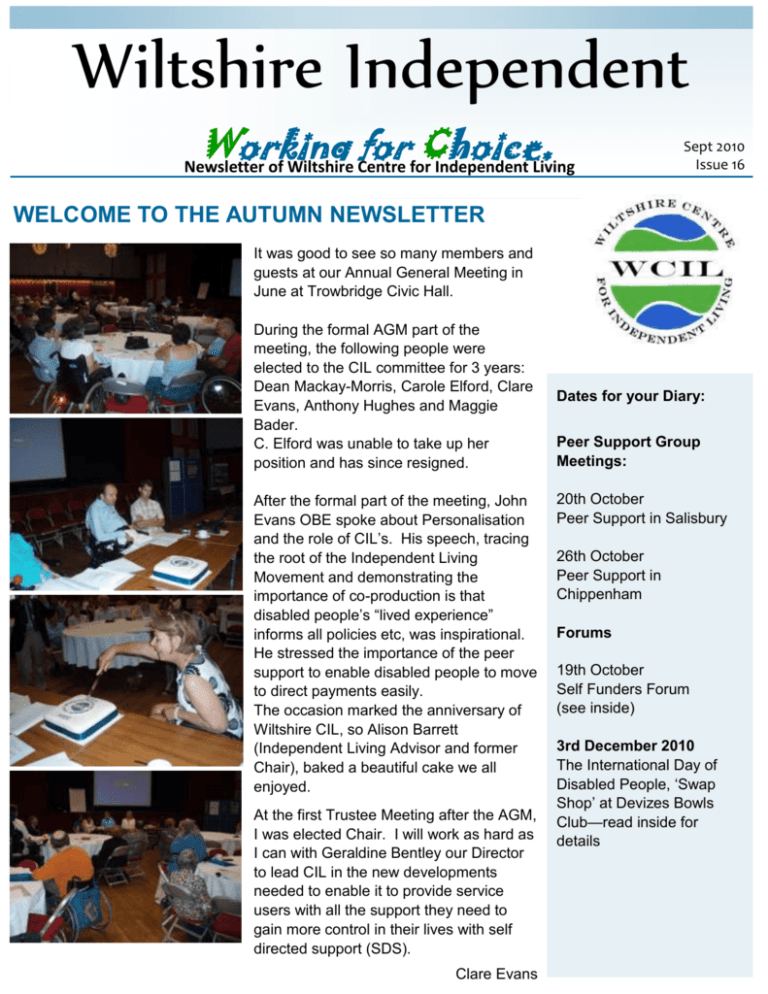 Wiltshire Independent
Working for Choice,
Newsletter of Wiltshire Centre for Independent Living
Sept 2010
Issue 16
Independence & Lifestyle
WELCOME TO THE AUTUMN NEWSLETTER
It was good to see so many members and
guests at our Annual General Meeting in
June at Trowbridge Civic Hall.
During the formal AGM part of the
meeting, the following people were
elected to the CIL committee for 3 years:
Dean Mackay-Morris, Carole Elford, Clare
Evans, Anthony Hughes and Maggie
Bader.
C. Elford was unable to take up her
position and has since resigned.
After the formal part of the meeting, John
Evans OBE spoke about Personalisation
and the role of CIL's. His speech, tracing
the root of the Independent Living
Movement and demonstrating the
importance of co-production is that
disabled people's "lived experience"
informs all policies etc, was inspirational.
He stressed the importance of the peer
support to enable disabled people to move
to direct payments easily.
The occasion marked the anniversary of
Wiltshire CIL, so Alison Barrett
(Independent Living Advisor and former
Chair), baked a beautiful cake we all
enjoyed.
At the first Trustee Meeting after the AGM,
I was elected Chair. I will work as hard as
I can with Geraldine Bentley our Director
to lead CIL in the new developments
needed to enable it to provide service
users with all the support they need to
gain more control in their lives with self
directed support (SDS).
Clare Evans
Dates for your Diary:
Peer Support Group
Meetings:
20th October
Peer Support in Salisbury
26th October
Peer Support in
Chippenham
Forums
19th October
Self Funders Forum
(see inside)
3rd December 2010
The International Day of
Disabled People, 'Swap
Shop' at Devizes Bowls
Club—read inside for
details
Calling Self Funders
Do you know anyone who pays for their own care and support? Perhaps from insurance or from their own
savings. They are the forgotten group in social care. Wiltshire CIL is working jointly with Age UK Wiltshire to
enable them to have a voice by inviting them to a Self Funders Forum on October 19 th at 10.30am at Devizes
Bowls Club. Please phone the Wiltshire CIL office if you want to know more or to book a place. Please return
your details on the inserted flyer.
Vacancies
We were pleased to elect five new Trustees at our AGM. However, our constitution allows for up to two more
disabled people. We particularly need a Trustee who can undertake the role of Treasurer. Any disabled
people interested, please contact our Director Geraldine Bentley at the CIL office to learn more.
STOP PRESS … STOP PRESS … STOP PRESS…. EXCITING DEVELOPMENTS AT WILTSHIRE CIL
How's It For You?
This is the name of the Peer Mentoring Project we are setting up to enable potential SDS users learn from the
experience of those already using SDS. Wiltshire Council has a target of moving 3,000 users to SDS in this
year. We would like to support some of them by peer mentoring. This is about encouraging disabled people in
Wiltshire who wish to learn about how to move to self-directed support by mentors who are themselves
disabled people who have achieved their aim and are now in a position to offer the benefit to others.
We have obtained funding of £9,000 over 3 years from the National Volunteering Fund and have also made
an application to Awards for All. This funding will pay for the training of mentors and for the project running
costs.
The peer mentoring scheme will be one kind of support we offer potential SDS users through our One Stop
Shop currently being developed.
If you are interested in becoming involved in this exciting opportunity and would like to support others using
your experience we want to hear from you!
But that's not all !!!!
Alongside this project Wiltshire CIL are working with Helen Sanderson Associates
www.helensandersonassoaciates.co.uk to develop our peer mentor network to be able to deliver high quality
support planning that will be sustainable and owned by people who have a disability who live in Wiltshire.
 This will run parallel with our programme of training and peer mentorship, as outlined above (How is it for
you?) as this fits really well together and embeds the work of both projects
 It will develop the skills of people who have the experience of developing their support plans to support
others.
 We will explore Planning Live and how this can help people to learn about support planning, working with
groups and build the numbers of people who have support plans and their local networks, involving the
local community and educate and support service workers to learn alongside service users.
 We will develop peer mentorship in the local areas of – Salisbury, Chippenham, Devizes and Trowbridge recruiting two peer mentors in each area to train for Support Planning.
 This could link with employment opportunities for people in the future and become part of the skills
development back into work, if it is what people would like to pursue.
We will be using Planning Live - a group planning process where people come together, with their family,
friends and supporters to develop their support plans. This can either be a couple of people or with up to 10
people and their allies, who develop their support plans simultaneously. This can take a couple of afternoons
or a couple of days, depending on the group. For more information visit the Department of Health website
www.dh.gov.uk to read the report 'Planning Together – Peer Support and Self Directed Support'.
This is an excellent report on how local disabled people have the experience and knowledge to support each
other and do not always need to rely on 'professional' help. Another good link for information is at the
Support Planning web site – www.supportplanning.org - to read more about Planning Live.
This is a real opportunity for service users to offer their knowledge and experience to those unsure of the
process and systems of self directed care, you can help us to support others! We look forward to hearing
from you.
Geraldine Bentley
The International Day of Disabled People
This 3rd December, ADD International is launching the UK's first ever Stamp and Swap campaign.
ADD International is a UK-based charity that works with the disability movements in Africa and Asia,
supporting disabled people come together to make decisions about their own lives.
It will be no news to you that discrimination and inequalities are still faced by disabled people all over the
world, every single day. So we are asking you to tell your families and friends to join in Stamp and Swap to
promote disability issues and raise funds whilst having fun and celebrating International Day of Disabled
People. It is for anybody and everybody.
Stamp and Swap invites individuals and organisations to get involved by donating £5 to swap experiences
(LifeSwap) online or physical items (SwapIt) at an organised event.
Tell everyone you know to go to www.stampandswap.org and to remember to select Wiltshire CIL as their
chosen UK charity as they donate their £5.
All sorts of UK disability organisations are telling their supporters to join in at www.stampandswap.org
raising awareness and funds whilst swapping.
For more information, please visit the website www.stampandswap.org , live on 30th September, or get in
touch with Gemma at ADD on gemma.white@add.org.uk or 01373 473064.
To celebrate The International Day of disabled People Wiltshire CIL are hosting a coffee morning at Devizes
Bowls Club between 10.30am and 12.30pm on Friday December 3rd so do come along for a get together, a
chat, a cup of coffee and cake!
We are happy to answer any of your questions on self directed support but if you do want to join in a 'Stamp
& Swap' on the morning, then bring something you would like to swap – you never know what you might get
in return! It is £5 to join in but you do not have to get involved if you don't wish to. However, we would love to
see you and to mark the day by acknowledging the contribution made to society by disabled people.
Two Firsts in One Day – my story!
August 5th 2010 was an important day for me. Our first
grandchild was born on August 2nd so I wanted to meet
him! David was on his once-a-year carers break cycling in
Jersey and our daughter Ruth had come to care for me.
So on August 5th we went by train to meet Rupert and (this
is the brave bit!) then caught a red London bus to go from
Paddington to Camberwell. How scary it was!
The bus driver saw us and after everyone else had got on the driver closed the doors and reversed the
bus nearer the curb and let out the ramp. I drove on and reversed into the allocated space. It was free
too!
As you see from the photo, we arrived safely and had a first cuddle of Rupert. When I had got home again
safely, I wondered why it had taken me so long to have confidence to go on a Red London Bus!
Clare Evans
This newsletter is available in a variety of formats on request from the office:- info@wiltshirecil.org or
telephone 01380 725400. We are always pleased to hear from anyone who would prefer to receive their
newsletter electronically thus saving postage and trees! Please e-mail the office and put "Electronic
Newsletter Copy" in the subject.
Contact Us
Wiltshire CIL, Unit 1,
11 Couch Lane, Devizes,
SN10 1EB
Phone: 01380 725400
Web:
www.wiltshirecil.org.uk
(currently under maintenance)
Email:
info@wiltshirecil.org.uk
Please consider contributing a photo or short article for our next
edition. We look forward to receiving these at
info@wiltshirecil.org.uk
Disclaimer
The information in this newsletter is provided by Wiltshire CIL as a service to
readers. Wiltshire CIL cannot guarantee that the information provided is
accurate, verified, comprehensive, or complete. For this reason, you should not
rely, nor act upon any of the information contained in these pages without
professional advice. If you do so, it will be entirely at your own risk. The views
expressed in these articles are those of the individual author and are not
necessarily endorsed by Wiltshire CIL.
Company No. 5480761
Charity No. 1120611
Funded by:
Use of external links on the Wiltshire CIL website
Wiltshire CIL accepts no responsibility for the content of external websites. The
decision to include these links should in no way be seen as an endorsement of
the views expressed, they are those of the author or the organisation.