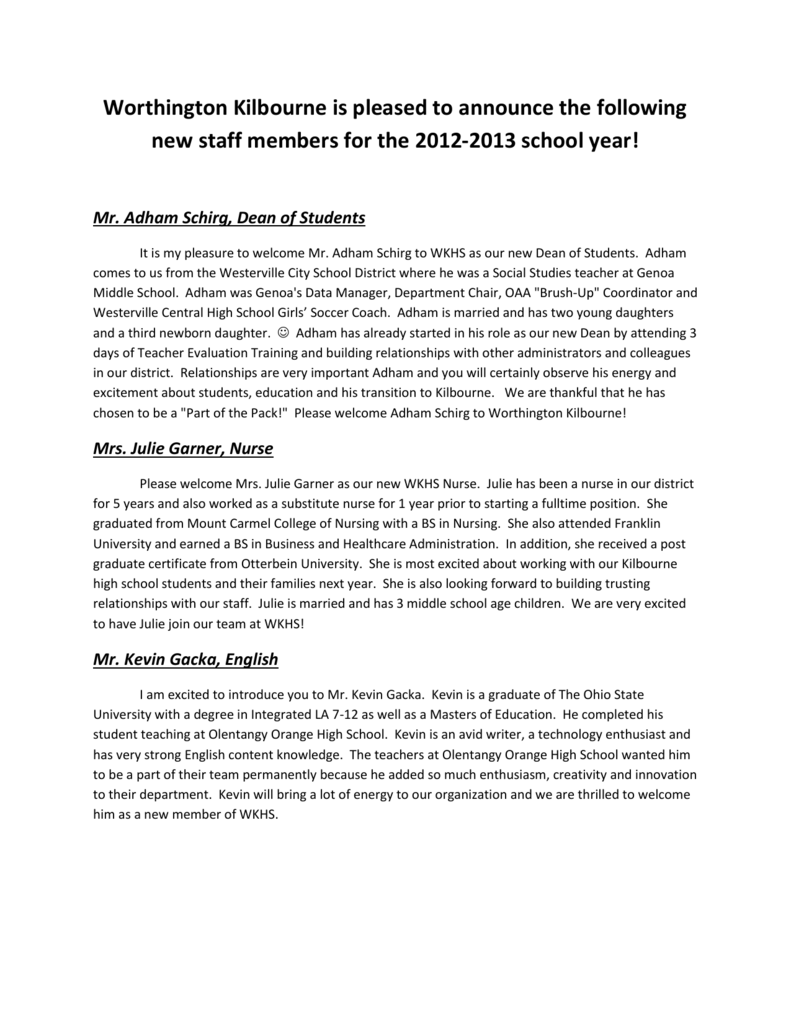 Worthington Kilbourne is pleased to announce the following
new staff members for the 2012-2013 school year!
Mr. Adham Schirg, Dean of Students
It is my pleasure to welcome Mr. Adham Schirg to WKHS as our new Dean of Students. Adham
comes to us from the Westerville City School District where he was a Social Studies teacher at Genoa
Middle School. Adham was Genoa's Data Manager, Department Chair, OAA "Brush-Up" Coordinator and
Westerville Central High School Girls' Soccer Coach. Adham is married and has two young daughters
and a third newborn daughter.  Adham has already started in his role as our new Dean by attending 3
days of Teacher Evaluation Training and building relationships with other administrators and colleagues
in our district. Relationships are very important Adham and you will certainly observe his energy and
excitement about students, education and his transition to Kilbourne. We are thankful that he has
chosen to be a "Part of the Pack!" Please welcome Adham Schirg to Worthington Kilbourne!
Mrs. Julie Garner, Nurse
Please welcome Mrs. Julie Garner as our new WKHS Nurse. Julie has been a nurse in our district
for 5 years and also worked as a substitute nurse for 1 year prior to starting a fulltime position. She
graduated from Mount Carmel College of Nursing with a BS in Nursing. She also attended Franklin
University and earned a BS in Business and Healthcare Administration. In addition, she received a post
graduate certificate from Otterbein University. She is most excited about working with our Kilbourne
high school students and their families next year. She is also looking forward to building trusting
relationships with our staff. Julie is married and has 3 middle school age children. We are very excited
to have Julie join our team at WKHS!
Mr. Kevin Gacka, English
I am excited to introduce you to Mr. Kevin Gacka. Kevin is a graduate of The Ohio State
University with a degree in Integrated LA 7-12 as well as a Masters of Education. He completed his
student teaching at Olentangy Orange High School. Kevin is an avid writer, a technology enthusiast and
has very strong English content knowledge. The teachers at Olentangy Orange High School wanted him
to be a part of their team permanently because he added so much enthusiasm, creativity and innovation
to their department. Kevin will bring a lot of energy to our organization and we are thrilled to welcome
him as a new member of WKHS.
Ms. Jessica Hemmelgarn, English
I am pleased to introduce you to Ms. Jessie Hemmelgarn. Jessie was a graduate of DePauw
University in 2008 in English Writing and Mass Communication. She worked as a producer for WSNY
95.7 with Dino and Shawn in the Morning. She went back to school at Otterbein University to earn an
Integrated LA 7-12 license along with a reading endorsement. Jessie completed her student teaching at
Northland High School and was described by her colleagues as a very collaborative individual. She is
very inclusive, innovative, organized and puts writing as the center of her instruction. Jessie is very
excited and when offered, she accepted the position without any hesitation. Please welcome Jessie to
WKHS!
Mrs. Joanna Stubenrauch, English
It's great to have Mrs. Josie Stubenrauch back at WKHS! Josie was an English teacher here in
2008-09 and taught American Literature, Senior Composition, and Advanced Senior Composition. She
has been a teacher at McCord Middle School since 2009 where she taught 8th grade Language Arts and
Enriched LA. Josie is a graduate of The Ohio State University and the University of Cincinnati. Josie is
described as a very hard-working teacher who pushes her student to do more and be more while
building a strong relationship with each child. She understands the importance of data to guide her
instruction and believes in sharing this data with each one her students so that together, they can set
goals to accomplish throughout the year. Please welcome Josie back to WKHS!
Mrs. Kathi Kahoun, Spanish
I am honored to introduce to you Mrs. Kathi Kahoun as our new Spanish teacher at WKHS. Kathi
was a long-term substitute in our building last year and was hired this year as a full-time teacher. She
lives in Worthington with her husband, her 8 year old son and 5 year old daughter. She is super excited
about being a part of the Kilbourne family and cannot wait to meet all of her students. Kathi was a
graduate of Butler University and taught in the Columbus Public School District as well as The Ohio State
University. Please welcome Kathi Kahoun to WKHS!
Mr. James DeFrancesco, Band
It is with much excitement that I introduce you to our new Associate Director of Bands and
Marching Band Director, Mr. James DeFrancesco. Mr. DeFrancesco (or "Mr. D" as he is known to his
students) is coming to us from Westerville South High School where he was the Director of Bands,
directing all facets of the band program. He is a graduate of The Ohio State University and Capital
University. He brings to us a wealth of successful experiences while at Westerville South and we are
excited for him to share this with our WKHS music program. James increased band membership while at
Westerville South from 37 in 2005 to 138 in 2011. He is a very organized and collaborative leader. He
has already been very visible in our building and is looking forward to the Fall Marching Band and
Football season.