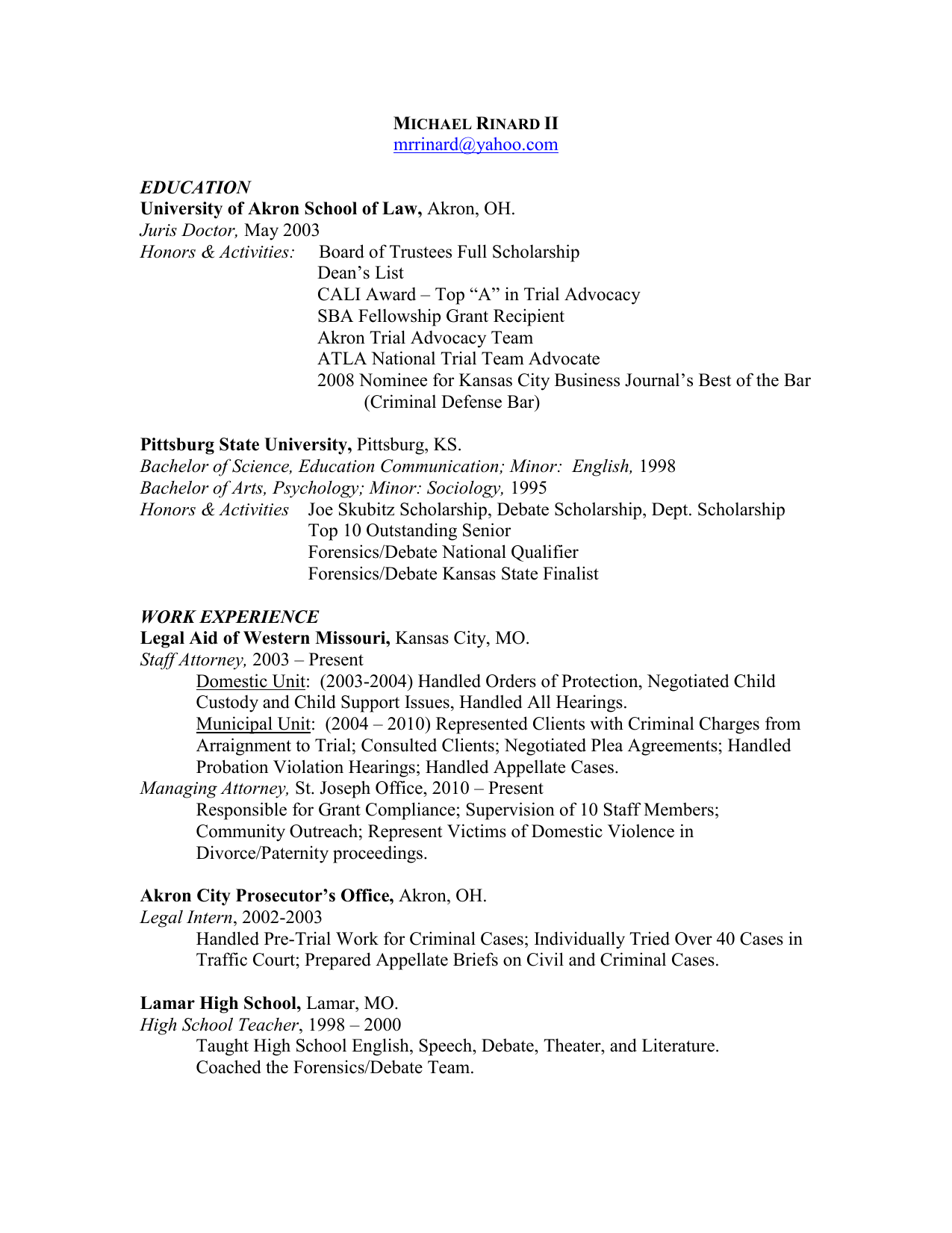 MICHAEL RINARD II
[email protected]
EDUCATION
University of Akron School of Law, Akron, OH.
Juris Doctor, May 2003
Honors & Activities: Board of Trustees Full Scholarship
Dean's List
CALI Award – Top "A" in Trial Advocacy
SBA Fellowship Grant Recipient
Akron Trial Advocacy Team
ATLA National Trial Team Advocate
2008 Nominee for Kansas City Business Journal's Best of the Bar
(Criminal Defense Bar)
Pittsburg State University, Pittsburg, KS.
Bachelor of Science, Education Communication; Minor: English, 1998
Bachelor of Arts, Psychology; Minor: Sociology, 1995
Honors & Activities Joe Skubitz Scholarship, Debate Scholarship, Dept. Scholarship
Top 10 Outstanding Senior
Forensics/Debate National Qualifier
Forensics/Debate Kansas State Finalist
WORK EXPERIENCE
Legal Aid of Western Missouri, Kansas City, MO.
Staff Attorney, 2003 – Present
Domestic Unit: (2003-2004) Handled Orders of Protection, Negotiated Child
Custody and Child Support Issues, Handled All Hearings.
Municipal Unit: (2004 – 2010) Represented Clients with Criminal Charges from
Arraignment to Trial; Consulted Clients; Negotiated Plea Agreements; Handled
Probation Violation Hearings; Handled Appellate Cases.
Managing Attorney, St. Joseph Office, 2010 – Present
Responsible for Grant Compliance; Supervision of 10 Staff Members;
Community Outreach; Represent Victims of Domestic Violence in
Divorce/Paternity proceedings.
Akron City Prosecutor's Office, Akron, OH.
Legal Intern, 2002-2003
Handled Pre-Trial Work for Criminal Cases; Individually Tried Over 40 Cases in
Traffic Court; Prepared Appellate Briefs on Civil and Criminal Cases.
Lamar High School, Lamar, MO.
High School Teacher, 1998 – 2000
Taught High School English, Speech, Debate, Theater, and Literature.
Coached the Forensics/Debate Team.