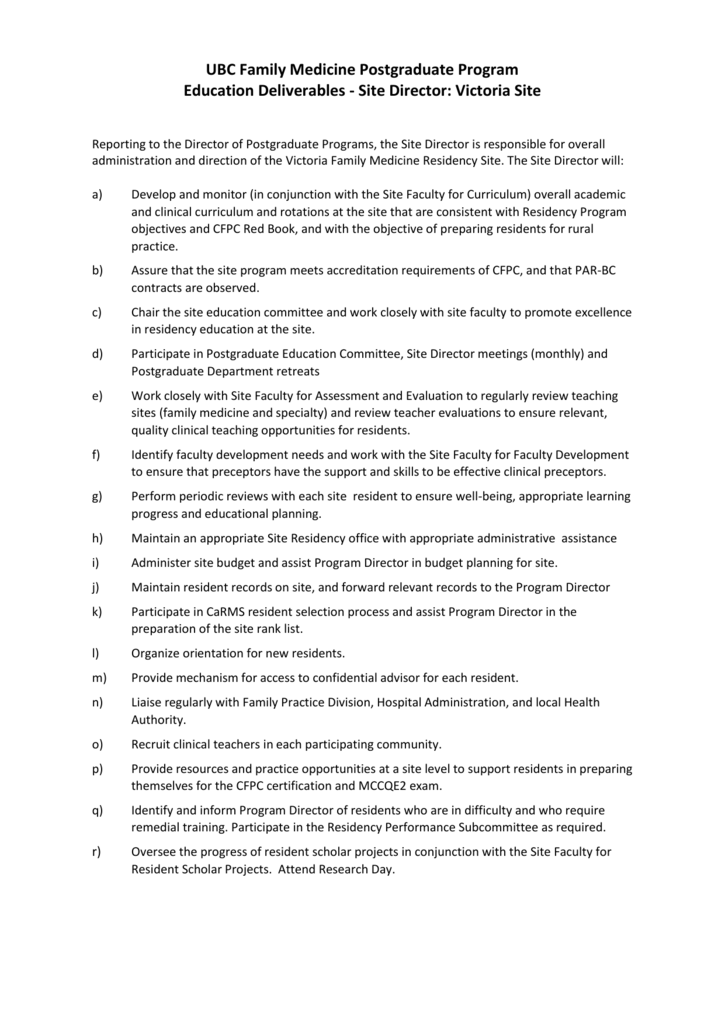 UBC Family Medicine Postgraduate Program
Education Deliverables - Site Director: Victoria Site
Reporting to the Director of Postgraduate Programs, the Site Director is responsible for overall
administration and direction of the Victoria Family Medicine Residency Site. The Site Director will:
a)
Develop and monitor (in conjunction with the Site Faculty for Curriculum) overall academic
and clinical curriculum and rotations at the site that are consistent with Residency Program
objectives and CFPC Red Book, and with the objective of preparing residents for rural
practice.
b)
Assure that the site program meets accreditation requirements of CFPC, and that PAR-BC
contracts are observed.
c)
Chair the site education committee and work closely with site faculty to promote excellence
in residency education at the site.
d)
Participate in Postgraduate Education Committee, Site Director meetings (monthly) and
Postgraduate Department retreats
e)
Work closely with Site Faculty for Assessment and Evaluation to regularly review teaching
sites (family medicine and specialty) and review teacher evaluations to ensure relevant,
quality clinical teaching opportunities for residents.
f)
Identify faculty development needs and work with the Site Faculty for Faculty Development
to ensure that preceptors have the support and skills to be effective clinical preceptors.
g)
Perform periodic reviews with each site resident to ensure well-being, appropriate learning
progress and educational planning.
h)
Maintain an appropriate Site Residency office with appropriate administrative assistance
i)
Administer site budget and assist Program Director in budget planning for site.
j)
Maintain resident records on site, and forward relevant records to the Program Director
k)
Participate in CaRMS resident selection process and assist Program Director in the
preparation of the site rank list.
l)
Organize orientation for new residents.
m)
Provide mechanism for access to confidential advisor for each resident.
n)
Liaise regularly with Family Practice Division, Hospital Administration, and local Health
Authority.
o)
Recruit clinical teachers in each participating community.
p)
Provide resources and practice opportunities at a site level to support residents in preparing
themselves for the CFPC certification and MCCQE2 exam.
q)
Identify and inform Program Director of residents who are in difficulty and who require
remedial training. Participate in the Residency Performance Subcommittee as required.
r)
Oversee the progress of resident scholar projects in conjunction with the Site Faculty for
Resident Scholar Projects. Attend Research Day.