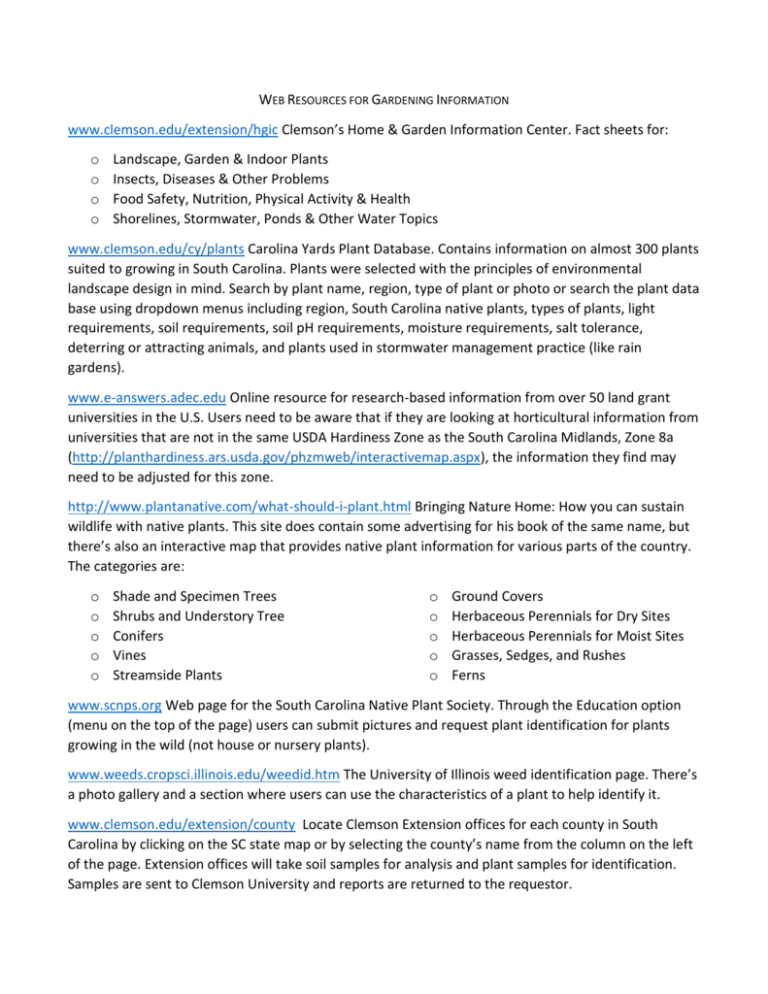 WEB RESOURCES FOR GARDENING INFORMATION
www.clemson.edu/extension/hgic Clemson's Home & Garden Information Center. Fact sheets for:
o
o
o
o
Landscape, Garden & Indoor Plants
Insects, Diseases & Other Problems
Food Safety, Nutrition, Physical Activity & Health
Shorelines, Stormwater, Ponds & Other Water Topics
www.clemson.edu/cy/plants Carolina Yards Plant Database. Contains information on almost 300 plants
suited to growing in South Carolina. Plants were selected with the principles of environmental
landscape design in mind. Search by plant name, region, type of plant or photo or search the plant data
base using dropdown menus including region, South Carolina native plants, types of plants, light
requirements, soil requirements, soil pH requirements, moisture requirements, salt tolerance,
deterring or attracting animals, and plants used in stormwater management practice (like rain
gardens).
www.e-answers.adec.edu Online resource for research-based information from over 50 land grant
universities in the U.S. Users need to be aware that if they are looking at horticultural information from
universities that are not in the same USDA Hardiness Zone as the South Carolina Midlands, Zone 8a
(http://planthardiness.ars.usda.gov/phzmweb/interactivemap.aspx), the information they find may
need to be adjusted for this zone.
http://www.plantanative.com/what-should-i-plant.html Bringing Nature Home: How you can sustain
wildlife with native plants. This site does contain some advertising for his book of the same name, but
there's also an interactive map that provides native plant information for various parts of the country.
The categories are:
o
o
o
o
o
Shade and Specimen Trees
Shrubs and Understory Tree
Conifers
Vines
Streamside Plants
o
o
o
o
o
Ground Covers
Herbaceous Perennials for Dry Sites
Herbaceous Perennials for Moist Sites
Grasses, Sedges, and Rushes
Ferns
www.scnps.org Web page for the South Carolina Native Plant Society. Through the Education option
(menu on the top of the page) users can submit pictures and request plant identification for plants
growing in the wild (not house or nursery plants).
www.weeds.cropsci.illinois.edu/weedid.htm The University of Illinois weed identification page. There's
a photo gallery and a section where users can use the characteristics of a plant to help identify it.
www.clemson.edu/extension/county Locate Clemson Extension offices for each county in South
Carolina by clicking on the SC state map or by selecting the county's name from the column on the left
of the page. Extension offices will take soil samples for analysis and plant samples for identification.
Samples are sent to Clemson University and reports are returned to the requestor.
o www.clemson.edu/extension/county/lexington Upcoming events, links to staff names and
phone extensions and more.
o Address: 605 West Main Street, Ste. 109, Lexington, SC 29072
o Phone: 803-359-8515
o Office Hours: Monday – Friday, 8:30 a.m. – 12:00 p.m. and 1:00 p.m. to 5 p.m.
o www.clemson.edu/extension/county/richland Upcoming events, links to staff names and more.
o Address: 900 Clemson Road, Columbia, SC 29229
o Phone: 803-865-1216
o Office Hours: Monday – Friday, 8:00 a.m. to 1:00 p.m. and 2 p.m. to 4:30 p.m.