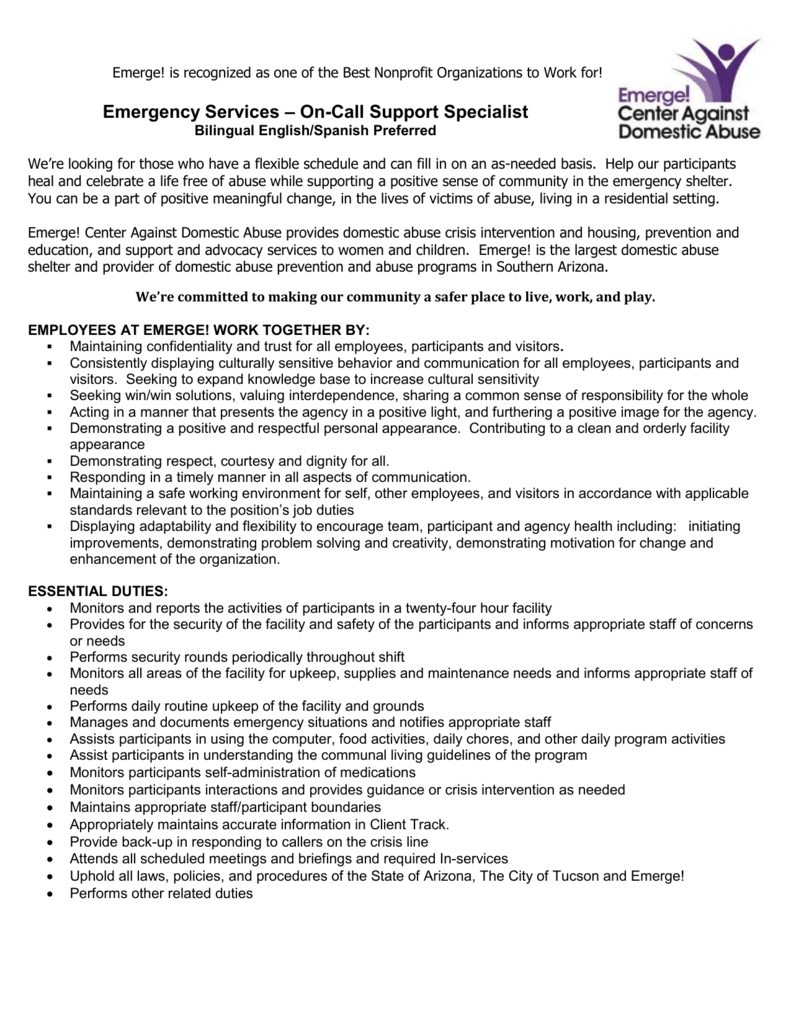 Emerge! is recognized as one of the Best Nonprofit Organizations to Work for!
Emergency Services – On-Call Support Specialist
Bilingual English/Spanish Preferred
We're looking for those who have a flexible schedule and can fill in on an as-needed basis. Help our participants
heal and celebrate a life free of abuse while supporting a positive sense of community in the emergency shelter.
You can be a part of positive meaningful change, in the lives of victims of abuse, living in a residential setting.
Emerge! Center Against Domestic Abuse provides domestic abuse crisis intervention and housing, prevention and
education, and support and advocacy services to women and children. Emerge! is the largest domestic abuse
shelter and provider of domestic abuse prevention and abuse programs in Southern Arizona.
We're committed to making our community a safer place to live, work, and play.
EMPLOYEES AT EMERGE! WORK TOGETHER BY:
 Maintaining confidentiality and trust for all employees, participants and visitors.
 Consistently displaying culturally sensitive behavior and communication for all employees, participants and
visitors. Seeking to expand knowledge base to increase cultural sensitivity
 Seeking win/win solutions, valuing interdependence, sharing a common sense of responsibility for the whole
 Acting in a manner that presents the agency in a positive light, and furthering a positive image for the agency.
 Demonstrating a positive and respectful personal appearance. Contributing to a clean and orderly facility
appearance
 Demonstrating respect, courtesy and dignity for all.
 Responding in a timely manner in all aspects of communication.
 Maintaining a safe working environment for self, other employees, and visitors in accordance with applicable
standards relevant to the position's job duties
 Displaying adaptability and flexibility to encourage team, participant and agency health including: initiating
improvements, demonstrating problem solving and creativity, demonstrating motivation for change and
enhancement of the organization.
ESSENTIAL DUTIES:
 Monitors and reports the activities of participants in a twenty-four hour facility
 Provides for the security of the facility and safety of the participants and informs appropriate staff of concerns
or needs
 Performs security rounds periodically throughout shift
 Monitors all areas of the facility for upkeep, supplies and maintenance needs and informs appropriate staff of
needs
 Performs daily routine upkeep of the facility and grounds
 Manages and documents emergency situations and notifies appropriate staff
 Assists participants in using the computer, food activities, daily chores, and other daily program activities
 Assist participants in understanding the communal living guidelines of the program
 Monitors participants self-administration of medications
 Monitors participants interactions and provides guidance or crisis intervention as needed
 Maintains appropriate staff/participant boundaries
 Appropriately maintains accurate information in Client Track.
 Provide back-up in responding to callers on the crisis line
 Attends all scheduled meetings and briefings and required In-services
 Uphold all laws, policies, and procedures of the State of Arizona, The City of Tucson and Emerge!
 Performs other related duties
OTHER SKILLS:
 Crisis intervention skills
 Excellent written and oral skills
 Highly organized and able to multi-task
 Proficient computer skills using MS Programs. Database knowledge helpful
 Ability to network efficiently with other agency personnel
 Work effectively as a team member
 Ability to work well independently and be self-motivated
 Effective time management skills
POSITION REQUIREMENTS:
 Associates degree in Social Services or related and one year of experience in Social Services or an equivalent
combination of education and/or experience
 Trauma related experience is a plus.
 Bilingual (English/Spanish) required
 Appropriate fingerprint clearance through the Arizona Department of Public Safety
 Current CPR/First Aid certification
PHYSICAL DEMANDS:
Must be able to sit or stand for long periods of time. Must be able to express or exchange ideas by means of the
spoken word to impart oral information to clients or to the public and to convey detailed spoken instructions to other
workers accurately or quickly. Must be able to lift between ten to twenty-five pounds.
Emerge! is an equal opportunity employer.