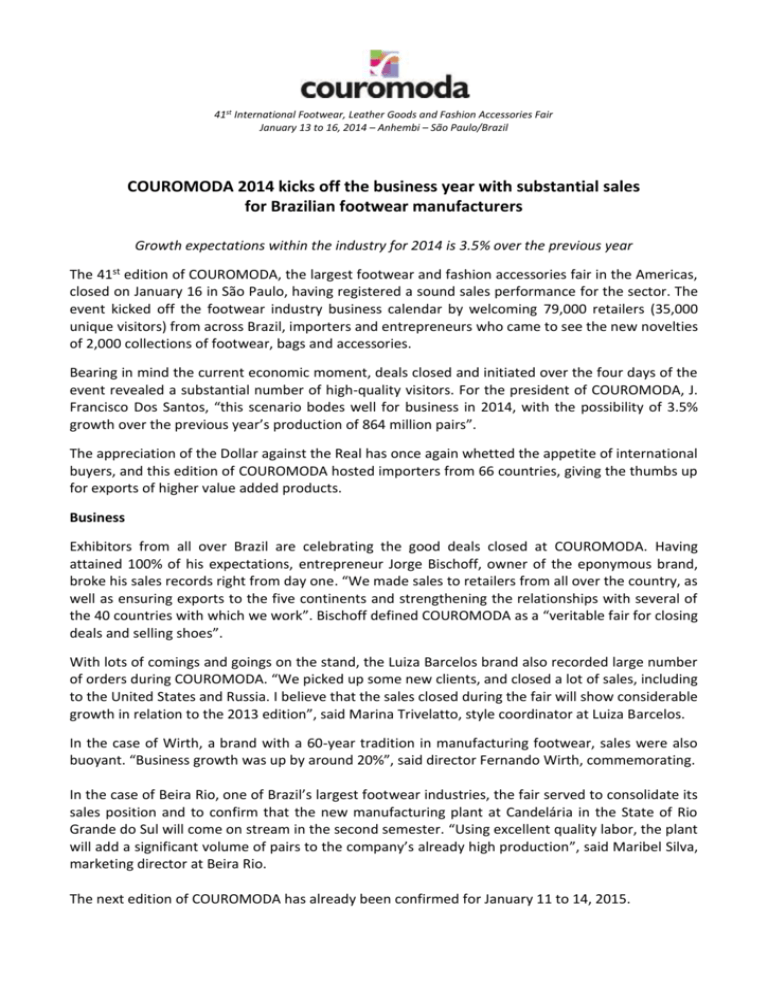 41st International Footwear, Leather Goods and Fashion Accessories Fair
January 13 to 16, 2014 – Anhembi – São Paulo/Brazil
COUROMODA 2014 kicks off the business year with substantial sales
for Brazilian footwear manufacturers
Growth expectations within the industry for 2014 is 3.5% over the previous year
The 41st edition of COUROMODA, the largest footwear and fashion accessories fair in the Americas,
closed on January 16 in São Paulo, having registered a sound sales performance for the sector. The
event kicked off the footwear industry business calendar by welcoming 79,000 retailers (35,000
unique visitors) from across Brazil, importers and entrepreneurs who came to see the new novelties
of 2,000 collections of footwear, bags and accessories.
Bearing in mind the current economic moment, deals closed and initiated over the four days of the
event revealed a substantial number of high-quality visitors. For the president of COUROMODA, J.
Francisco Dos Santos, "this scenario bodes well for business in 2014, with the possibility of 3.5%
growth over the previous year's production of 864 million pairs".
The appreciation of the Dollar against the Real has once again whetted the appetite of international
buyers, and this edition of COUROMODA hosted importers from 66 countries, giving the thumbs up
for exports of higher value added products.
Business
Exhibitors from all over Brazil are celebrating the good deals closed at COUROMODA. Having
attained 100% of his expectations, entrepreneur Jorge Bischoff, owner of the eponymous brand,
broke his sales records right from day one. "We made sales to retailers from all over the country, as
well as ensuring exports to the five continents and strengthening the relationships with several of
the 40 countries with which we work". Bischoff defined COUROMODA as a "veritable fair for closing
deals and selling shoes".
With lots of comings and goings on the stand, the Luiza Barcelos brand also recorded large number
of orders during COUROMODA. "We picked up some new clients, and closed a lot of sales, including
to the United States and Russia. I believe that the sales closed during the fair will show considerable
growth in relation to the 2013 edition", said Marina Trivelatto, style coordinator at Luiza Barcelos.
In the case of Wirth, a brand with a 60-year tradition in manufacturing footwear, sales were also
buoyant. "Business growth was up by around 20%", said director Fernando Wirth, commemorating.
In the case of Beira Rio, one of Brazil's largest footwear industries, the fair served to consolidate its
sales position and to confirm that the new manufacturing plant at Candelária in the State of Rio
Grande do Sul will come on stream in the second semester. "Using excellent quality labor, the plant
will add a significant volume of pairs to the company's already high production", said Maribel Silva,
marketing director at Beira Rio.
The next edition of COUROMODA has already been confirmed for January 11 to 14, 2015.