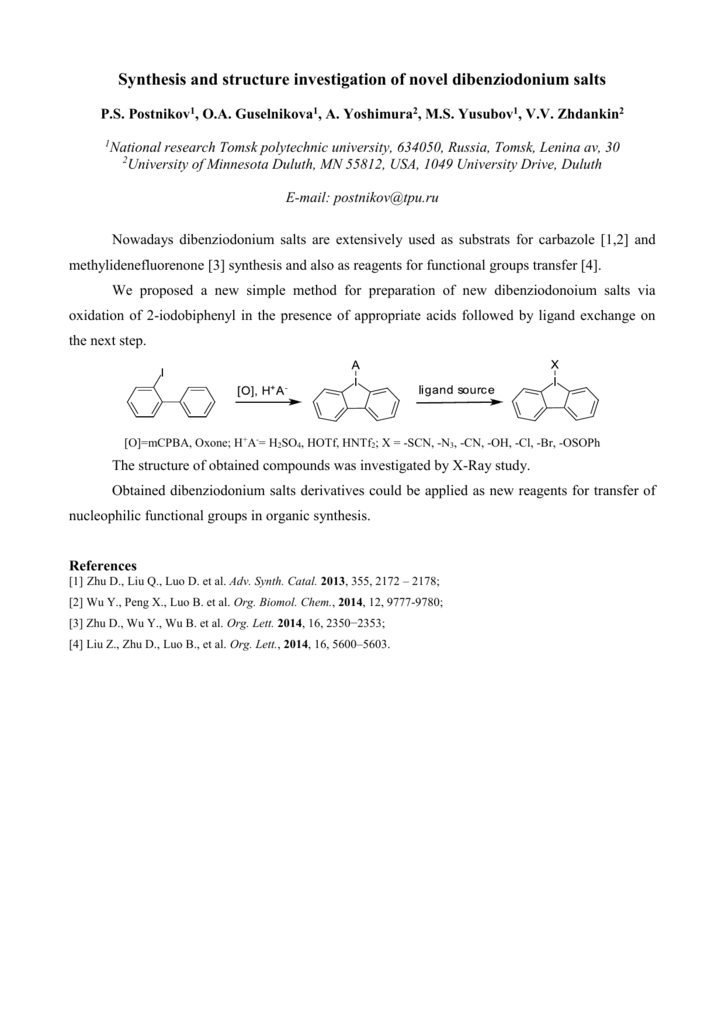 Synthesis and structure investigation of novel dibenziodonium salts
P.S. Postnikov1, O.A. Guselnikova1, A. Yoshimura2, M.S. Yusubov1, V.V. Zhdankin2
1
National research Tomsk polytechnic university, 634050, Russia, Tomsk, Lenina av, 30
2
University of Minnesota Duluth, MN 55812, USA, 1049 University Drive, Duluth
E-mail: [email protected]
Nowadays dibenziodonium salts are extensively used as substrats for carbazole [1,2] and
methylidenefluorenone [3] synthesis and also as reagents for functional groups transfer [4].
We proposed a new simple method for preparation of new dibenziodonoium salts via
oxidation of 2-iodobiphenyl in the presence of appropriate acids followed by ligand exchange on
the next step.
[O]=mCPBA, Oxone; H+A-= H2SO4, HOTf, HNTf2; X = -SCN, -N3, -CN, -OH, -Cl, -Br, -OSOPh
The structure of obtained compounds was investigated by X-Ray study.
Obtained dibenziodonium salts derivatives could be applied as new reagents for transfer of
nucleophilic functional groups in organic synthesis.
References
[1] Zhu D., Liu Q., Luo D. et al. Adv. Synth. Catal. 2013, 355, 2172 – 2178;
[2] Wu Y., Peng X., Luo B. et al. Org. Biomol. Chem., 2014, 12, 9777-9780;
[3] Zhu D., Wu Y., Wu B. et al. Org. Lett. 2014, 16, 2350−2353;
[4] Liu Z., Zhu D., Luo B., et al. Org. Lett., 2014, 16, 5600–5603.