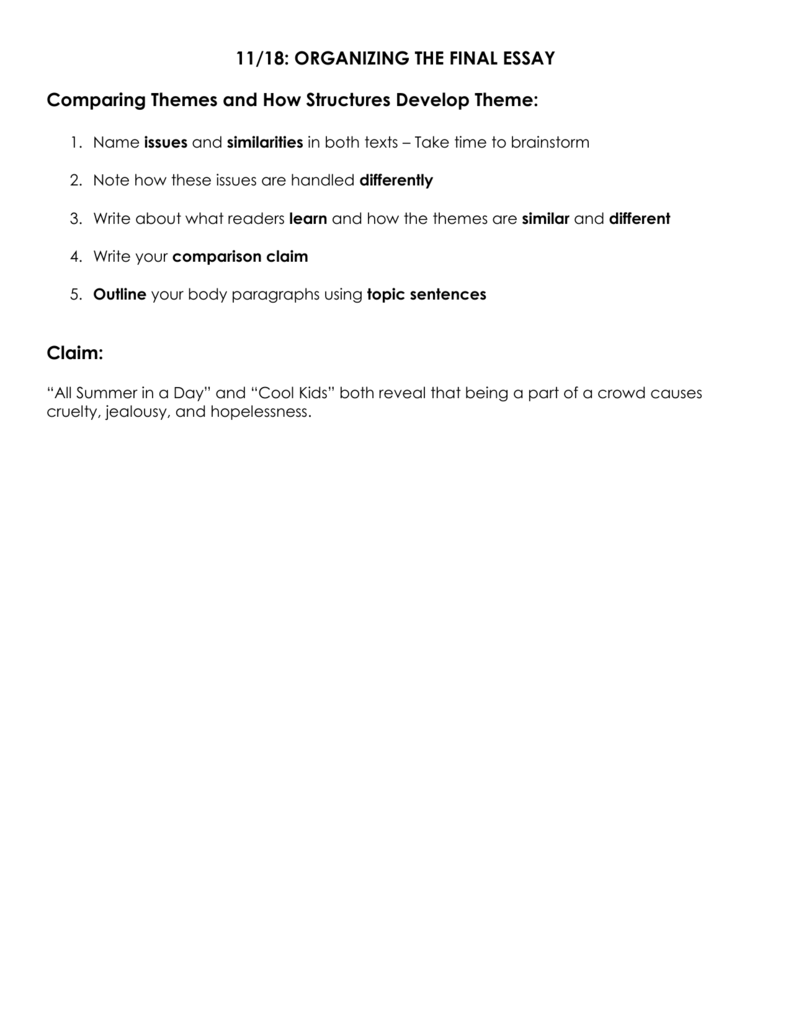 11/18: ORGANIZING THE FINAL ESSAY
Comparing Themes and How Structures Develop Theme:
1. Name issues and similarities in both texts – Take time to brainstorm
2. Note how these issues are handled differently
3. Write about what readers learn and how the themes are similar and different
4. Write your comparison claim
5. Outline your body paragraphs using topic sentences
Claim:
"All Summer in a Day" and "Cool Kids" both reveal that being a part of a crowd causes
cruelty, jealousy, and hopelessness.
11/18: ORGANIZING THE FINAL ESSAY
Outline:
Introduction:

Universal topic: Everyone has once been a part of a crowd, whether that is the
majority or the minority. Regardless, everyone has the ability to choose how they
impact others.

Claim: (see above)
1. The texts emphasize how the effects of a crowd are negative and cruel on outsiders.
 Cruelty = word choice
o ASD: small, crying, seizing, trembling (locked in closet scene)
o CK: falling, invisible
2. The texts also show how people grow jealous when they compare themselves to
others.
 Jealousy = comparison and point of view
o ASD: comparison between Margot and the other kids
o CK: changing point of view from the girl to the boy, both who feel like
outsiders
3. Finally, both texts show the hopelessness that people feel when they do not fit in.
 Hopelessness= symbols
o ASD: sun/rain—outside/closet
o CK: fast cars/fast lane and straight line
Conclusion:

Restate claim (see above)

Readers learn that crowds, specifically those that are intentionally exclusive, have
severely negative effects on those around them. The authors of "ASD" and "CK"
encourage readers to choose the impact they want to have on those around them.