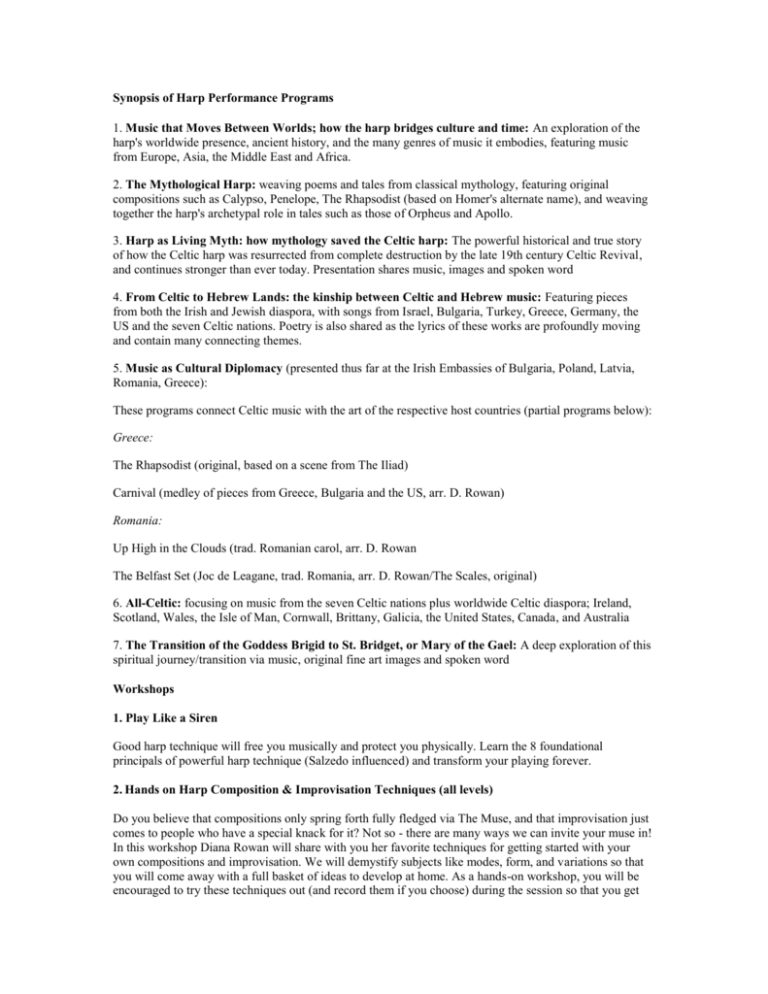 Synopsis of Harp Performance Programs
1. Music that Moves Between Worlds; how the harp bridges culture and time: An exploration of the
harp's worldwide presence, ancient history, and the many genres of music it embodies, featuring music
from Europe, Asia, the Middle East and Africa.
2. The Mythological Harp: weaving poems and tales from classical mythology, featuring original
compositions such as Calypso, Penelope, The Rhapsodist (based on Homer's alternate name), and weaving
together the harp's archetypal role in tales such as those of Orpheus and Apollo.
3. Harp as Living Myth: how mythology saved the Celtic harp: The powerful historical and true story
of how the Celtic harp was resurrected from complete destruction by the late 19th century Celtic Revival,
and continues stronger than ever today. Presentation shares music, images and spoken word
4. From Celtic to Hebrew Lands: the kinship between Celtic and Hebrew music: Featuring pieces
from both the Irish and Jewish diaspora, with songs from Israel, Bulgaria, Turkey, Greece, Germany, the
US and the seven Celtic nations. Poetry is also shared as the lyrics of these works are profoundly moving
and contain many connecting themes.
5. Music as Cultural Diplomacy (presented thus far at the Irish Embassies of Bulgaria, Poland, Latvia,
Romania, Greece):
These programs connect Celtic music with the art of the respective host countries (partial programs below):
Greece:
The Rhapsodist (original, based on a scene from The Iliad)
Carnival (medley of pieces from Greece, Bulgaria and the US, arr. D. Rowan)
Romania:
Up High in the Clouds (trad. Romanian carol, arr. D. Rowan
The Belfast Set (Joc de Leagane, trad. Romania, arr. D. Rowan/The Scales, original)
6. All-Celtic: focusing on music from the seven Celtic nations plus worldwide Celtic diaspora; Ireland,
Scotland, Wales, the Isle of Man, Cornwall, Brittany, Galicia, the United States, Canada, and Australia
7. The Transition of the Goddess Brigid to St. Bridget, or Mary of the Gael: A deep exploration of this
spiritual journey/transition via music, original fine art images and spoken word
Workshops
1. Play Like a Siren
Good harp technique will free you musically and protect you physically. Learn the 8 foundational
principals of powerful harp technique (Salzedo influenced) and transform your playing forever.
2. Hands on Harp Composition & Improvisation Techniques (all levels)
Do you believe that compositions only spring forth fully fledged via The Muse, and that improvisation just
comes to people who have a special knack for it? Not so - there are many ways we can invite your muse in!
In this workshop Diana Rowan will share with you her favorite techniques for getting started with your
own compositions and improvisation. We will demystify subjects like modes, form, and variations so that
you will come away with a full basket of ideas to develop at home. As a hands-on workshop, you will be
encouraged to try these techniques out (and record them if you choose) during the session so that you get
the chance to experience and internalize them.
3. Hands on Harp Composition & Improvisation Techniques (Intermediate)
For the harpist who already has some experience with with composition and technique, this workshop will
focus in on the specific needs of participants. Diana Rowan encourages you to email her at
[email protected] with your particular needs, and she will collate the class's desires into a cohesive
whole. The goal will be to deepen your composition and improv skills, and will take into account
techniques from around the world (the subject of Diana PhD dissertation, and the inspiration behind pretty
much all her harping.) Hands on, you will be encouraged to share some of your work, which will also be an
inspiration for all of us attending.
4. Hands on Harp Composition & Improv Techniques from the Middle East to Africa to Asia
The Middle East and Asia, which both have long harp histories, both approach music in a very different
way than Western musicians do. This workshop will introduce you to the dramatic and touching scales,
textures, rhythms, forms and ornamentation of music from the Middle East, Africa and Asia. You will be
able to apply these concepts directly to your harping, and in fact you will get to try these techniques out
during the workshop. Spice up your Celtic arrangements by slipping in some sinuous Middle Eastern
rhythms, add depth with African polyrhythms, add poignancy to your ornaments with Asian note bends
(yes, they're possible!), finally make sense of Gregorian chant by delving into monophony...this workshop
will open up many new colors and possibilities for your current harping, regardless of what style you play.