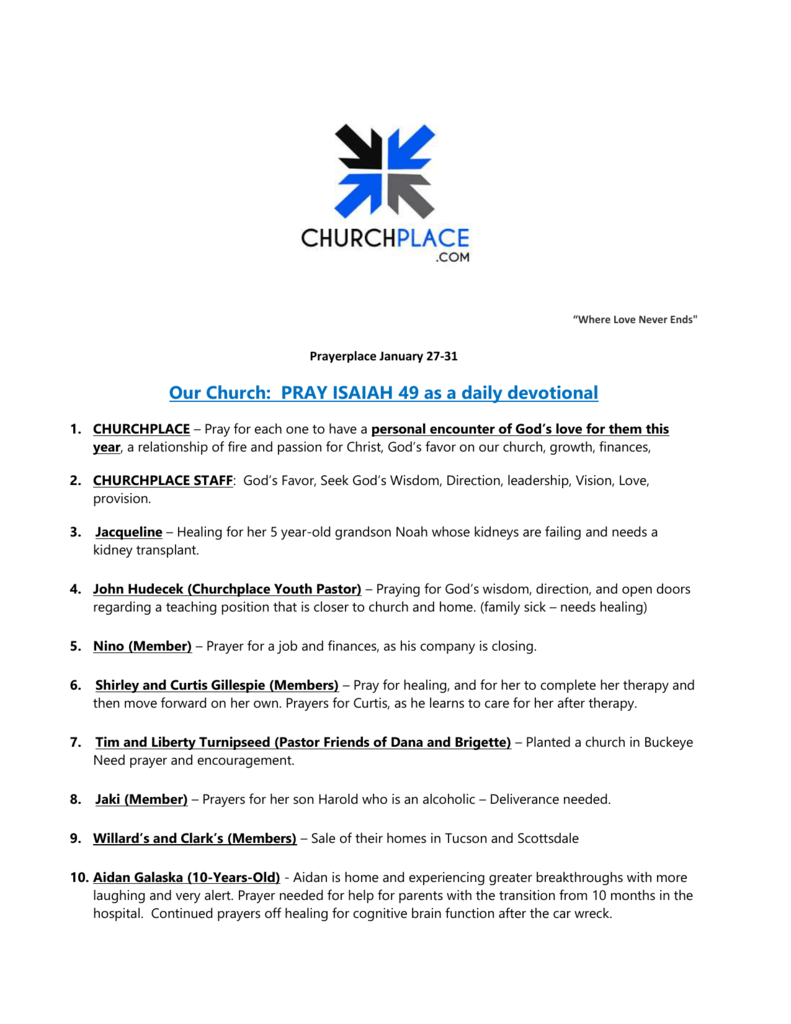 "Where Love Never Ends"
Prayerplace January 27-31
Our Church: PRAY ISAIAH 49 as a daily devotional
1. CHURCHPLACE – Pray for each one to have a personal encounter of God's love for them this
year, a relationship of fire and passion for Christ, God's favor on our church, growth, finances,
2. CHURCHPLACE STAFF: God's Favor, Seek God's Wisdom, Direction, leadership, Vision, Love,
provision.
3.
Jacqueline – Healing for her 5 year-old grandson Noah whose kidneys are failing and needs a
kidney transplant.
4. John Hudecek (Churchplace Youth Pastor) – Praying for God's wisdom, direction, and open doors
regarding a teaching position that is closer to church and home. (family sick – needs healing)
5. Nino (Member) – Prayer for a job and finances, as his company is closing.
6.
Shirley and Curtis Gillespie (Members) – Pray for healing, and for her to complete her therapy and
then move forward on her own. Prayers for Curtis, as he learns to care for her after therapy.
7.
Tim and Liberty Turnipseed (Pastor Friends of Dana and Brigette) – Planted a church in Buckeye
Need prayer and encouragement.
8.
Jaki (Member) – Prayers for her son Harold who is an alcoholic – Deliverance needed.
9. Willard's and Clark's (Members) – Sale of their homes in Tucson and Scottsdale
10. Aidan Galaska (10-Years-Old) - Aidan is home and experiencing greater breakthroughs with more
laughing and very alert. Prayer needed for help for parents with the transition from 10 months in the
hospital. Continued prayers off healing for cognitive brain function after the car wreck.
HEALING FROM CANCER:
Damon Gilliland – Pastor in California, going through radiation treatment for tumor near vital organs.
Jim Hughes - Cancer (had leg amputated) and salvation of his children.
Ian McMurran - Brain and throat cancer.
Cooper Gokee (9 Years Old) - Leukemia
Daniel (4 Years Old) - Leukemia
Missions:
Debbie Hume – 2 month missionary journey from January 23 – March 22 (evangelistic medical
clinics)
Johnny, Andrea, Jorai, Silas and Ramiyah Pangelinan (Missionaries to Thailand) – Protection
and wisdom, as uprisings against the government continue in Bangkok
ASU Chi Alpha Downtown Fusion Outreach
OCJ Kids Ministry and Gary Webb (US Missionaries to Orphans in Arizona)
Nation/World
Israel – Wisdom and revelation to their leaders, that all Arabs, Muslims and Jews will come to the saving
knowledge of Jesus Christ.
Pastor Saeed Abedini (American Pastor Jailed in Iran) – To be released from 8yr prison term in Iran.
Prayers of comfort to his wife, Naghmeh and their two children who live in Idaho.
Prayer for the Persecuted Church - Pray for those who in prisons and prison camps that doors will be
open, boldness and courage to proclaim the gospel, and mercy to those who are suffering.