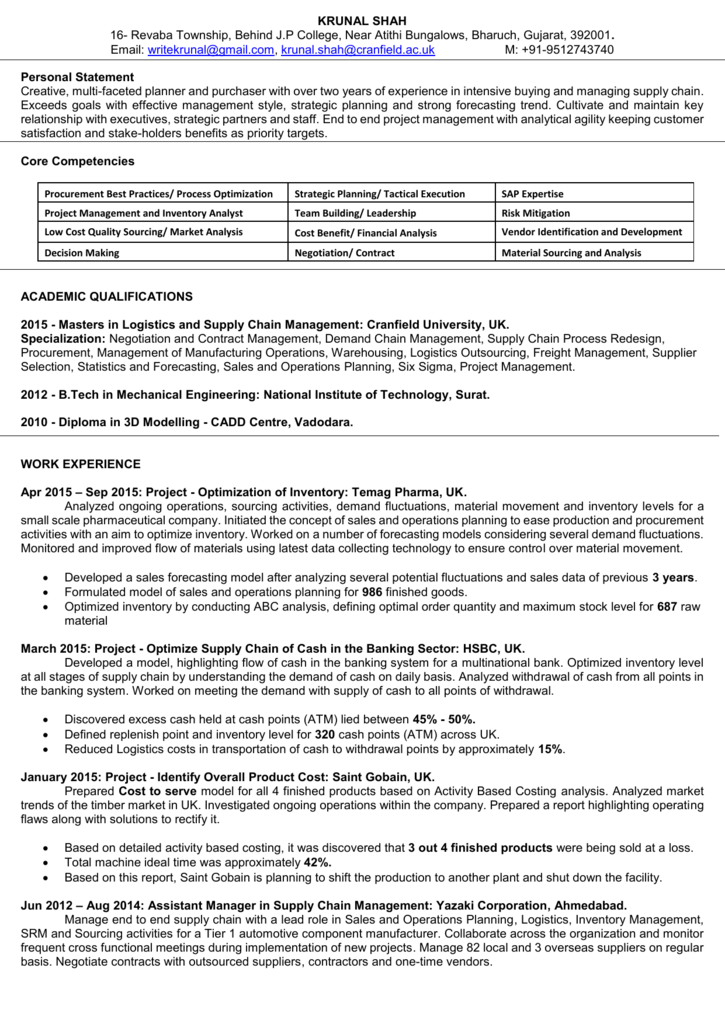 KRUNAL SHAH
16- Revaba Township, Behind J.P College, Near Atithi Bungalows, Bharuch, Gujarat, 392001.
Email: [email protected], [email protected]
M: +91-9512743740
Personal Statement
Creative, multi-faceted planner and purchaser with over two years of experience in intensive buying and managing supply chain.
Exceeds goals with effective management style, strategic planning and strong forecasting trend. Cultivate and maintain key
relationship with executives, strategic partners and staff. End to end project management with analytical agility keeping customer
satisfaction and stake-holders benefits as priority targets.
Core Competencies
Procurement Best Practices/ Process Optimization
Strategic Planning/ Tactical Execution
SAP Expertise
Project Management and Inventory Analyst
Team Building/ Leadership
Risk Mitigation
Low Cost Quality Sourcing/ Market Analysis
Cost Benefit/ Financial Analysis
Vendor Identification and Development
Decision Making
Negotiation/ Contract
Material Sourcing and Analysis
ACADEMIC QUALIFICATIONS
2015 - Masters in Logistics and Supply Chain Management: Cranfield University, UK.
Specialization: Negotiation and Contract Management, Demand Chain Management, Supply Chain Process Redesign,
Procurement, Management of Manufacturing Operations, Warehousing, Logistics Outsourcing, Freight Management, Supplier
Selection, Statistics and Forecasting, Sales and Operations Planning, Six Sigma, Project Management.
2012 - B.Tech in Mechanical Engineering: National Institute of Technology, Surat.
2010 - Diploma in 3D Modelling - CADD Centre, Vadodara.
WORK EXPERIENCE
Apr 2015 – Sep 2015: Project - Optimization of Inventory: Temag Pharma, UK.
Analyzed ongoing operations, sourcing activities, demand fluctuations, material movement and inventory levels for a
small scale pharmaceutical company. Initiated the concept of sales and operations planning to ease production and procurement
activities with an aim to optimize inventory. Worked on a number of forecasting models considering several demand fluctuations.
Monitored and improved flow of materials using latest data collecting technology to ensure control over material movement.



Developed a sales forecasting model after analyzing several potential fluctuations and sales data of previous 3 years.
Formulated model of sales and operations planning for 986 finished goods.
Optimized inventory by conducting ABC analysis, defining optimal order quantity and maximum stock level for 687 raw
material
March 2015: Project - Optimize Supply Chain of Cash in the Banking Sector: HSBC, UK.
Developed a model, highlighting flow of cash in the banking system for a multinational bank. Optimized inventory level
at all stages of supply chain by understanding the demand of cash on daily basis. Analyzed withdrawal of cash from all points in
the banking system. Worked on meeting the demand with supply of cash to all points of withdrawal.



Discovered excess cash held at cash points (ATM) lied between 45% - 50%.
Defined replenish point and inventory level for 320 cash points (ATM) across UK.
Reduced Logistics costs in transportation of cash to withdrawal points by approximately 15%.
January 2015: Project - Identify Overall Product Cost: Saint Gobain, UK.
Prepared Cost to serve model for all 4 finished products based on Activity Based Costing analysis. Analyzed market
trends of the timber market in UK. Investigated ongoing operations within the company. Prepared a report highlighting operating
flaws along with solutions to rectify it.



Based on detailed activity based costing, it was discovered that 3 out 4 finished products were being sold at a loss.
Total machine ideal time was approximately 42%.
Based on this report, Saint Gobain is planning to shift the production to another plant and shut down the facility.
Jun 2012 – Aug 2014: Assistant Manager in Supply Chain Management: Yazaki Corporation, Ahmedabad.
Manage end to end supply chain with a lead role in Sales and Operations Planning, Logistics, Inventory Management,
SRM and Sourcing activities for a Tier 1 automotive component manufacturer. Collaborate across the organization and monitor
frequent cross functional meetings during implementation of new projects. Manage 82 local and 3 overseas suppliers on regular
basis. Negotiate contracts with outsourced suppliers, contractors and one-time vendors.




Reduced packaging costs by 36% through the collaborative working with third party logistics.
Reduced overstock by 22% annually by implementing new and aggressive procurement strategy. This helped in reducing
inventory costs.
Benchmarked by achieving zero production line stoppages due to materials with implementation of strategic and
analytical sourcing strategy aligned with production plan.
Developed local vendors for imported parts, saving up to $250000/- annually.
INTERNSHIPS
Jun 2010 – July 2010: Summer Intern: Elecon Engineering Company, Anand.



Studied the different gear manufacturing processes and its material properties.
Contributed in company's job related to design, assembly and production of gears.
Assisted in process improvement thorough the production line from sourcing to dispatch.
June 2011 – July 2011: Summer Intern: Elcop Controls, Bharuch.


Assisted in manufacturing of customized electrical panels.
Studied the process of designing CNC Lathe machines indigenously as per customer's necessity.
PROJECTS
2013: Bus Rapid Transit System (BRTS): Chartered Bus, Ahmedabad
Assisted in designing and procurement of BRTS buses. Used 3D modelling software to understand and improve interior
design of the bus. Supported in procurement of seats, which were designed with durability and comfort as primary concern.


Upgraded available design strategically to make it more spacious and passenger friendly.
Reduced overall cost by 12% through redesigning the interior of the bus.
2012: SAE Supra: National Institute of Technology, Surat
Assisted in Designing, Cost Analysis and Procurement of material required in the manufacturing of F1 Car to participate
in a national level competition.
Nov 2011 – Mar 2012: Vice Captain, SAE Baja: National Institute of Technology, Surat.
Spearheaded team of 25 members to manufacture an All-Terrain Vehicle for an Asia Level Competition. Contributed
with a lead role in designing, cost reduction, preparation of financial report, documentation of BOM, fabrication and assembly of
single seated, four wheeled All-terrain Vehicle (ATV) for a National level competition.


Stood 5th nationally with 2nd place in maneuverability and 3rd place in hill climbing competition.
Arranged 250000 INR worth of sponsorship for the project.
Nov 2010 – Mar 2011: Core Team Member, SAE Baja: National Institute of Technology, Surat.
Carried out several activities such as marketing of the project, procurement of materials, designing and fabrication of the
vehicle.

Stood 12th nationally and received Critic's award for the design of vertical suspension.
Professional Skills
Languages - English (Professional), Hindi (Native), Gujarati (Native)
Technical System/Software Skills
Technical Skills: SAP, Advance Microsoft Office, ERP, MRP II, AutoCAD, Pro-E, CATIA.
Interests and Extracurricular Activities



Travelling, Music, Reading, Member of College football Team, Captain of the college Volleyball Team, Member of School
Cricket Team, Trained in Kick Boxing.
Member of the Chartered Institute of Purchasing and Supply (CIPS).
Member of the Chartered Institute of Logistics and Transport (CILT).