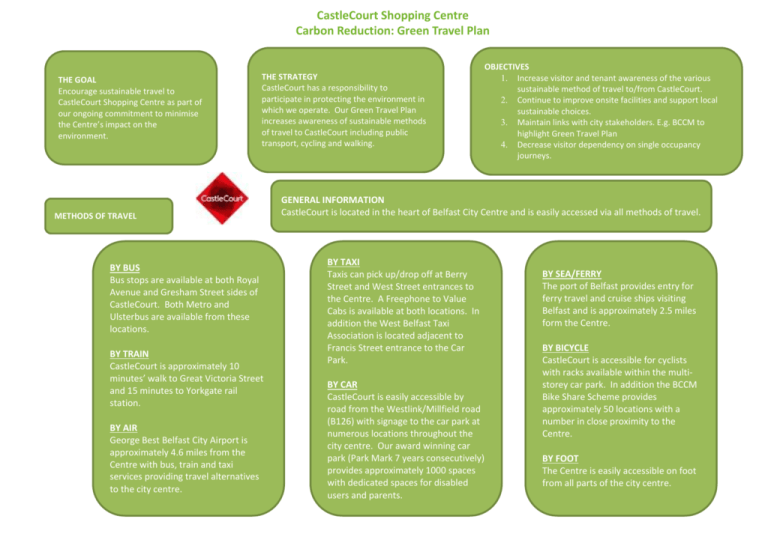 CastleCourt Shopping Centre
Carbon Reduction: Green Travel Plan
THE GOAL
Encourage sustainable travel to
CastleCourt Shopping Centre as part of
our ongoing commitment to minimise
the Centre's impact on the
environment.
THE STRATEGY
CastleCourt has a responsibility to
participate in protecting the environment in
which we operate. Our Green Travel Plan
increases awareness of sustainable methods
of travel to CastleCourt including public
transport, cycling and walking.
METHODS OF TRAVEL
BY BUS
Bus stops are available at both Royal
Avenue and Gresham Street sides of
CastleCourt. Both Metro and
Ulsterbus are available from these
locations.
BY TRAIN
CastleCourt is approximately 10
minutes' walk to Great Victoria Street
and 15 minutes to Yorkgate rail
station.
BY AIR
George Best Belfast City Airport is
approximately 4.6 miles from the
Centre with bus, train and taxi
services providing travel alternatives
to the city centre.
OBJECTIVES
1. Increase visitor and tenant awareness of the various
sustainable method of travel to/from CastleCourt.
2. Continue to improve onsite facilities and support local
sustainable choices.
3. Maintain links with city stakeholders. E.g. BCCM to
highlight Green Travel Plan
4. Decrease visitor dependency on single occupancy
journeys.
GENERAL INFORMATION
CastleCourt is located in the heart of Belfast City Centre and is easily accessed via all methods of travel.
BY TAXI
Taxis can pick up/drop off at Berry
Street and West Street entrances to
the Centre. A Freephone to Value
Cabs is available at both locations. In
addition the West Belfast Taxi
Association is located adjacent to
Francis Street entrance to the Car
Park.
BY CAR
CastleCourt is easily accessible by
road from the Westlink/Millfield road
(B126) with signage to the car park at
numerous locations throughout the
city centre. Our award winning car
park (Park Mark 7 years consecutively)
provides approximately 1000 spaces
with dedicated spaces for disabled
users and parents.
BY SEA/FERRY
The port of Belfast provides entry for
ferry travel and cruise ships visiting
Belfast and is approximately 2.5 miles
form the Centre.
BY BICYCLE
CastleCourt is accessible for cyclists
with racks available within the multistorey car park. In addition the BCCM
Bike Share Scheme provides
approximately 50 locations with a
number in close proximity to the
Centre.
BY FOOT
The Centre is easily accessible on foot
from all parts of the city centre.