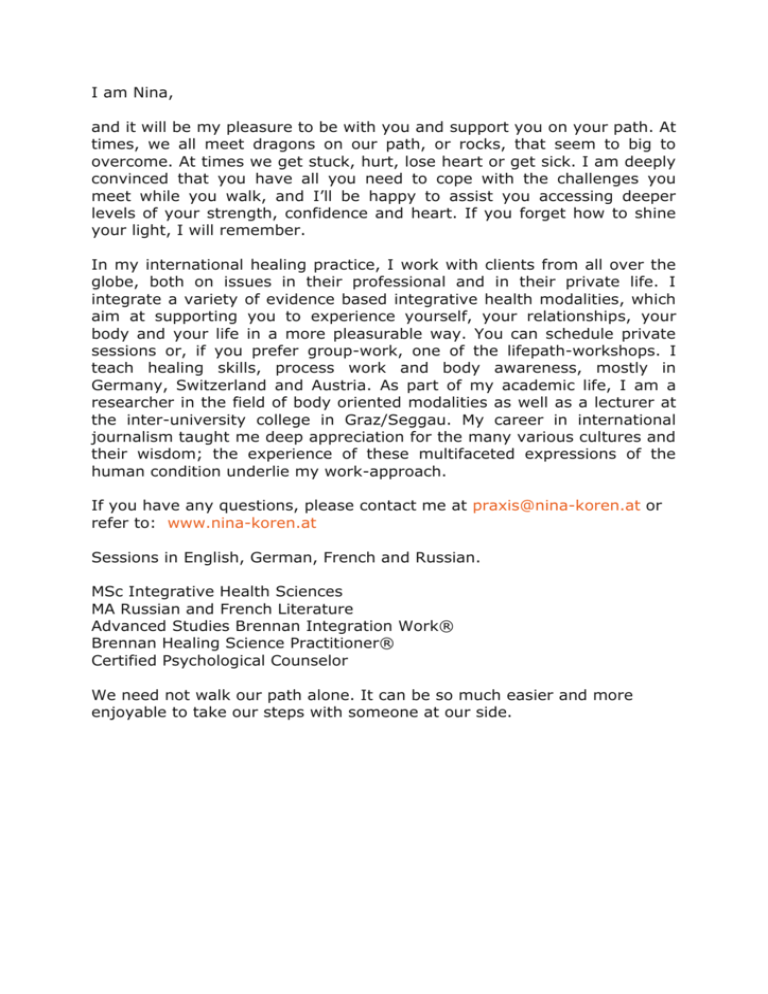 I am Nina,
and it will be my pleasure to be with you and support you on your path. At
times, we all meet dragons on our path, or rocks, that seem to big to
overcome. At times we get stuck, hurt, lose heart or get sick. I am deeply
convinced that you have all you need to cope with the challenges you
meet while you walk, and I'll be happy to assist you accessing deeper
levels of your strength, confidence and heart. If you forget how to shine
your light, I will remember.
In my international healing practice, I work with clients from all over the
globe, both on issues in their professional and in their private life. I
integrate a variety of evidence based integrative health modalities, which
aim at supporting you to experience yourself, your relationships, your
body and your life in a more pleasurable way. You can schedule private
sessions or, if you prefer group-work, one of the lifepath-workshops. I
teach healing skills, process work and body awareness, mostly in
Germany, Switzerland and Austria. As part of my academic life, I am a
researcher in the field of body oriented modalities as well as a lecturer at
the inter-university college in Graz/Seggau. My career in international
journalism taught me deep appreciation for the many various cultures and
their wisdom; the experience of these multifaceted expressions of the
human condition underlie my work-approach.
If you have any questions, please contact me at praxis@nina-koren.at or
refer to: www.nina-koren.at
Sessions in English, German, French and Russian.
MSc Integrative Health Sciences
MA Russian and French Literature
Advanced Studies Brennan Integration Work®
Brennan Healing Science Practitioner®
Certified Psychological Counselor
We need not walk our path alone. It can be so much easier and more
enjoyable to take our steps with someone at our side.