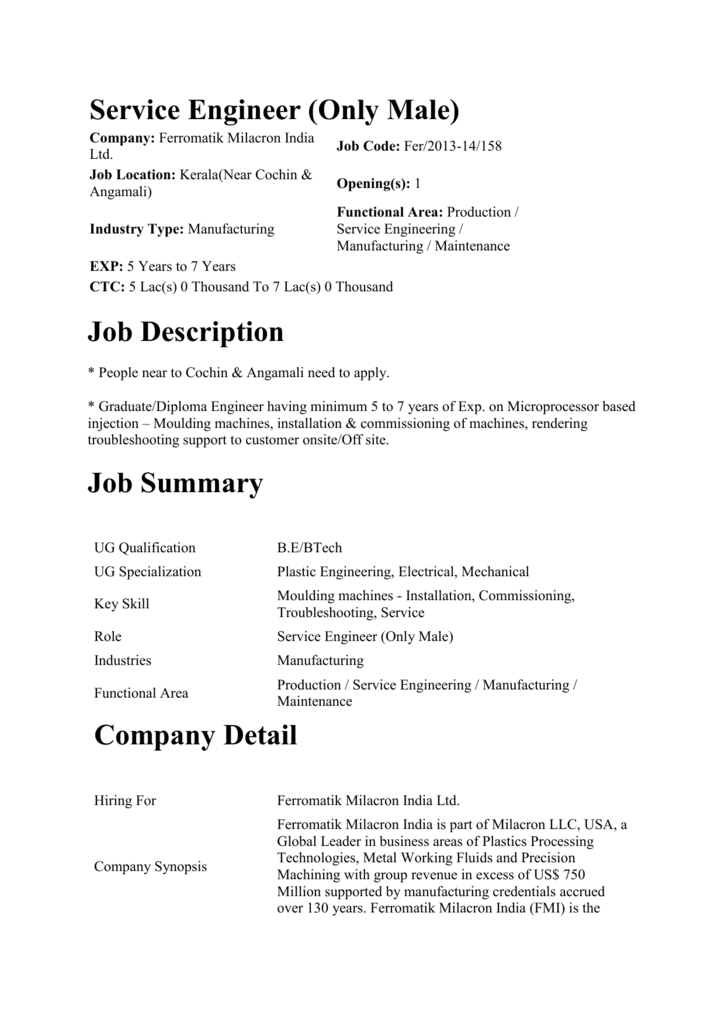 Service Engineer (Only Male)
Company: Ferromatik Milacron India
Ltd.
Job Location: Kerala(Near Cochin &
Angamali)
Job Code: Fer/2013-14/158
Opening(s): 1
Functional Area: Production /
Service Engineering /
Manufacturing / Maintenance
Industry Type: Manufacturing
EXP: 5 Years to 7 Years
CTC: 5 Lac(s) 0 Thousand To 7 Lac(s) 0 Thousand
Job Description
* People near to Cochin & Angamali need to apply.
* Graduate/Diploma Engineer having minimum 5 to 7 years of Exp. on Microprocessor based
injection – Moulding machines, installation & commissioning of machines, rendering
troubleshooting support to customer onsite/Off site.
Job Summary
UG Qualification
B.E/BTech
UG Specialization
Plastic Engineering, Electrical, Mechanical
Key Skill
Moulding machines - Installation, Commissioning,
Troubleshooting, Service
Role
Service Engineer (Only Male)
Industries
Manufacturing
Functional Area
Production / Service Engineering / Manufacturing /
Maintenance
Company Detail
Hiring For
Ferromatik Milacron India Ltd.
Company Synopsis
Ferromatik Milacron India is part of Milacron LLC, USA, a
Global Leader in business areas of Plastics Processing
Technologies, Metal Working Fluids and Precision
Machining with group revenue in excess of US$ 750
Million supported by manufacturing credentials accrued
over 130 years. Ferromatik Milacron India (FMI) is the
leading manufacturer of Plastics Injection Moulding
Machines & Blow Moulding Machines in India, serving the
entire gamut of Plastic Applications in 40 countries across
the world in SAARC, Middle East & Africa including USA.
Established in 1995, FMI offers today the Full Range of
Injection Moulding Machines from 50 Ton to 3200 Ton
with capacity to manufacture 2000 machines per annum and
a PAN India Sales & Service Offices in major cities and
industrial towns of the country. It is accredited to the Export
House Status and is an ISO 9001:2008 and ISO 14001:2004
certified company adhering to World Class Quality
Standards.
Company Website
http://milacronindia.com/aboutus.html
Other Detail
Candidate Description
* He must be technically sound and strong on
communication (Local Language- Malayalam).*
Presentation skills, Networking with Customer and
computer literacy.