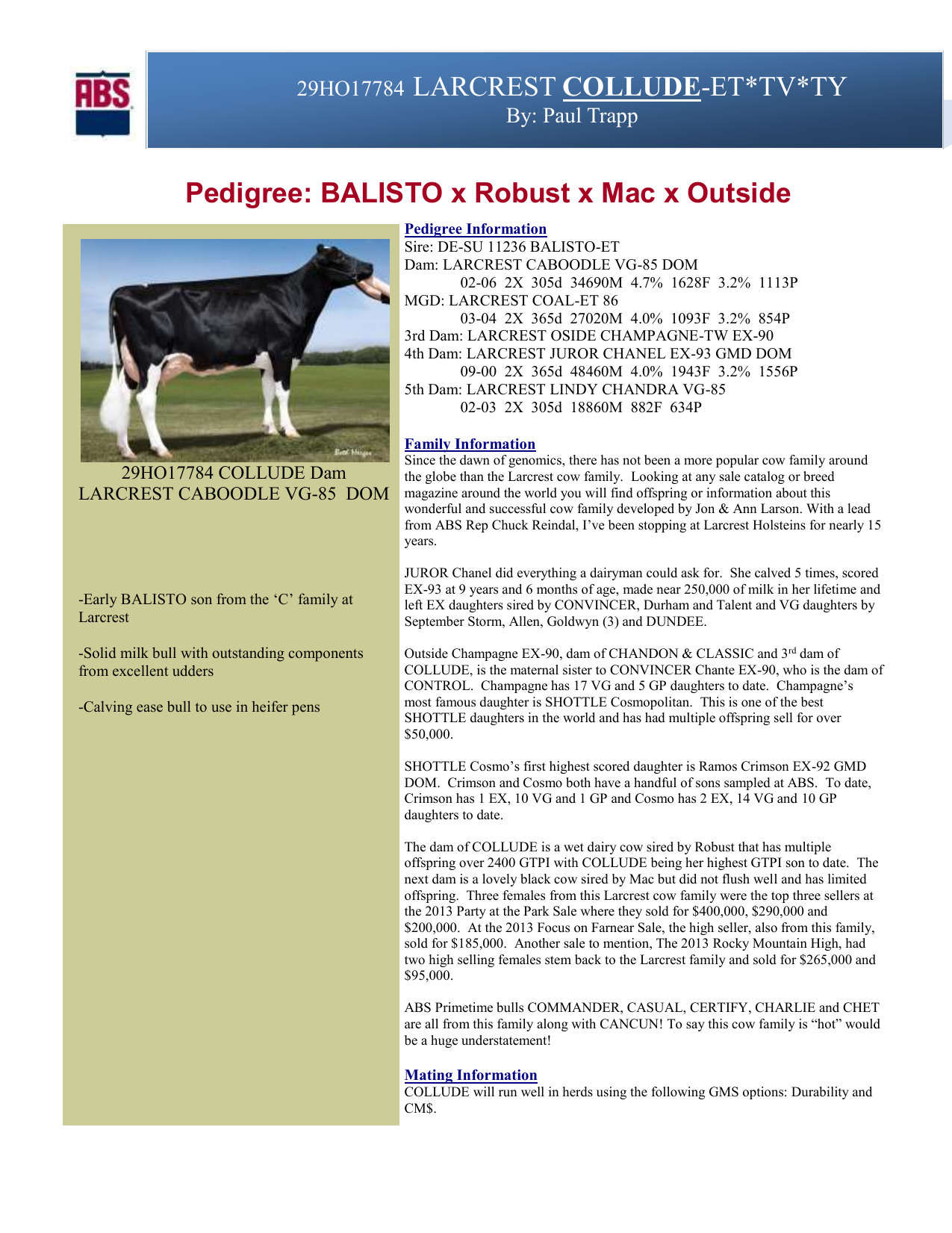 29HO17784
LARCREST COLLUDE-ET*TV*TY
By: Paul Trapp
Pedigree: BALISTO x Robust x Mac x Outside
Pedigree Information
Sire: DE-SU 11236 BALISTO-ET
Dam: LARCREST CABOODLE VG-85 DOM
02-06 2X 305d 34690M 4.7% 1628F 3.2% 1113P
MGD: LARCREST COAL-ET 86
03-04 2X 365d 27020M 4.0% 1093F 3.2% 854P
3rd Dam: LARCREST OSIDE CHAMPAGNE-TW EX-90
4th Dam: LARCREST JUROR CHANEL EX-93 GMD DOM
09-00 2X 365d 48460M 4.0% 1943F 3.2% 1556P
5th Dam: LARCREST LINDY CHANDRA VG-85
02-03 2X 305d 18860M 882F 634P
Family Information
29HO17784 COLLUDE Dam
LARCREST CABOODLE VG-85 DOM
-Early BALISTO son from the 'C' family at
Larcrest
-Solid milk bull with outstanding components
from excellent udders
-Calving ease bull to use in heifer pens
Since the dawn of genomics, there has not been a more popular cow family around
the globe than the Larcrest cow family. Looking at any sale catalog or breed
magazine around the world you will find offspring or information about this
wonderful and successful cow family developed by Jon & Ann Larson. With a lead
from ABS Rep Chuck Reindal, I've been stopping at Larcrest Holsteins for nearly 15
years.
JUROR Chanel did everything a dairyman could ask for. She calved 5 times, scored
EX-93 at 9 years and 6 months of age, made near 250,000 of milk in her lifetime and
left EX daughters sired by CONVINCER, Durham and Talent and VG daughters by
September Storm, Allen, Goldwyn (3) and DUNDEE.
Outside Champagne EX-90, dam of CHANDON & CLASSIC and 3rd dam of
COLLUDE, is the maternal sister to CONVINCER Chante EX-90, who is the dam of
CONTROL. Champagne has 17 VG and 5 GP daughters to date. Champagne's
most famous daughter is SHOTTLE Cosmopolitan. This is one of the best
SHOTTLE daughters in the world and has had multiple offspring sell for over
$50,000.
SHOTTLE Cosmo's first highest scored daughter is Ramos Crimson EX-92 GMD
DOM. Crimson and Cosmo both have a handful of sons sampled at ABS. To date,
Crimson has 1 EX, 10 VG and 1 GP and Cosmo has 2 EX, 14 VG and 10 GP
daughters to date.
The dam of COLLUDE is a wet dairy cow sired by Robust that has multiple
offspring over 2400 GTPI with COLLUDE being her highest GTPI son to date. The
next dam is a lovely black cow sired by Mac but did not flush well and has limited
offspring. Three females from this Larcrest cow family were the top three sellers at
the 2013 Party at the Park Sale where they sold for $400,000, $290,000 and
$200,000. At the 2013 Focus on Farnear Sale, the high seller, also from this family,
sold for $185,000. Another sale to mention, The 2013 Rocky Mountain High, had
two high selling females stem back to the Larcrest family and sold for $265,000 and
$95,000.
ABS Primetime bulls COMMANDER, CASUAL, CERTIFY, CHARLIE and CHET
are all from this family along with CANCUN! To say this cow family is "hot" would
be a huge understatement!
Mating Information
COLLUDE will run well in herds using the following GMS options: Durability and
CM$.