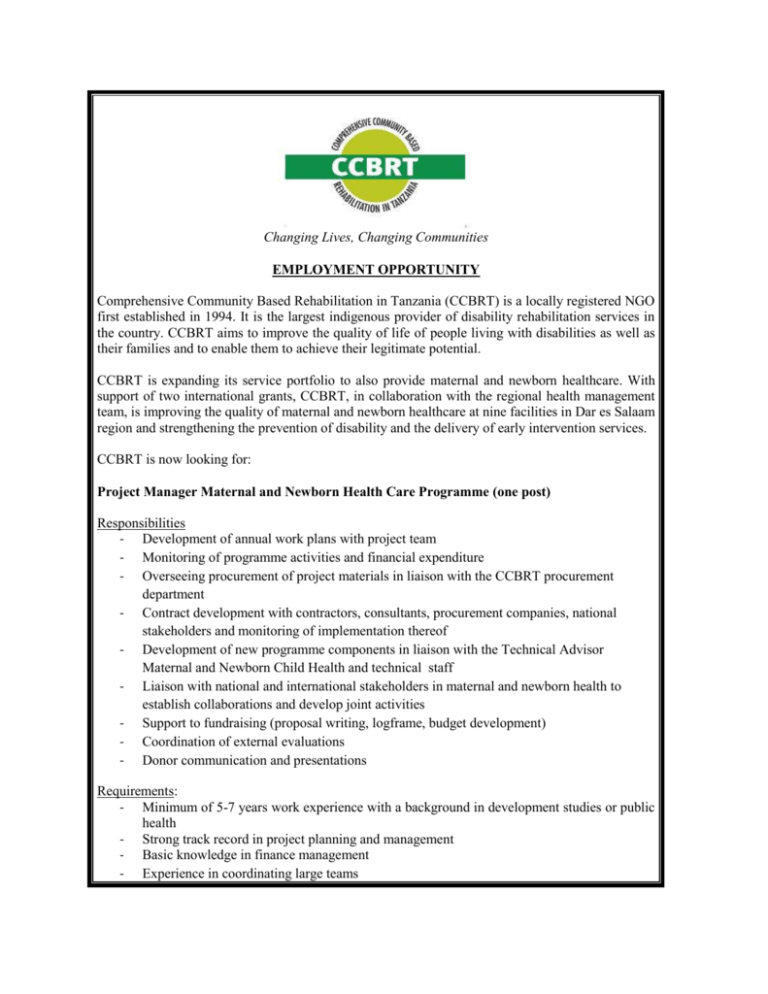 Changing Lives, Changing Communities
EMPLOYMENT OPPORTUNITY
Comprehensive Community Based Rehabilitation in Tanzania (CCBRT) is a locally registered NGO
first established in 1994. It is the largest indigenous provider of disability rehabilitation services in
the country. CCBRT aims to improve the quality of life of people living with disabilities as well as
their families and to enable them to achieve their legitimate potential.
CCBRT is expanding its service portfolio to also provide maternal and newborn healthcare. With
support of two international grants, CCBRT, in collaboration with the regional health management
team, is improving the quality of maternal and newborn healthcare at nine facilities in Dar es Salaam
region and strengthening the prevention of disability and the delivery of early intervention services.
CCBRT is now looking for:
Project Manager Maternal and Newborn Health Care Programme (one post)
Responsibilities
- Development of annual work plans with project team
- Monitoring of programme activities and financial expenditure
- Overseeing procurement of project materials in liaison with the CCBRT procurement
department
- Contract development with contractors, consultants, procurement companies, national
stakeholders and monitoring of implementation thereof
- Development of new programme components in liaison with the Technical Advisor
Maternal and Newborn Child Health and technical staff
- Liaison with national and international stakeholders in maternal and newborn health to
establish collaborations and develop joint activities
- Support to fundraising (proposal writing, logframe, budget development)
- Coordination of external evaluations
- Donor communication and presentations
Requirements:
- Minimum of 5-7 years work experience with a background in development studies or public
health
- Strong track record in project planning and management
- Basic knowledge in finance management
- Experience in coordinating large teams
-
Good analytical, report writing and presentation skills with spoken and written fluency in
English and good knowledge of Kiswahili
Ability to multi-task and handle complex work packages independently
Proficiency in computer applications such as Word, Excel, power point, etc.
Strong interpersonal skills, with the ability to establish good working relations with a team
and with a passion for CCBRT's work
How to apply
Please submit a letter of application, curriculum vitae, three references and maximum one page
report on why you believe you are the right candidate for this position. Please send it via email to
CCBRT human resources: recruitment@ccbrt.or.tz or by post to:
CCBRT Human Resources / P.O Box 23310, Dar es Salaam, Tanzania
Tel: +255 (0) 22 260 1543 / +255 (0) 22 260 2192 Fax: +255 (0) 22 260 1544
Website: http:// www.ccbrt.or.tz
Closing date for applications: open for applications
Only shortlisted candidates will be contacted.