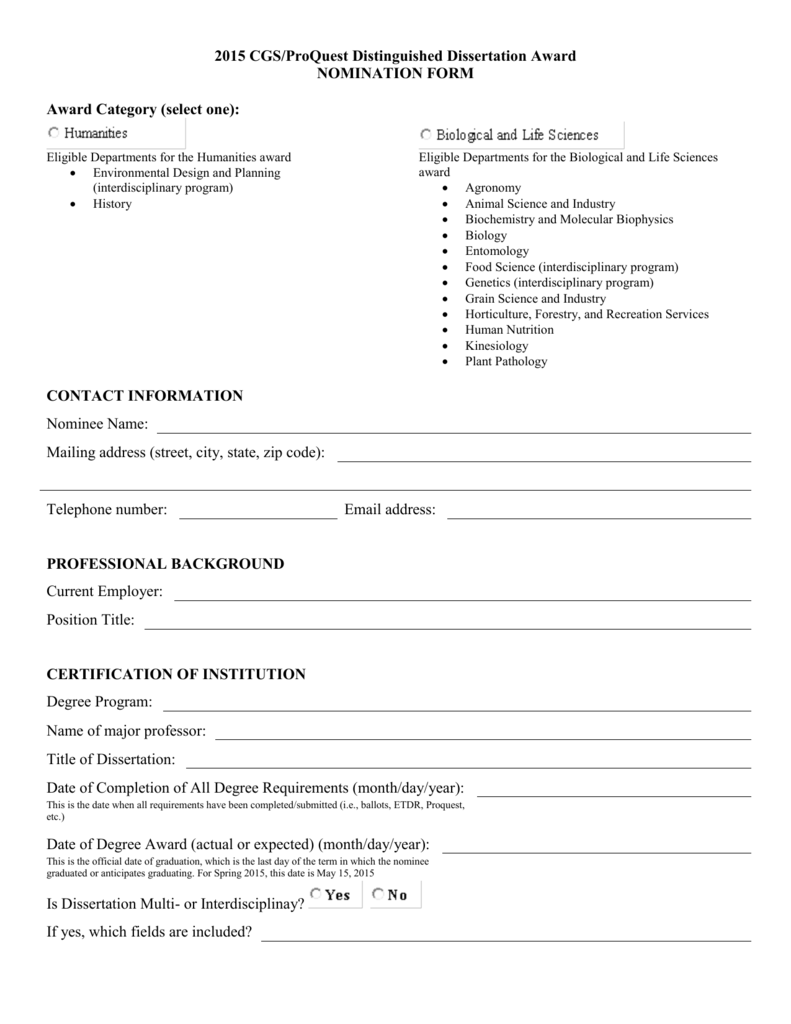 2015 CGS/ProQuest Distinguished Dissertation Award
NOMINATION FORM
Award Category (select one):
Eligible Departments for the Humanities award
 Environmental Design and Planning
(interdisciplinary program)
 History
Eligible Departments for the Biological and Life Sciences
award
 Agronomy
 Animal Science and Industry
 Biochemistry and Molecular Biophysics
 Biology
 Entomology
 Food Science (interdisciplinary program)
 Genetics (interdisciplinary program)
 Grain Science and Industry
 Horticulture, Forestry, and Recreation Services
 Human Nutrition
 Kinesiology
 Plant Pathology
CONTACT INFORMATION
Nominee Name:
Mailing address (street, city, state, zip code):
Telephone number:
Email address:
PROFESSIONAL BACKGROUND
Current Employer:
Position Title:
CERTIFICATION OF INSTITUTION
Degree Program:
Name of major professor:
Title of Dissertation:
Date of Completion of All Degree Requirements (month/day/year):
This is the date when all requirements have been completed/submitted (i.e., ballots, ETDR, Proquest,
etc.)
Date of Degree Award (actual or expected) (month/day/year):
This is the official date of graduation, which is the last day of the term in which the nominee
graduated or anticipates graduating. For Spring 2015, this date is May 15, 2015
Is Dissertation Multi- or Interdisciplinay?
If yes, which fields are included?