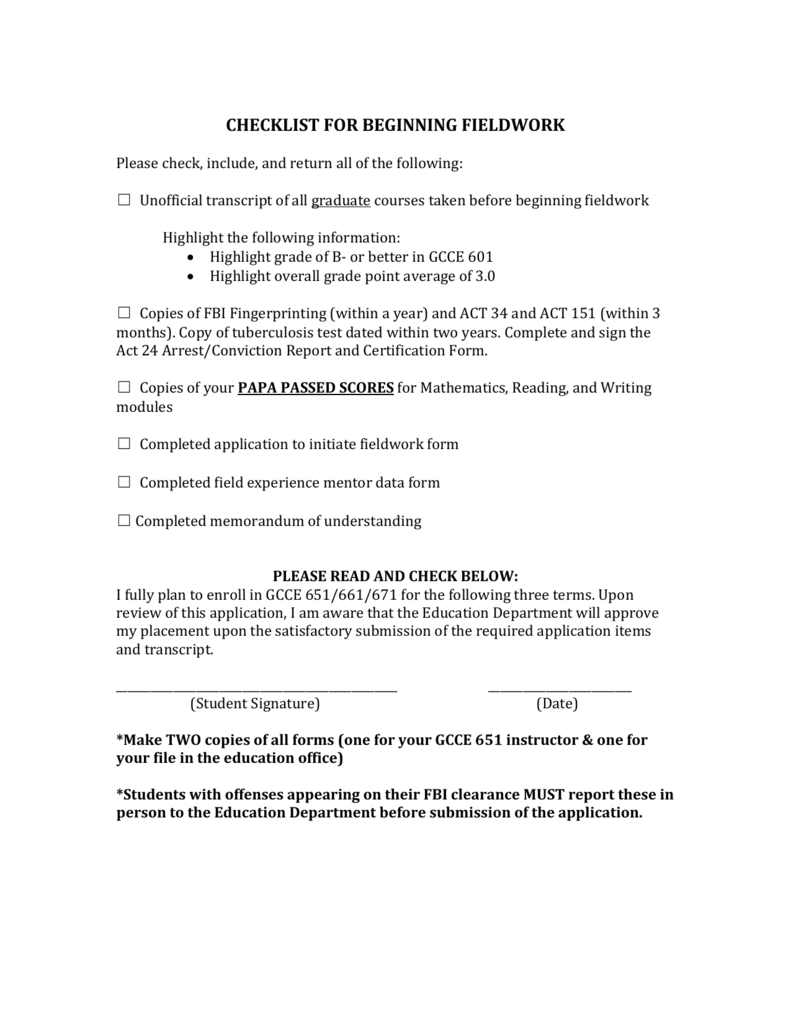 CHECKLIST FOR BEGINNING FIELDWORK
Please check, include, and return all of the following:
☐ Unofficial transcript of all graduate courses taken before beginning fieldwork
Highlight the following information:
 Highlight grade of B- or better in GCCE 601
 Highlight overall grade point average of 3.0
☐ Copies of FBI Fingerprinting (within a year) and ACT 34 and ACT 151 (within 3
months). Copy of tuberculosis test dated within two years. Complete and sign the
Act 24 Arrest/Conviction Report and Certification Form.
☐ Copies of your PAPA PASSED SCORES for Mathematics, Reading, and Writing
modules
☐ Completed application to initiate fieldwork form
☐ Completed field experience mentor data form
☐ Completed memorandum of understanding
PLEASE READ AND CHECK BELOW:
I fully plan to enroll in GCCE 651/661/671 for the following three terms. Upon
review of this application, I am aware that the Education Department will approve
my placement upon the satisfactory submission of the required application items
and transcript.
_________________________________________________
(Student Signature)
_________________________
(Date)
*Make TWO copies of all forms (one for your GCCE 651 instructor & one for
your file in the education office)
*Students with offenses appearing on their FBI clearance MUST report these in
person to the Education Department before submission of the application.