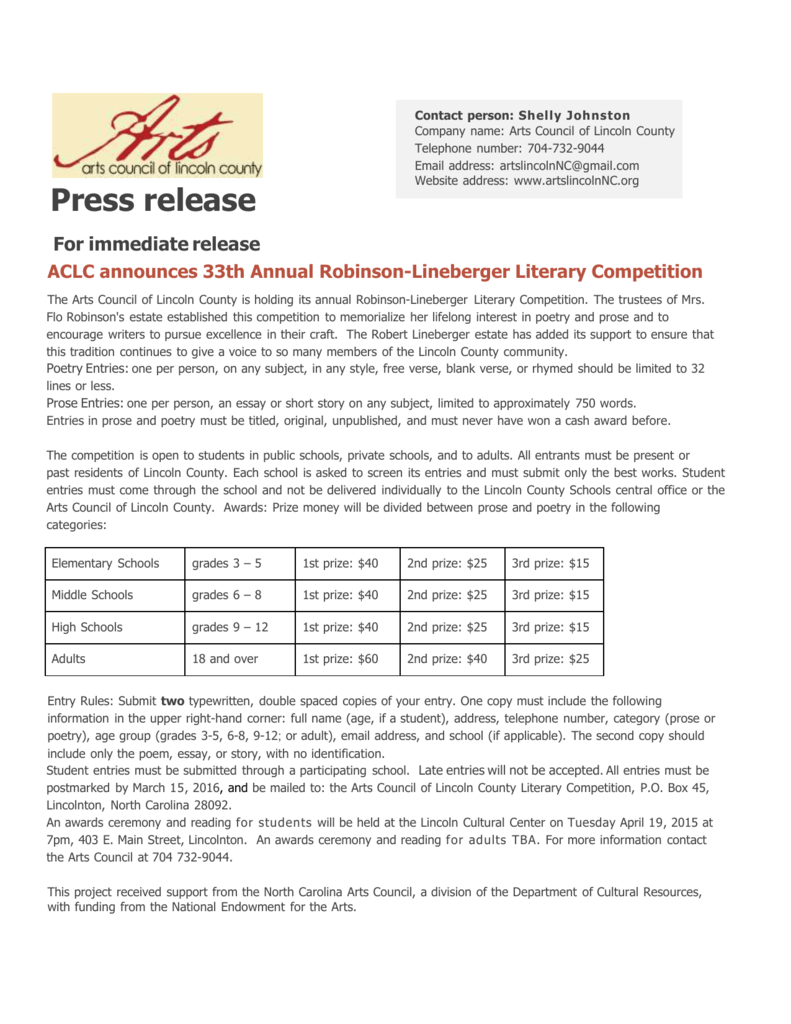 Contact person: Shelly Johnston
Company name: Arts Council of Lincoln County
Telephone number: 704-732-9044
Email address: [email protected]
Website address: www.artslincolnNC.org
Press release
For immediate release
ACLC announces 33th Annual Robinson-Lineberger Literary Competition
The Arts Council of Lincoln County is holding its annual Robinson-Lineberger Literary Competition. The trustees of Mrs.
Flo Robinson's estate established this competition to memorialize her lifelong interest in poetry and prose and to
encourage writers to pursue excellence in their craft. The Robert Lineberger estate has added its support to ensure that
this tradition continues to give a voice to so many members of the Lincoln County community.
Poetry Entries: one per person, on any subject, in any style, free verse, blank verse, or rhymed should be limited to 32
lines or less.
Prose Entries: one per person, an essay or short story on any subject, limited to approximately 750 words.
Entries in prose and poetry must be titled, original, unpublished, and must never have won a cash award before.
The competition is open to students in public schools, private schools, and to adults. All entrants must be present or
past residents of Lincoln County. Each school is asked to screen its entries and must submit only the best works. Student
entries must come through the school and not be delivered individually to the Lincoln County Schools central office or the
Arts Council of Lincoln County. Awards: Prize money will be divided between prose and poetry in the following
categories:
Elementary Schools
grades 3 – 5
1st prize: $40
2nd prize: $25
3rd prize: $15
Middle Schools
grades 6 – 8
1st prize: $40
2nd prize: $25
3rd prize: $15
High Schools
grades 9 – 12
1st prize: $40
2nd prize: $25
3rd prize: $15
Adults
18 and over
1st prize: $60
2nd prize: $40
3rd prize: $25
Entry Rules: Submit two typewritten, double spaced copies of your entry. One copy must include the following
information in the upper right-hand corner: full name (age, if a student), address, telephone number, category (prose or
poetry), age group (grades 3-5, 6-8, 9-12; or adult), email address, and school (if applicable). The second copy should
include only the poem, essay, or story, with no identification.
Student entries must be submitted through a participating school. Late entries will not be accepted. All entries must be
postmarked by March 15, 2016, and be mailed to: the Arts Council of Lincoln County Literary Competition, P.O. Box 45,
Lincolnton, North Carolina 28092.
An awards ceremony and reading for students will be held at the Lincoln Cultural Center on Tuesday April 19, 2015 at
7pm, 403 E. Main Street, Lincolnton. An awards ceremony and reading for adults TBA. For more information contact
the Arts Council at 704 732-9044.
This project received support from the North Carolina Arts Council, a division of the Department of Cultural Resources,
with funding from the National Endowment for the Arts.