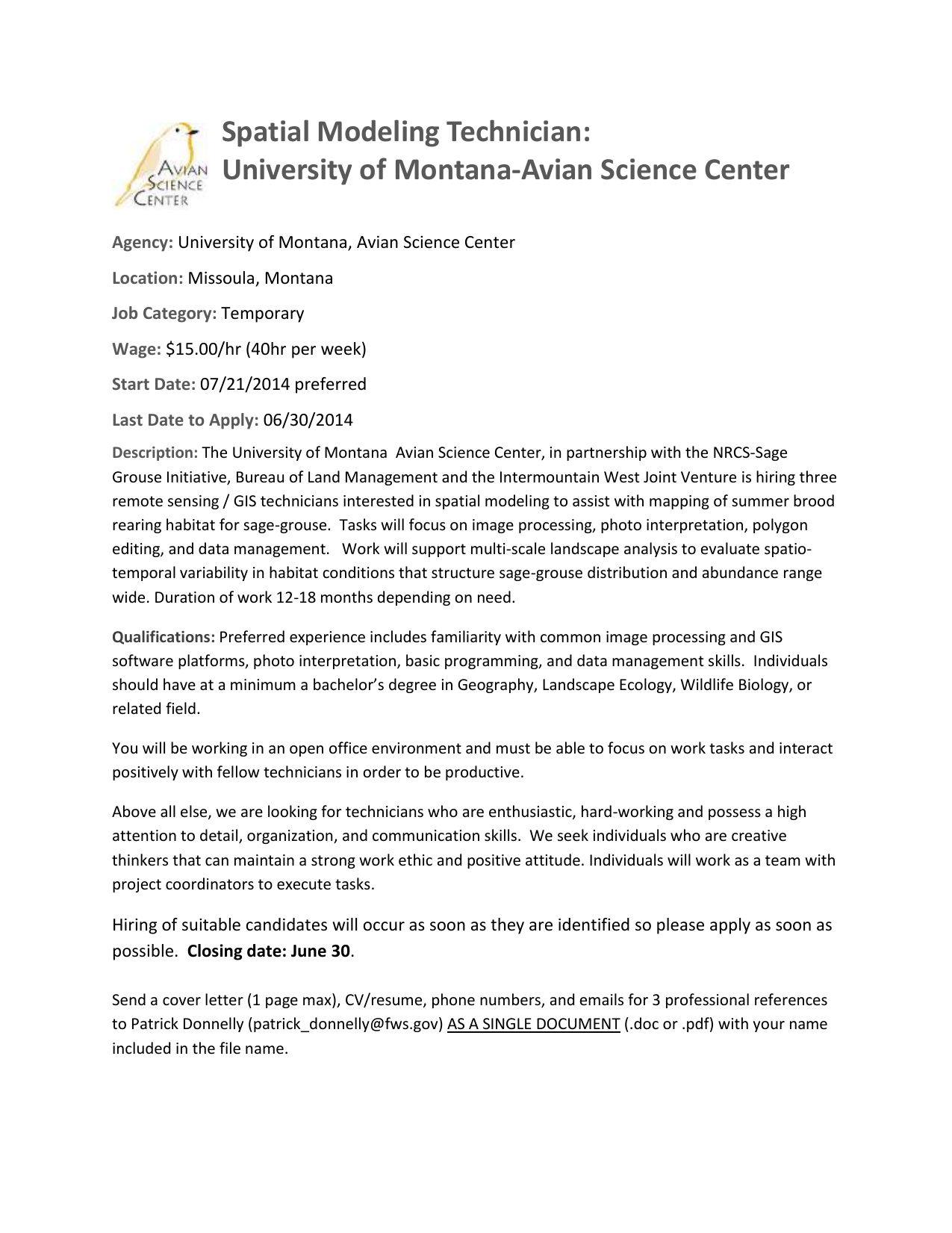 Spatial Modeling Technician: University of Montana-Avian Science Center Agency:
University of Montana, Avian Science Center
Location:
Missoula, Montana
Job Category:
Temporary
Wage:
$15.00/hr (40hr per week)
Start Date:
07/21/2014 preferred
Last Date to Apply:
06/30/2014
Description:
The University of Montana Avian Science Center, in partnership with the NRCS-Sage Grouse Initiative, Bureau of Land Management and the Intermountain West Joint Venture is hiring three remote sensing / GIS technicians interested in spatial modeling to assist with mapping of summer brood rearing habitat for sage-grouse. Tasks will focus on image processing, photo interpretation, polygon editing, and data management. Work will support multi-scale landscape analysis to evaluate spatio temporal variability in habitat conditions that structure sage-grouse distribution and abundance range wide. Duration of work 12-18 months depending on need.
Qualifications:
Preferred experience includes familiarity with common image processing and GIS software platforms, photo interpretation, basic programming, and data management skills. Individuals should have at a minimum a bachelor's degree in Geography, Landscape Ecology, Wildlife Biology, or related field. You will be working in an open office environment and must be able to focus on work tasks and interact positively with fellow technicians in order to be productive. Above all else, we are looking for technicians who are enthusiastic, hard-working and possess a high attention to detail, organization, and communication skills. We seek individuals who are creative thinkers that can maintain a strong work ethic and positive attitude. Individuals will work as a team with project coordinators to execute tasks. Hiring of suitable candidates will occur as soon as they are identified so please apply as soon as possible. Closing date: June 30. Send a cover letter (1 page max), CV/resume, phone numbers, and emails for 3 professional references to Patrick Donnelly ([email protected]) AS A SINGLE DOCUMENT (.doc or .pdf) with your name included in the file name.