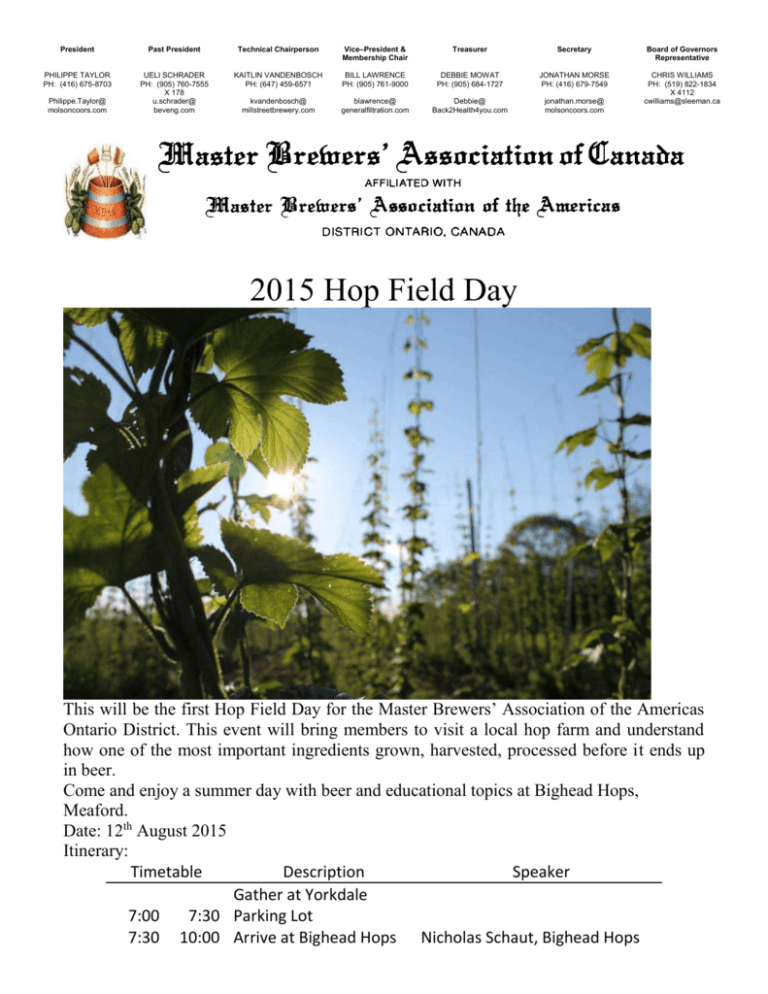 President
Past President
Technical Chairperson
Vice–President &
Membership Chair
Treasurer
Secretary
Board of Governors
Representative
PHILIPPE TAYLOR
PH: (416) 675-8703
UELI SCHRADER
PH: (905) 760-7555
X 178
u.schrader@
beveng.com
KAITLIN VANDENBOSCH
PH: (647) 459-6571
BILL LAWRENCE
PH: (905) 761-9000
DEBBIE MOWAT
PH: (905) 684-1727
JONATHAN MORSE
PH: (416) 679-7549
kvandenbosch@
millstreetbrewery.com
blawrence@
generalfiltration.com
Debbie@
Back2Health4you.com
jonathan.morse@
molsoncoors.com
CHRIS WILLIAMS
PH: (519) 822-1834
X 4112
cwilliams@sleeman.ca
Philippe.Taylor@
molsoncoors.com
2015 Hop Field Day
This will be the first Hop Field Day for the Master Brewers' Association of the Americas
Ontario District. This event will bring members to visit a local hop farm and understand
how one of the most important ingredients grown, harvested, processed before it ends up
in beer.
Come and enjoy a summer day with beer and educational topics at Bighead Hops,
Meaford.
Date: 12th August 2015
Itinerary:
Timetable
Description
Speaker
Gather at Yorkdale
7:00
7:30 Parking Lot
7:30 10:00 Arrive at Bighead Hops Nicholas Schaut, Bighead Hops
10:00
10:15
12:00
12:45
14:00
14:45
16:00
10:15
12:00
12:45
14:00
Break
Field Tour and Hop Rub
Presentation
Lunch at Farm
Arrive at Side Launch
14:45 Brewery
Tour at Side Launch
16:00 Brewery
Arrive at Yorkdale
18:00 Parking Lot
Evan Elford, OMAFRA
Steven Vipond, Bruce Wine Bar
Michael Hancock, Side Launch
Brewing Co.
Registration: Please register on Eventbrite.
https://www.eventbrite.ca/e/mbac-hop-field-day-tickets-17208687648
PW is hops2015
Tickets are $55 per person and includes tours, lunch, beer and transportation.
This session is open to all members. Please bring sun protection (hats, sunscreen etc.) and
dress casually.
Please Drink Responsibly. Do Not Drink And Drive.