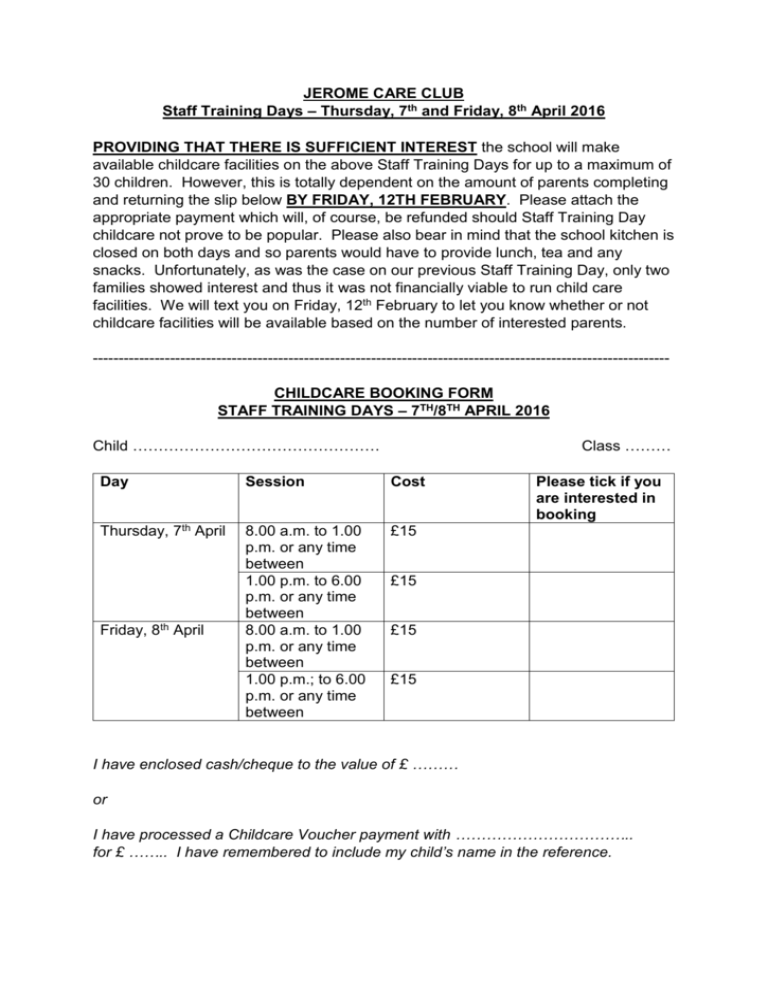 JEROME CARE CLUB
Staff Training Days – Thursday, 7th and Friday, 8th April 2016
PROVIDING THAT THERE IS SUFFICIENT INTEREST the school will make
available childcare facilities on the above Staff Training Days for up to a maximum of
30 children. However, this is totally dependent on the amount of parents completing
and returning the slip below BY FRIDAY, 12TH FEBRUARY. Please attach the
appropriate payment which will, of course, be refunded should Staff Training Day
childcare not prove to be popular. Please also bear in mind that the school kitchen is
closed on both days and so parents would have to provide lunch, tea and any
snacks. Unfortunately, as was the case on our previous Staff Training Day, only two
families showed interest and thus it was not financially viable to run child care
facilities. We will text you on Friday, 12th February to let you know whether or not
childcare facilities will be available based on the number of interested parents.
---------------------------------------------------------------------------------------------------------------CHILDCARE BOOKING FORM
STAFF TRAINING DAYS – 7TH/8TH APRIL 2016
Child …………………………………………
Class ………
Day
Session
Cost
Thursday, 7th April
8.00 a.m. to 1.00
p.m. or any time
between
1.00 p.m. to 6.00
p.m. or any time
between
8.00 a.m. to 1.00
p.m. or any time
between
1.00 p.m.; to 6.00
p.m. or any time
between
£15
Friday, 8th April
Please tick if you
are interested in
booking
£15
£15
£15
I have enclosed cash/cheque to the value of £ ………
or
I have processed a Childcare Voucher payment with ……………………………..
for £ …….. I have remembered to include my child's name in the reference.