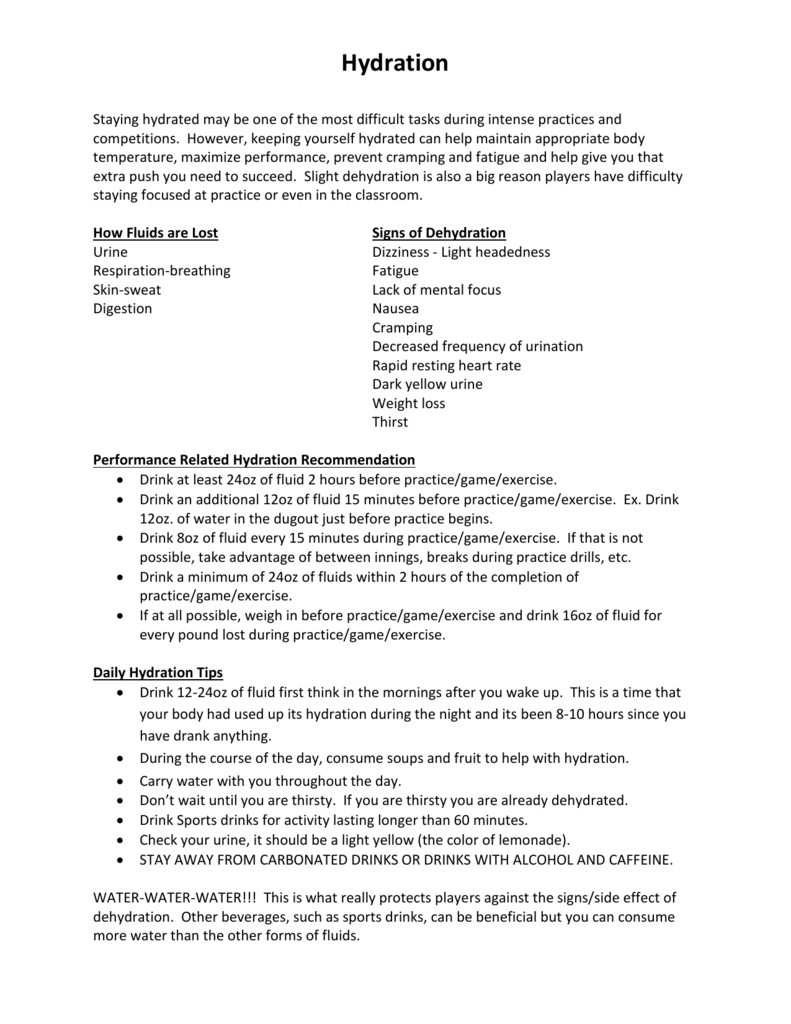 Hydration
Staying hydrated may be one of the most difficult tasks during intense practices and
competitions. However, keeping yourself hydrated can help maintain appropriate body
temperature, maximize performance, prevent cramping and fatigue and help give you that
extra push you need to succeed. Slight dehydration is also a big reason players have difficulty
staying focused at practice or even in the classroom.
How Fluids are Lost
Urine
Respiration-breathing
Skin-sweat
Digestion
Signs of Dehydration
Dizziness - Light headedness
Fatigue
Lack of mental focus
Nausea
Cramping
Decreased frequency of urination
Rapid resting heart rate
Dark yellow urine
Weight loss
Thirst
Performance Related Hydration Recommendation
 Drink at least 24oz of fluid 2 hours before practice/game/exercise.
 Drink an additional 12oz of fluid 15 minutes before practice/game/exercise. Ex. Drink
12oz. of water in the dugout just before practice begins.
 Drink 8oz of fluid every 15 minutes during practice/game/exercise. If that is not
possible, take advantage of between innings, breaks during practice drills, etc.
 Drink a minimum of 24oz of fluids within 2 hours of the completion of
practice/game/exercise.
 If at all possible, weigh in before practice/game/exercise and drink 16oz of fluid for
every pound lost during practice/game/exercise.
Daily Hydration Tips
 Drink 12-24oz of fluid first think in the mornings after you wake up. This is a time that
your body had used up its hydration during the night and its been 8-10 hours since you
have drank anything.
 During the course of the day, consume soups and fruit to help with hydration.
 Carry water with you throughout the day.
 Don't wait until you are thirsty. If you are thirsty you are already dehydrated.
 Drink Sports drinks for activity lasting longer than 60 minutes.
 Check your urine, it should be a light yellow (the color of lemonade).
 STAY AWAY FROM CARBONATED DRINKS OR DRINKS WITH ALCOHOL AND CAFFEINE.
WATER-WATER-WATER!!! This is what really protects players against the signs/side effect of
dehydration. Other beverages, such as sports drinks, can be beneficial but you can consume
more water than the other forms of fluids.