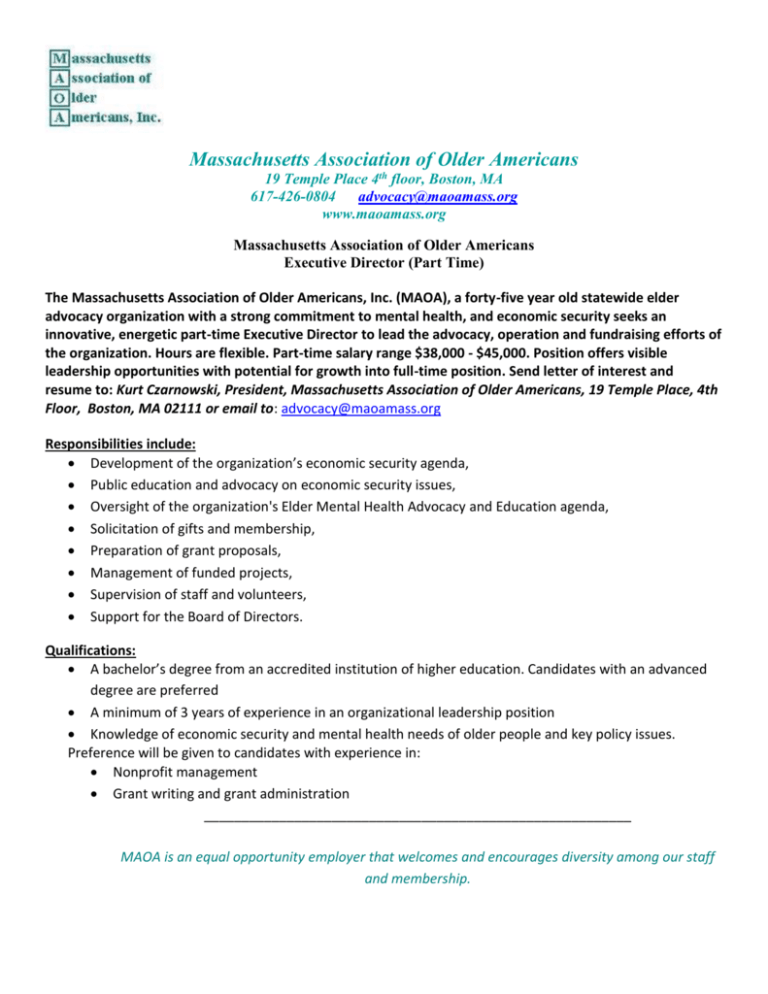 Massachusetts Association of Older Americans
19 Temple Place 4th floor, Boston, MA
617-426-0804
[email protected]
www.maoamass.org
Massachusetts Association of Older Americans
Executive Director (Part Time)
The Massachusetts Association of Older Americans, Inc. (MAOA), a forty-five year old statewide elder
advocacy organization with a strong commitment to mental health, and economic security seeks an
innovative, energetic part-time Executive Director to lead the advocacy, operation and fundraising efforts of
the organization. Hours are flexible. Part-time salary range $38,000 - $45,000. Position offers visible
leadership opportunities with potential for growth into full-time position. Send letter of interest and
resume to: Kurt Czarnowski, President, Massachusetts Association of Older Americans, 19 Temple Place, 4th
Floor, Boston, MA 02111 or email to: [email protected]
Responsibilities include:
 Development of the organization's economic security agenda,
 Public education and advocacy on economic security issues,
 Oversight of the organization's Elder Mental Health Advocacy and Education agenda,
 Solicitation of gifts and membership,
 Preparation of grant proposals,
 Management of funded projects,
 Supervision of staff and volunteers,
 Support for the Board of Directors.
Qualifications:
 A bachelor's degree from an accredited institution of higher education. Candidates with an advanced
degree are preferred
 A minimum of 3 years of experience in an organizational leadership position
 Knowledge of economic security and mental health needs of older people and key policy issues.
Preference will be given to candidates with experience in:
 Nonprofit management
 Grant writing and grant administration
_________________________________________________________
MAOA is an equal opportunity employer that welcomes and encourages diversity among our staff
and membership.