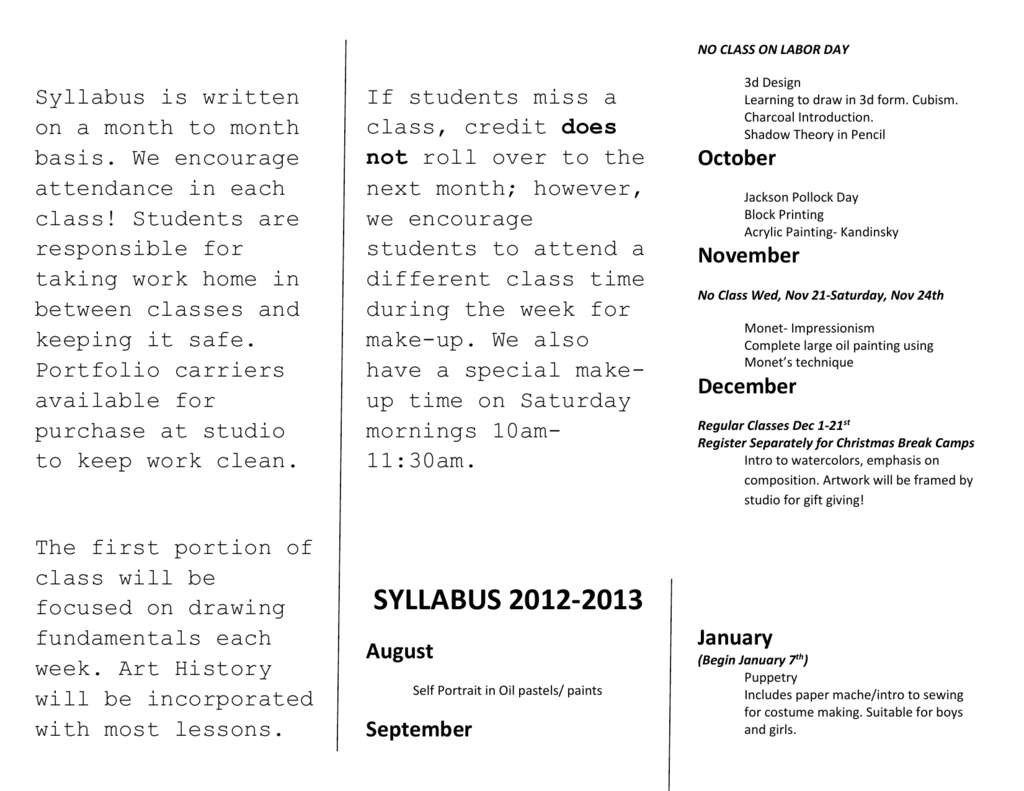 NO CLASS ON LABOR DAY
Syllabus is written
on a month to month
basis. We encourage
attendance in each
class! Students are
responsible for
taking work home in
between classes and
keeping it safe.
Portfolio carriers
available for
purchase at studio
to keep work clean.
The first portion of
class will be
focused on drawing
fundamentals each
week. Art History
will be incorporated
with most lessons.
If students miss a
class, credit does
not roll over to the
next month; however,
we encourage
students to attend a
different class time
during the week for
make-up. We also
have a special makeup time on Saturday
mornings 10am11:30am.
3d Design
Learning to draw in 3d form. Cubism.
Charcoal Introduction.
Shadow Theory in Pencil
October
Jackson Pollock Day
Block Printing
Acrylic Painting- Kandinsky
November
No Class Wed, Nov 21-Saturday, Nov 24th
Monet- Impressionism
Complete large oil painting using
Monet's technique
December
Regular Classes Dec 1-21st
Register Separately for Christmas Break Camps
Intro to watercolors, emphasis on
composition. Artwork will be framed by
studio for gift giving!
SYLLABUS 2012-2013
August
Self Portrait in Oil pastels/ paints
September
January
(Begin January 7th)
Puppetry
Includes paper mache/intro to sewing
for costume making. Suitable for boys
and girls.
February
Oil Painting- Intro to Palette Knife
Color Theory in Pastels and watercolorsstudents create black and white images
and color images to mirror.
March
Pottery Month (There will be NO
additional materials fee.)
Beading (Suitable for boys and girls)
April
No Class Spring Break April 1-5th- Register for
Spring Break camps Separately
Picasso- Linear Design Collage
Intro to Finale Project
May
May 1-23rd, STUDIO CLOSED MAY 25-JUNE 1ST
Finale Project for Gallery Presentation.
Gallery Presentation Date: Saturday, May 25th
Finale Project: "Animal Figure Study"
Students must be registered for April and May to
participate, as projects will begin the last weeks
of April.