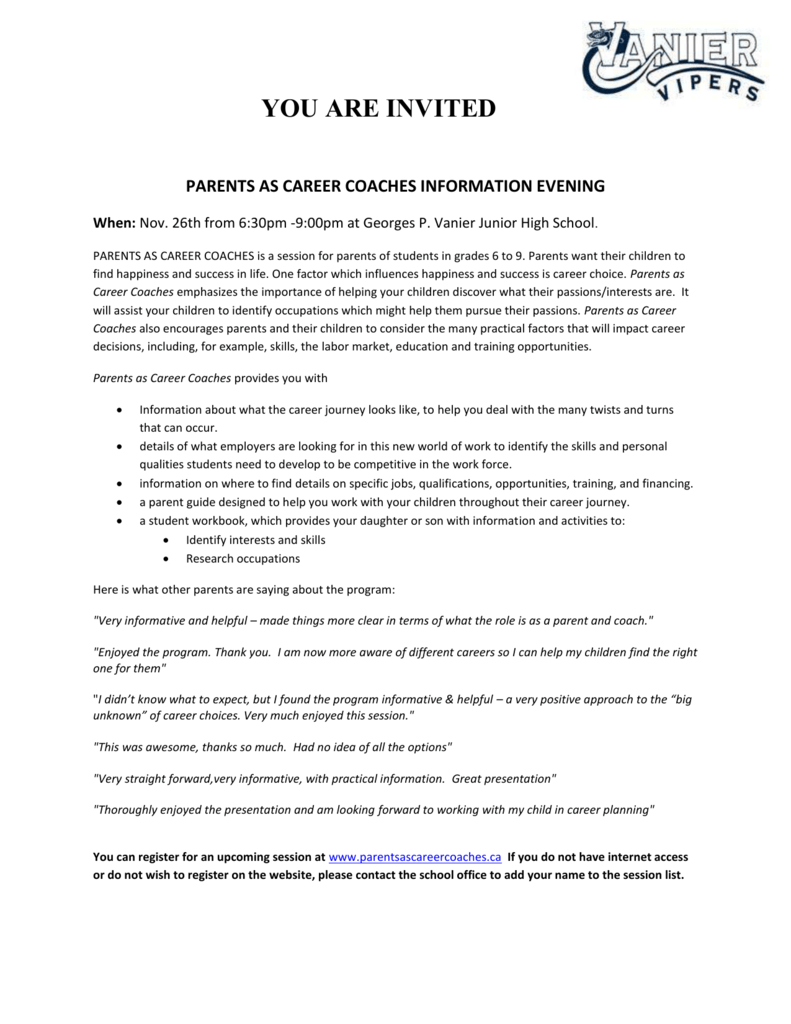 YOU ARE INVITED
PARENTS AS CAREER COACHES INFORMATION EVENING
When: Nov. 26th from 6:30pm -9:00pm at Georges P. Vanier Junior High School.
PARENTS AS CAREER COACHES is a session for parents of students in grades 6 to 9. Parents want their children to
find happiness and success in life. One factor which influences happiness and success is career choice. Parents as
Career Coaches emphasizes the importance of helping your children discover what their passions/interests are. It
will assist your children to identify occupations which might help them pursue their passions. Parents as Career
Coaches also encourages parents and their children to consider the many practical factors that will impact career
decisions, including, for example, skills, the labor market, education and training opportunities.
Parents as Career Coaches provides you with





Information about what the career journey looks like, to help you deal with the many twists and turns
that can occur.
details of what employers are looking for in this new world of work to identify the skills and personal
qualities students need to develop to be competitive in the work force.
information on where to find details on specific jobs, qualifications, opportunities, training, and financing.
a parent guide designed to help you work with your children throughout their career journey.
a student workbook, which provides your daughter or son with information and activities to:
 Identify interests and skills
 Research occupations
Here is what other parents are saying about the program:
"Very informative and helpful – made things more clear in terms of what the role is as a parent and coach."
"Enjoyed the program. Thank you. I am now more aware of different careers so I can help my children find the right
one for them"
"I didn't know what to expect, but I found the program informative & helpful – a very positive approach to the "big
unknown" of career choices. Very much enjoyed this session."
"This was awesome, thanks so much. Had no idea of all the options"
"Very straight forward,very informative, with practical information. Great presentation"
"Thoroughly enjoyed the presentation and am looking forward to working with my child in career planning"
You can register for an upcoming session at www.parentsascareercoaches.ca If you do not have internet access
or do not wish to register on the website, please contact the school office to add your name to the session list.