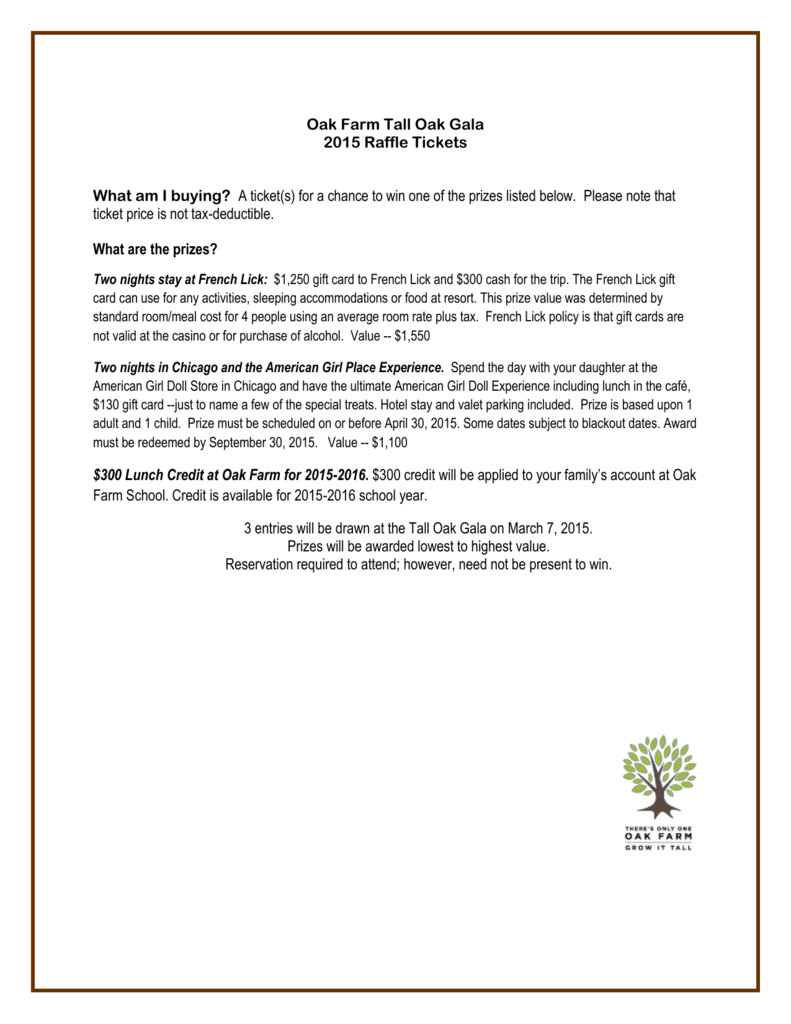 Oak Farm Tall Oak Gala
2015 Raffle Tickets
What am I buying? A ticket(s) for a chance to win one of the prizes listed below. Please note that
ticket price is not tax-deductible.
What are the prizes?
Two nights stay at French Lick: $1,250 gift card to French Lick and $300 cash for the trip. The French Lick gift
card can use for any activities, sleeping accommodations or food at resort. This prize value was determined by
standard room/meal cost for 4 people using an average room rate plus tax. French Lick policy is that gift cards are
not valid at the casino or for purchase of alcohol. Value -- $1,550
Two nights in Chicago and the American Girl Place Experience. Spend the day with your daughter at the
American Girl Doll Store in Chicago and have the ultimate American Girl Doll Experience including lunch in the café,
$130 gift card --just to name a few of the special treats. Hotel stay and valet parking included. Prize is based upon 1
adult and 1 child. Prize must be scheduled on or before April 30, 2015. Some dates subject to blackout dates. Award
must be redeemed by September 30, 2015. Value -- $1,100
$300 Lunch Credit at Oak Farm for 2015-2016. $300 credit will be applied to your family's account at Oak
Farm School. Credit is available for 2015-2016 school year.
3 entries will be drawn at the Tall Oak Gala on March 7, 2015.
Prizes will be awarded lowest to highest value.
Reservation required to attend; however, need not be present to win.
Oak Farm Tall Oak Gala
2015 Raffle Ticket Order Form
Name:
Address
Phone
1 for $10 or 6 for $50
Number of tickets to purchase
Amount Enclosed $
Please return the completed form and your check to:
Oak Farm Montessori School
502 Lemper Road
Avilla IN 46710
Please make your check payable to: Oak Farm Montessori School (memo: Raffle tickets).
Note: We ask that you refrain from sending order forms with your children as this can be an unreliable
method of getting items from your home to the appropriate personnel.
Please remember:







Ticket purchase is not tax-deductible.
Drawing will be held at the Tall Oak Gala on March 7, 2015 during the dinner/live auction.
A reservation is required to attend the event (please call 260-897-4270 for more information);
however, you do not need to be present to win.
3 Entries (ticket stubs) will be drawn in order of lowest value to highest value.
We regret that we cannot accept mail in purchases after Wednesday February 25, 2015.
Tickets will be available at the Victorian House through Friday March 6, 2015 (7:30 am -4:00pm).
Tickets may be purchased during the giving hour at the Tall Oak Gala on March 7, 2015.