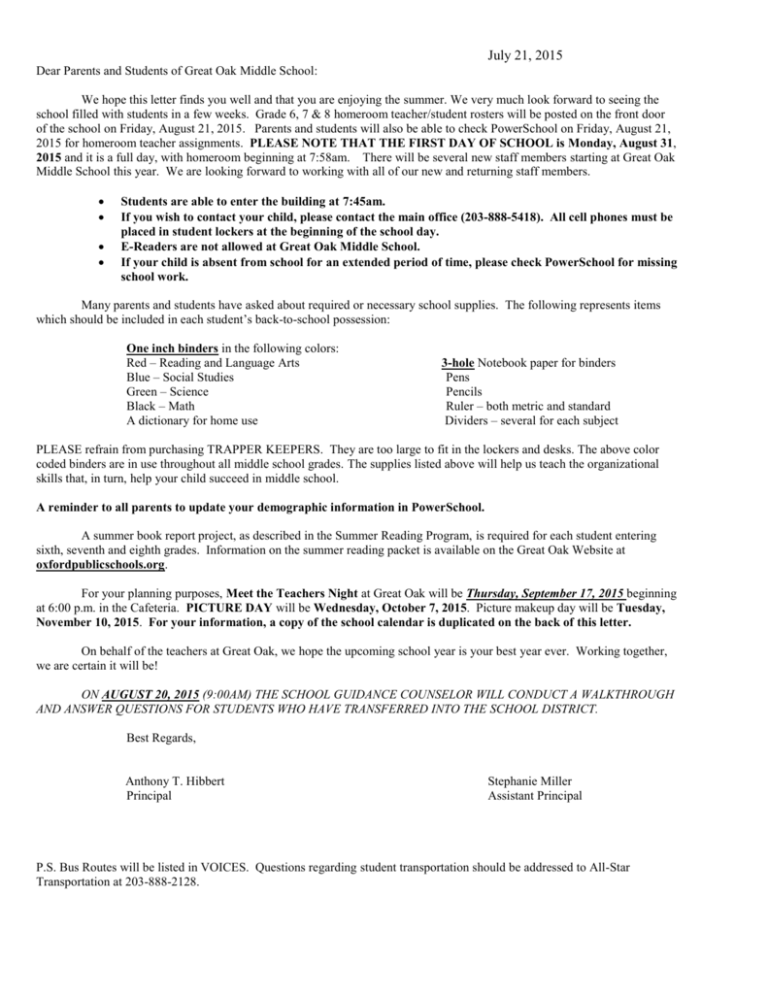 July 21, 2015
Dear Parents and Students of Great Oak Middle School:
We hope this letter finds you well and that you are enjoying the summer. We very much look forward to seeing the
school filled with students in a few weeks. Grade 6, 7 & 8 homeroom teacher/student rosters will be posted on the front door
of the school on Friday, August 21, 2015. Parents and students will also be able to check PowerSchool on Friday, August 21,
2015 for homeroom teacher assignments. PLEASE NOTE THAT THE FIRST DAY OF SCHOOL is Monday, August 31,
2015 and it is a full day, with homeroom beginning at 7:58am. There will be several new staff members starting at Great Oak
Middle School this year. We are looking forward to working with all of our new and returning staff members.




Students are able to enter the building at 7:45am.
If you wish to contact your child, please contact the main office (203-888-5418). All cell phones must be
placed in student lockers at the beginning of the school day.
E-Readers are not allowed at Great Oak Middle School.
If your child is absent from school for an extended period of time, please check PowerSchool for missing
school work.
Many parents and students have asked about required or necessary school supplies. The following represents items
which should be included in each student's back-to-school possession:
One inch binders in the following colors:
Red – Reading and Language Arts
Blue – Social Studies
Green – Science
Black – Math
A dictionary for home use
3-hole Notebook paper for binders
Pens
Pencils
Ruler – both metric and standard
Dividers – several for each subject
PLEASE refrain from purchasing TRAPPER KEEPERS. They are too large to fit in the lockers and desks. The above color
coded binders are in use throughout all middle school grades. The supplies listed above will help us teach the organizational
skills that, in turn, help your child succeed in middle school.
A reminder to all parents to update your demographic information in PowerSchool.
A summer book report project, as described in the Summer Reading Program, is required for each student entering
sixth, seventh and eighth grades. Information on the summer reading packet is available on the Great Oak Website at
oxfordpublicschools.org.
For your planning purposes, Meet the Teachers Night at Great Oak will be Thursday, September 17, 2015 beginning
at 6:00 p.m. in the Cafeteria. PICTURE DAY will be Wednesday, October 7, 2015. Picture makeup day will be Tuesday,
November 10, 2015. For your information, a copy of the school calendar is duplicated on the back of this letter.
On behalf of the teachers at Great Oak, we hope the upcoming school year is your best year ever. Working together,
we are certain it will be!
ON AUGUST 20, 2015 (9:00AM) THE SCHOOL GUIDANCE COUNSELOR WILL CONDUCT A WALKTHROUGH
AND ANSWER QUESTIONS FOR STUDENTS WHO HAVE TRANSFERRED INTO THE SCHOOL DISTRICT.
Best Regards,
Anthony T. Hibbert
Principal
Stephanie Miller
Assistant Principal
P.S. Bus Routes will be listed in VOICES. Questions regarding student transportation should be addressed to All-Star
Transportation at 203-888-2128.