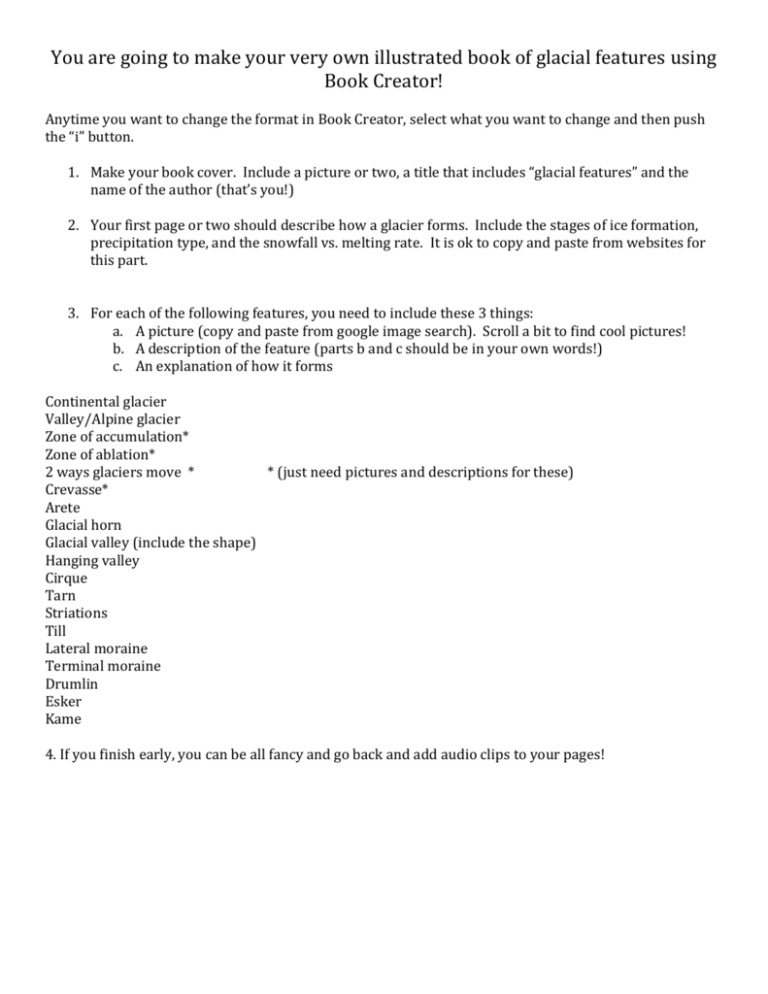 You are going to make your very own illustrated book of glacial features using
Book Creator!
Anytime you want to change the format in Book Creator, select what you want to change and then push
the "i" button.
1. Make your book cover. Include a picture or two, a title that includes "glacial features" and the
name of the author (that's you!)
2. Your first page or two should describe how a glacier forms. Include the stages of ice formation,
precipitation type, and the snowfall vs. melting rate. It is ok to copy and paste from websites for
this part.
3. For each of the following features, you need to include these 3 things:
a. A picture (copy and paste from google image search). Scroll a bit to find cool pictures!
b. A description of the feature (parts b and c should be in your own words!)
c. An explanation of how it forms
Continental glacier
Valley/Alpine glacier
Zone of accumulation*
Zone of ablation*
2 ways glaciers move *
* (just need pictures and descriptions for these)
Crevasse*
Arete
Glacial horn
Glacial valley (include the shape)
Hanging valley
Cirque
Tarn
Striations
Till
Lateral moraine
Terminal moraine
Drumlin
Esker
Kame
4. If you finish early, you can be all fancy and go back and add audio clips to your pages!